Egypt's controversial filmmaker Khaled Youssef switches to politics
As a director, Khaled Youseff's films often depicted political corruption in Egypt under ousted President Hosni Mubarak.
Never one to fear controversy and debate, Egyptian film director Khaled Youssef has decided to take his career a step further by nominating himself as a candidate in the country's upcoming parliamentary elections.
As a director, Youssef's films often focused on the lives of underprivileged people and depicted political corruption in Egypt under ousted President Hosni Mubarak.
Some of his most prominent works, including "Dukan Shahata," with Lebanese star Haifa Wehbe, and "Heena Maysara" with
Egyptian actress Ghada Abdel Razek created a huge sensation in the Arab world.
Despite saying earlier that he is against running for any political post, Youssef has seemingly changed his mind, saying he can serve Egypt better as a parliamentarian.
While acknowledging the role art can play to change society, the filmmaker claims Egypt at this point needs a "different type of struggle."
"Egyptians during the revolution have raised slogans such as 'bread, freedom and social justice' … now after three years, nothing has been achieved in this path," he told Al Arabiya News.
And now, Youssef says the "national role" he can play to build the "new Egyptian state" is a priority over his film career.
"My ability to participate in politics makes me feel that I can give more to Egypt," he said.
"The upcoming parliament will be a point of change," he stated, adding that Egyptians will have to make a choice to elect those who will "represent the revolution" so it can "meet its goals," or nothing will be achieved.
"I will run the elections loyal to achieve a state of justice," he said, saying he is not seeking the position for popularity or immunity.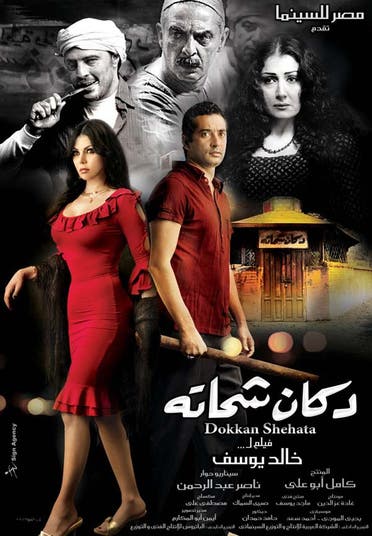 Youssef the politician
Youssef's name became more prominent in Egypt's political scene during the 2011 popular uprising that toppled Mubarak.
The director took part in protests held at Tahrir Square and made a special appearance on Al Arabiya News Channel, calling for security forces to protect the Egyptian museum from looting.
After the 2011 uprising, Youssef announced his support to presidential runner Hamdeen Sabahi and took part in his campaign.
But after the Muslim Brotherhood's Mohammad Mursi won the elections, he joined the National Salvation Front (NSF) formed in Nov. 2012 in opposition to Mursi's rule.
He was a prominent icon of the June 30 protests that called for Mursi's ouster in 2013, and later joined the 50-member committee tasked by the army-backed authorities to draft the constitution, adopted in 2014.
Despite supporting Sabahi in the first elections, Youssef backed army chief Abdel Fattah el-Sisi in the latest election.
Youssef explained that now is not the right time to only use art as a tool attempting to change the current political scene.
"We do have an elected president but the state's institutions are still operating the same way they did throughout the past 30 years."
Joining parliament
Crisis-hit Egypt will be holding elections for its House of Representatives sometime before the end of this year.
Youssef was quoted by an Egyptian newspaper earlier this year saying "he prefers being politically active in Egypt as a 'regular Egyptian citizen' not a politician."
"People from my town are constantly asking me to run for parliament in 2013 as the [opposition coalition] National Salvation Front's candidate for the governorate of Qalioubiya," the director told al-Ahram newspaper, "however I am leaning towards rejecting this proposal because it is not easy for me to leave art for politics."
But now the director has nominated himself to represent the constituents of his northern Delta city Kafr Shukr in the parliament, saying he can play a "national role" besides being a filmmaker.
He told Al Arabiya News he believes he is close to winning this election.
"My chances of winning are big, to an extent of certainty of success," he said.
Politics vs. art
"It did take me away from my art career," Youseff said, when asked if politics would distract him from a prosperous filmmaking profession.
"The 11 movies I made established my name and relation with people," he said, "but I have the ability to play both roles."
The director said he is not working on any films at the moment.
During a recent conference held in Egypt, Youssef said that he would "die of grief" in he failed in the election.
He believes that the political changes that have hit the country over the past three years have affected the film industry and it will take time to flourish again.
"If I had the chance to make a balance between my parliamentarian job and film production I will be happy to do that. But if it will take me away from my struggle to establish a state of justice, I will focus on my parliamentarian role, because it's a responsibility," he said.
Born in 1965, Youssef is the youngest son of a middle-class family, and was exposed to politics from an early age because his father was a devoted follower of the Egyptian socialist movement.
Despite studying engineering, Youssef's passion for the silver screen triggered him to pursue his first filmmaking steps.
He was introduced to film by the late prominent Egyptian director Youssef Chahine.
Youssef assisted Chahine during the shooting of several movies, including al-Massir, the latter's most critically acclaimed work.