Paris attacks: What do we know about the Kouachi brothers?
Said Kouachi, his brother Cherif Kouachi and Hamyd Mourad, Cherif's brother in law were suspected in Wednesday's massacre
It seems that the deadly Paris attack on the office of satirical magazine Charlie Hebdo was a family affair with the suspected perpetrators named by French police as Said Kouachi, his brother Cherif Kouachi and Hamyd Mourad, Cherif's brother in law.
Cherif Kouachi
Cherif Kouachi is also known as Abou Issen, according to French daily Le Monde.
Cherif, who was born on November 28, 1982 in Paris not far from where the attack took place, is well known by the anti-terror police in France, the newspaper reported.
In 2008, Cherif was convicted to three years in prison, with 18 months suspended, for his association with a group sending extremist fighters to Iraq.
Describing Cherif, his lawyer of the time, Vincent Ollivier, told Le Parisien: "A loser, a delivery boy in a cap who smokes hashish and delivers pizzas to buy his drugs.
"A clueless kid who did not know what to do with his life and then overnight met people who gave him the impression he was important."
Following his release, Cherif, who holds the French nationality, worked as a fish vendor in French supermarket Leclerc in north-central France.
In 2010, Cherif was arrested again when his name was associated to an attempted prison escape of Islamist Smain Ait Ali Belkacem, a former member of the Algerian Armed Islamic Group (GIA) that carried out a spate of bombings and a plane hijacking in France in the 1990s.
Belkacem was sentenced to life imprisonment in 2002 for a bombing at France's Musee D'Orsay rail station in October 1995 that left 30 people wounded.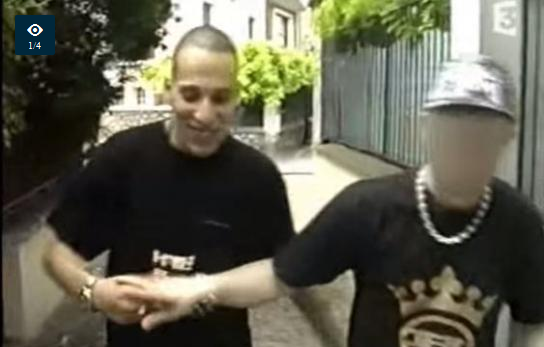 In 2005, images of Cherif were broadcasted on French television as part of a program called "Piece a conviction" which was focusing on terrorism.
Cherif is also suspected of being linked to Djamel Beghal, a French jihadist who was sentenced to 10 years in prison for planning terror attacks, Le Parisien reported.
Said Kouachi
Cherif's brother Said was born on September 7, 1980, also in Paris.
The Kouachi brothers were reportedly abandoned by their Algerian parents at a very early age, Le Parisien stated.
They were placed in foster care in the eastern city of Rennes before moving back to Paris.
Hamyd Mourad
The Third suspect, Hamyd Mourad, was born in 1996 and turned himself in at Charleville-Mézières, some 230 kilometers northeast of Paris near the Belgium border, an official at the prosecutor's office told the Associated Press.
BFM TV, citing unidentified sources, said the 18-year-old had decided to go to the police after seeing his name on social media.