Light and dark in the inspirational story of Algerian singer Lila Borsali
Lila Borsali's beautiful voice is a spiraling, powerful sound that provides one of the best interpretations of Arab-Andalusian music in the world today
The beautiful voice of Lila Borsali is considered a bridge between Europe and North Africa – a spiralling, powerful sound providing one of the best interpretations of Arab-Andalusian music in the world today. The 38-year-old specializes in musical suites called Noubaat and a derivative called Hawzii, both forms of melodic poetry.
Anybody meeting the wonderfully talented singer soon becomes aware that her art is not solely rooted in the riches of two cultures, however. It is also influenced by dark days in Tlemcen, in northwest Algeria, where her family originally comes from. It was there that they experienced terrorist threats at a time when the country was raked with internal divisions. Beyond that there have been extreme life crises to cope with – from bereavement to economic problems.
Speaking at Fikra, the prestigious Algiers conference dedicated this year to the theme of success, Lila described how everything was idyllic to begin with, as she first played the mandolin.
"I soon joined the prestigious Association Ahbab Cheikh Larbi Bensari, then the renowned orchestra directed by Fawzi Kalfat and rapidly became a soloist. Things moved quickly – I started touring, taking part in concerts and festivals, and recorded Nouba Zidene, my first album with Radio France.
"But in 1994, I had to leave Algeria and go to France because terrorists were trying to intimidate us."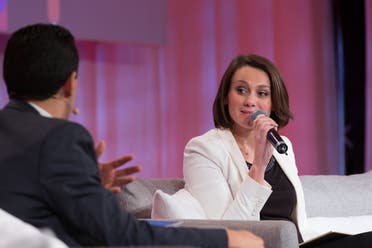 It was a group affiliated with the Armed Islamic Group (GIA) who issued the warning. Lila said: "For my parents, my safety was paramount. My then fiancé, Salim, and his family were in Paris, so I left Algeria within 10 days and went to live with my future in-laws. Music then became a way for me to stand up to the violence in my home country. It enabled me to associate my country with something positive instead.
"I threw myself into music and became a founding member of the Association Andalus Airs and worked there as secretary-general and taught music for 16 years. I improved my singing techniques under the supervision of Abdelkrim Bensid. I switched from the mandolin to the traditional kouitra and came to meet masters of Andalusian music such as the late Amine Mesli and Yahia Ghoul.
"All this contributed to changing my relationship to music: before I thought it was something that comes naturally, that it's in your blood, but in France I realised it was a way of forcefully asserting my identity. I wanted people to look beyond the violence and disharmony, and see the wonder of music originating in my beloved country, and particularly in Tlemcen."
Tlemcen is steeped in Andalusian music, as the city was the capital of the Zayyanids dynasty during their rule from 1235 to 1556. They forged numerous alliances with Spanish nobles, ensuring a music history which was just as dynamic and varied as its political and social progression.
The always original Lila continues to add to that tradition, saying: "My music is not solely about mimicking traditional rhythms. I am interested in the lyrics, the oral transmission of music and how it reflects a country's heritage. This led me to record 'Ya Hmam' ('Oh, Lovebirds') in the pure tradition of Hawzii from Tlemcen.
"Music allows me to express myself freely, to give my opinions and challenge the conservatism in our society.
"That said, music was never a career or indeed my profession. I have always practised it as a form of pleasure, even when recording, and playing with others. So, I've always had a job in parallel to my passion for music.
"When I arrived in Paris, I was not even 19 and took up studies as an architect and interior designer. I was drafting textiles, in Indian style for my husband's shop. Soon I had my first child, a girl called Meriem Kenza."
But life became difficult in France too. There was a fire at Lila's husband's shop and an economic crisis gripped the country. With another daughter – Sofia – to support, the family struggled.
"So in 2009, I returned to Algeria for a better life," said Lila.
"The terrorism years were over and I went back with a lot of hope. It all meant that I didn't need to work seven days a week, and had a lot more time for my music. I joined the Fine Arts Association in Algiers and decided to focus entirely on my music.
"I was extremely lucky to work with and learn from the best musicians from Algiers and Tlemcen in the genres of the Hawzii and Nouba music. My first album in the Tlemcen Hawzii, 'Farq Lahbab' ('Separation of the Loved Ones') came out in 2010."
"I wanted to sing about separation because I had left Paris and was away from friends and family there. Now living in Algiers, I was also distanced from my own family in Tlemcen – my parents and my two brothers and extended family."
Disaster struck again in March 2013, however, when Lila's husband, Salim, died of a heart attack.
"That was yet another big shock in my life," said Lila.
"I took time off to look after myself and my family. I organised and sang at a huge concert in Algiers in his memory in October 2013. After the death of my husband, I was faced with more soul searching – how to express myself in my art after such a tragedy.
"But I found that it's actually more difficult to produce art – music in my case – when everything is fine. Pain, torment, angst are, on the contrary, a driving force. Also, I did not want people to pity me after my husband's death. I was determined to carry on and project the image of a strong woman – the Algerian woman."
Lila went on to produce more albums, and received more awards. Her fourth collection of songs titled "Hosn al Salim" ("Handsome Salim") is coming out in May, to commemorate the life of her husband.
Lila explained her principal reason for taking part in Fikra, which was attended by 1500 people, including 750 youths:
"It was important for me to have a simple message for the young people at the conference – to produce music which appeals to them, make them dream, and inspire them to success."