Antonio Guterres to be next UN Secretary General
Many observers praise Guterres for his role in championing the rights of refugees worldwide
Antonio Guterres, the former Portuguese prime minister and United Nations refugees chief, has been officially nominted to become the next UN Secretary General after a vote at the security council.
During a surprise show of unity on Wednesday, all 15 ambassadors from the security council emerged from a sixth straw poll to announce that they had agreed on Guterres, who was UN high commissioner for refugees for nearly a decade.
"Today after our sixth straw poll we have a clear favorite and his name is António Guterres," Russian UN Ambassador Vitaly Churkin, told a group of eager reporters with his 14 council colleagues standing alongside him.
Guterres, 67, would replace Ban Ki-moon, 72, of South Korea, who will step down at the end of 2016 after serving two terms. For Guterres to be formally recommended to the 193-member General Assembly for election, the Security Council still needs to adopt a resolution behind closed doors. The resolution needs at least nine votes in favour and no vetoes to pass.
Antonio Guterres to Al Arabiya: This is my vision for the UN
Analysts and former diplomats told Al Arabiya English that it was a combination of several factors that led to Guterres' as the favorite choice to lead the United Nations, mainly his experience both at the governmental and non-governmental fields.
"His striking combination of having been a head of government in Portugal, which reflects political talents that are extremely important for the job. Secondly, he headed up a multi-lateral agency with widespread praise for his actions, including his repeated engagement in crises by negotiating with other governments and actors to try and find solution [to the global refugee crisis]," Former UN Assistant Secretary General Michael Doyle told Al Arabiya English.
'Bittersweet for feminists'
The race for the UN's top job has not been an easy ride for most vying candidates, especially Guterres. The Portuguese was not generally considered a frontrunner at the beginning, given the calls to appoint a woman and the informal practice of regional rotation.
The UN has never had a woman in the top job. Of the 13 candidates this year, seven were women. Administrator of the United Nations Development Programme Helen Clark and Costa Rican diplomat Christiana Figueres were considered the top female choices early in the race before polling low during previous straw polls.
"Guterres was not the only qualified candidate, but he clearly brings a wealth of experience at the UN, regional and government level to the post," Natalie Samarasinghe, executive director of the United Nations Association – UK (UNA-UK), told Al Arabiya English.
While many observers are praising Guterres for his role in championing the rights of refugees worldwide, but many say his confirmation is still "bittersweet".
"Bitter: not a woman. Sweet: by far the best man in the race. Congrats Antonio Guterres! We are all with you," Costa Rican diplomat Figueres, an early frontrunner and who recently lead the historic Paris Agreement on climate change, tweeted as soon as the secret ballot result on Wednesday was announced.
"After 70 years of men I think the world should have been ready! Many UN member states and civil society groups campaigned for a woman to be appointed," Samarasinghe said.
"I too would have loved to have seen a woman on the 38th floor but felt it was important that the decision be based on candidates' merit, which I strongly felt should include a visionary feminist agenda with concrete plans for implementation. I very much hope Guterres will deliver on this," she added.
Tackling the global refugee problem
When Guterres first started his tenure as the High Commissioner for Refugees in 2005, there were about 25 million refugees in the world. That number has more than tripled when he left at the end of 2015, mainly due to the tragic Syrian civil war.
Compared to his predecessor, Guterres is known not to keep silent on pressing issues, especially when it comes to transparency and handling of sensitive issues, among them the cases of sexual abuse by peace keeping forces.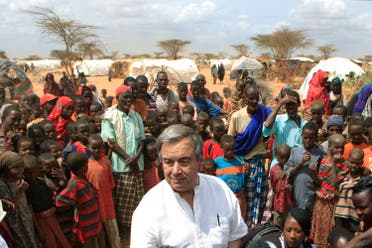 "Sometimes the United Nations doesn't act in the best possible way. We've unfortunately had very tragic situations like the peace-keeping forces. Sometimes huge confrontations can happen between nation states but I managed to be truly independent and to fully abide by the humanitarian values accepted," he told Al Arabiya News Channel's New York bureau chief Talal al-Haj.
Observers say that it is no coincidence, despite reservations, that both Russia and China voted either "encouraging" or "no opinion" during the secret straw poll after they were resistant to outspoken activists in top UN posts in the past.
"The issue of refugees is the most dominant challenge facing the collective work of the United nations. It is also a unique challenge to the European Union. Guterres has both the experience and the backing of Europe to start tackling this issue from day one in office," UN expert and Burea Chief of Alquds Alarabi at United Nations, told Al Arabiya English.