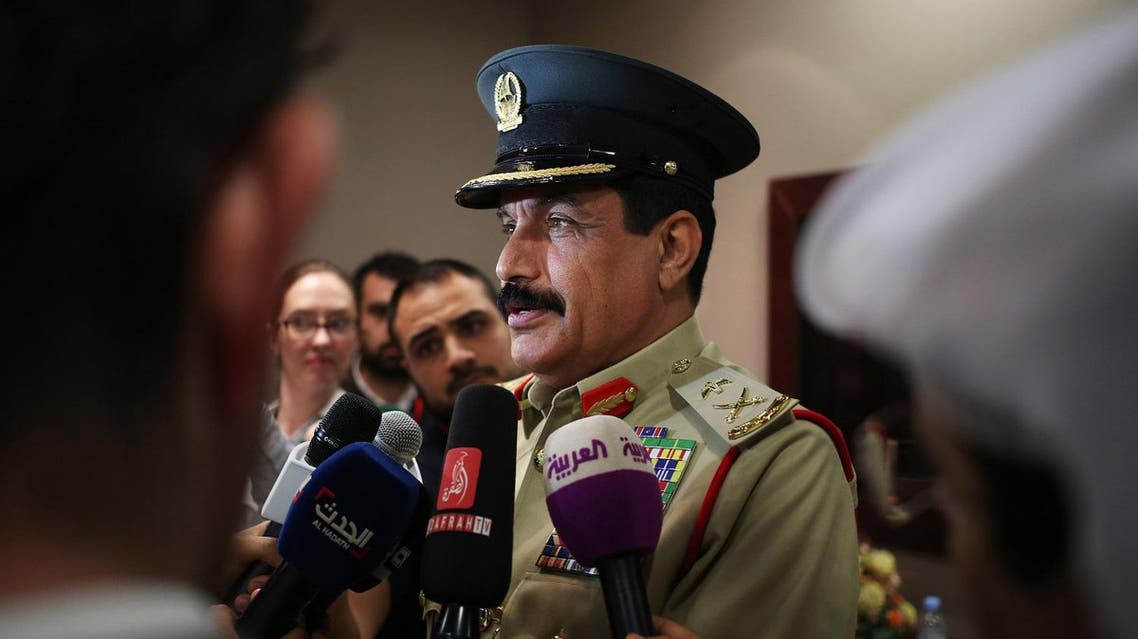 Who was late Dubai Police Chief Khamis al-Mazeina?
This week's passing of Lieutenant General Khamis Mattar al-Mazeina brought down the curtain on a career spanning 33 years
This week's passing of Lieutenant General Khamis Mattar al-Mazeina, Dubai police commander-in-chief, brought down the curtain on a career spanning 33 years, in which he served the UAE in a number of roles.
Described as "one of the UAE's loyal men", Mazeina was said to be a man of strength, dedication and sincerity. To many of those around him, he was an inspirational figure, known for his kindness and loving nature.
His sudden death from a heart attack on Thursday night at Rashid Hospital left the nation in mourning.
Hundreds of mourners attended his funeral at Dubai's Al Ghusais graveyard. And well-wishers paid their respects at his residence.
Who was Gen. Mazeina?
Gen. Mazeina graduated from the Dubai Police Academy in 1983, and throughout his career served in various positions in the force.
He was appointed commander-in-chief of Dubai Police in 2013. Prior to his appointment, he served in a number of high profile roles, including deputy police chief and director of the general directorate for criminal investigations.
According to local press reports he worked in anti-narcotics policing and led investigations into major murder cases and other serious crimes.
He was the eldest of five brothers - his family admired him for his work and dedication.
"He was really dedicated to the service of the country and inspired us all with his passion and energy. His demise has come as a shock for all of us, but as believers, we bear our losses patiently and accept the decrees of Allah," Mazeina's brother, Abdullah, told UAE daily, Gulf News.
Keeping Dubai safe and secure was his top priority, Al Mazeina's colleagues said of him.
Dubai residents praised him for his efforts to keep the city safe. Many expressed their sorrow and appreciation on social media.
تعازي الشخصية لأسرة خميس مطر وأصحابه ولأهل دبي ولشعب دولة الامارات ، ومن ترك إرثا للوطن كإرث خميس مطر فما رحل بل سطر نفسه في سجل مجد الدولة pic.twitter.com/ojEtFD9B5K

— HH Sheikh Mohammed (@HHShkMohd) November 25, 2016
Dubai Ruler Sheikh Mohammed bin Rashed Al Maktoum paid tribute to the city's late police chief.
"The UAE has lost one of its loyal men. Khamis Mattar Al Mazeina was a decorated team commander, a soldier in the service of the nation, and the father of a good family. May his soul rest in peace," Sheikh Mohammed wrote on Twitter.
"My personal condolences to the family of Khamis Mattar Al Mazeina and his companions and the people of Dubai and the UAE people. His legacy lives on in the history of the country," he added.

Meanwhile, the Crown Prince of Dubai Sheikh Hamdan bin Mohammed tweeted saying: "May his soul rest in peace. I knew him closely and found in him a man of sincerity in the service of his country and his people. And he had a strong foundation for success.
"Khamis Mattar Al Mazeina did not work for the present but for the glory of the future. We belong to God and to Him we shall return."