Author Faisal J. Abbas announces new book at Emirates Lit. Festival
Al Arabiya English's Editor-in-Chief announces 'London through Arab Eyes' slated for publication early 2017
Al Arabiya English Editor-in-Chief Faisal J. Abbas is publishing a book which aims to combat misconceptions and stereotypes between Arabs and the West; he announced during a panel discussion during the closing day of the Emirates Airlines Literature Festival.
The book - with the working title of "London through Arab Eyes" - is slated for release in early 2017. It chronicles Abbas' time in the UK and seeks to explain what it means to live as an immigrant in a major Western capital to an Arab audience.
"I do owe my experience in London quite a bit, and I say that with a lot of gratitude and a lot of thanks. London has opened its arms to me and changed the way I look at life and the way I live my life," Abbas told the British Council's Adrian Chadwick, who moderated the discussion.
Having lived, worked and studied in the UK for nearly a decade before taking up the chief position at Al Arabiya English in Dubai, Abbas became renowned for his articles in Arabic for the leading London-based pan-Arab daily, Asharq Al Awsat, and in English for the renowned US news blog, The Huffington Post.
He also appeared regularly on British media outlets and gave talks about the Middle East at leading academic institutions such as LSE and SOAS. In February 2012, he was made an honorary associate member at the Cambridge Union Society, following a memorable, and intense, debate on the Arab Spring and its impact on global security.
Whilst in London Abbas also obtained a Master's degree from the University of Westminster, and was granted a prestigious "Cutting Edge Award" from International Media Council in 2009. The award was presented for his "continuing efforts both through his blogging and in the press to encourage standards of excellence and counter the dissembling that would otherwise increase levels of misunderstanding".
"If you can get people to read and think and compare before they make a conclusion … if I can convince at least one person then I hope it would be a job well done," Abbas told the attendees.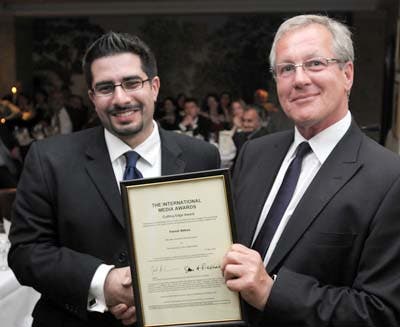 "The book is a humble attempt to try and say things the way they are. One of the definitions of experience is an accumulations of mistakes and this is a book about mistakes. Everybody makes mistakes and we can relate to each other's as well," Abbas added.
"London through Arab Eyes" is to be published in Arabic given Abbas's view that he wants it to serve as a window to another culture for those who don't necessarily speak English, or those who never had the means to visit the UK and experience it for themselves.
Asked during the session if it would be translated to English given British readers' interest in learning how Arabs perceive them, Abbas said the plan is for it to be published in Arabic but that he also "Never says never."