Saudi Arabia's Minister of State for Foreign Affairs Adel al-Jubeir's denial of any knowledge of activist Iyad el-Baghdadi, has sent the Oslo-based asylum seeker into writing a tirade of tweets.
"I've really never heard of anyone named Iyad el-Baghdadi," al-Jubeir told reporters. "The only al-Baghdadi I have heard about is Abu Bakr al-Baghdadi."
"It could be that the goal of his allegations is to obtain permanent residency in some country. But with regards to us, we don't have any information about him," al-Jubeir added.
El-Baghdadi responded on Twitter calling al-Jubeir with a pet name in Arabic and "bro" in English. He goes on to list his affiliations saying he is fairly "well-connected … in Norway."
He added that al-Jubeir's statement was "exactly" what he speculated would be the response from Saudi Arabia. "In my conversation with PST on April 25th, we talked about potential Saudi reaction, and this is exactly what I told them the Saudis will say."
The Palestinian-born blogger claimed that his work "without pay or contract with a team of investigators hired by Amazon founder Jeff Bezos" had made him a target in Oslo where he has been living as a refugee since 2015.
During his press conference on Sunday, al-Jubeir denied the claim that Saudi authorities posed any threat to a Palestinian living in Norway called Iyad el-Baghdadi.
El-Baghdadi, a blogger known for his blogs and tweets during the Arab protests in 2011, had claimed earlier this month that the security officials in Norway had warned him of a threat against him from Saudi Arabia.
"I was not placed under protection for a long time. I was away for two to three hours, and the authorities told me that so long as I am in Oslo, I am reasonably safe. They said I will be provided with police protection soon," he said on Twitter.
"They seem to have me in their cross-hairs but it's not clear what they want to do," he added, clarifying that the nature of the threat was unclear and there was no indication of "a specific plot."
El-Baghdadi, at first, only spoke with the Guardian which published an article on May 7 quoting unnamed Norwegian officials as saying that they had received the intelligence from the CIA.
There has been no official comment on the matter by any of the agencies mentioned in the Guardian's article.
El-Baghdadi on Sunday tweeted a graphic comparing him to Abu Bakr al-Baghdadi. While the Oslo-based blogger has never tweeted in support of ISIS, he has been known for controversial tweets, which have since been deleted, in the past in support of Nusra Front, al-Qaeda's affiliate in Syria.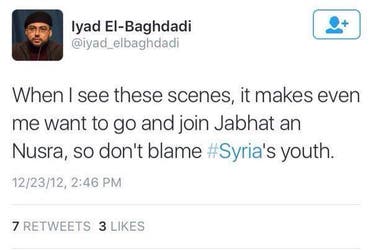 In a February 2012 tweet, the blogger wrote that if his "own family and friends were being blown to bits such as in Baba Amr, I would accept Alqaeda's help to save them." In another tweet, he wrote: "When I see these scenes, it makes me even want to go to and join Jabhat an Nusra, so don't blame Syria's youth."
Regarding Salafism, El-Baghdadi tweeted in 2015 that he understood it because he was "Salafi for more than a decade."