Entrepreneurship Summit as an opportunity to bridge the digital divide
Digital omnipresence has its distinct advantages but it is also creating challenges that manifest differently in different parts of the world
Applying Digital Technologies to Improve Agriculture Outcomes – that's the topic of a discussion scheduled to be held on June 24 at the Global Entrepreneurship Summit 2016. The panel will comprise field-based AgTech entrepreneurs using innovative digital technologies to improve agriculture outputs in developing countries. Talking points will include the importance of localization, barriers to scale, regulatory barriers, change of behavior, and new technologies.
This session will be one of the many at this year's summit that will come close to addressing the gulf between those who have ready access to digital technology and those who do not.
World Bank data shows that nearly 60 percent of the world's people are still offline and can't fully participate in the digital economy. Despite the rapid strides made in this domain, six billion people still do not have high-speed broadband internet, almost four billion do not have any internet access, and nearly two billion do not have a mobile phone.
There are reasons to believe that this gap, constituting the digital divide, should be on the decline considering the speed at which more and more people are getting access to technology. However, the jury is still out on whether this has indeed happened in recent years. Either way, empirical evidence suggests it continues to be an area of concern.
Peter W. Singer, Strategist and Senior Fellow at the New America Foundation, says this is critical considering the fact that increasing access to digital technology is a proven way to aid market growth and spread knowledge. "A digital divide, if left open, creates unequal access to the fruits of the modern world," Singer told Al Arabiya English.
This is why the Global Entrepreneurship Summit is under the spotlight. "These gatherings are valuable, for building connections, establishing networks and sharing ideas. Are they the solution to the world's political problems? No, that would be asking too much. But they are still worthwhile," Singer said.
Challenge at hand
Unfortunately, it is not just the divide that's the cause of concern. While digital omnipresence has its distinct advantages, it is also creating social challenges that are bound to manifest differently in different parts of the world. So if excess of technology is transforming lives in affluent societies, the lack of it brings in aspirational dimensions that may or may not be healthy.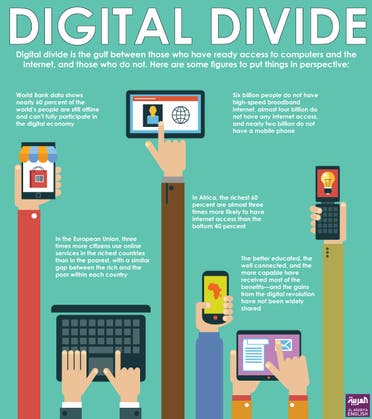 Rahul Guhathakurta, Founder of IndraStra Global, believes digital divide starts with the lack of seamless internet connectivity and cluster-based internet infrastructure segregation. Hence broad-basing it has to be the first challenge. According to him, it needs to be untangled across the market to tap in the potential of the masses.
The gap, however, also exists at other levels such as lack of uniform governing laws for holistic content distribution over the internet as it varies from geography to geography. There is also the lack of awareness on digital privacy and security-related issues, which is an important challenge when it comes to "equitable" distribution of digital opportunities. If a country envisions to develop knowledge-based economy, this challenge cannot go unnoticed.
But can the Global Entrepreneurship Summit help address such challenges? Rose McReid, Associate Partner at the same firm, says events like GES are the kind of catalytic substance for the cause of entrepreneurs from the very hotbed of most successful hi-tech digital start-ups.
"Silicon Valley, which itself acts as a global arena, is going to make profound impact on the entrepreneurial ecosystem across the world. Indeed, it is one of the defining events and will profoundly help in propagating the ideas based upon ideations and ideologies from the brightest minds of tech industry, government entities and various intermediaries," she says.
Digital literacy
So, it is not just about being digital anymore. This is about embracing the future by interconnecting the people with products and services, eventually creating a global knowledge driven economy which is very much aligned to various on-going governmental programs such as Saudi Arabia's Vision 2030 and India's Digital India.

Erin Watson-Lynn, Entrepreneurship academic at Monash University and Director at Generate Worldwide, calls digital literacy as "imperative for young people globally". According to her, it has the ability to use technology to increase access to employment opportunities, education, and health resources.
"We are at risk of increased inequality across social and economic outcomes will if we don't take action to ensure all people have the opportunity to access these skills. Watson-Lynn cites the example of Australia where The National Innovation and Science Agenda, or the 'Ideas Boom', is the current federal Government's policy agenda to transition Australia from a resources-led economy.
"Such a transition relies on digital literacy, as well as innovative, creative and entrepreneurial skills. However, recent research has shown that the employability of recent graduates is decreasing, indicating a mismatch between the skills produced at universities and the labor market," she says.
While Summits and Conferences like GES play an important role in the leadership piece of encouraging governments and enterprise to priorities digital literacy, it is the thought into action that happens after the Summits that will create the most impact.