Prince Khaled Al-Faisal, Emir of Makkah region, called on the people of Makkah to take pride in serving the Guests of Allah.
Inaugurating the campaign of the Presidency for the Affairs of the Two Holy Mosques for this year's Haj here on Wednesday, the Emir emphasized that the leaders of Saudi Arabia are preoccupied with the development of Makkah, making available all facilities and services for pilgrims.
"The government and the people of Saudi Arabia see serving pilgrims as a great honor as well as a big trust put on them, and hence it was included as a top priority in the Kingdom's development and strategic plans," he said.
Infographic: Hajj: A spiritual journey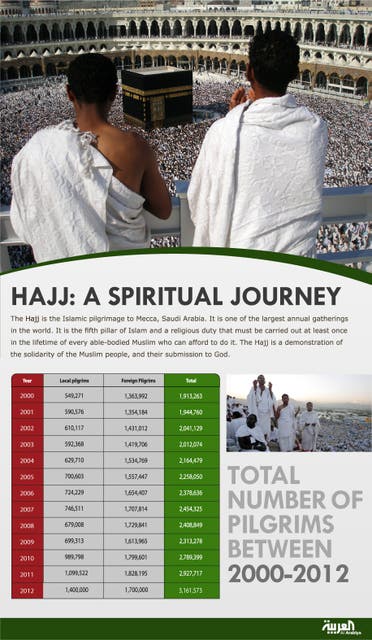 Prince Khaled, who is also the Chairman of the Central Haj Committee, said that he has proposed to the minister of higher education to establish a university, called the "University of Haj and Umrah," in Makkah to carry out extensive studies and researches with regard to Haj and Umrah.
The Emir also watched a video on the Campaign titled "The Pilgrims' service is a Legion of Honor to us." He honored government departments and agencies, which are taking part in the Haj operation, including the Ministry of Haj, Makkah Mayoralty, Umm Al-Qura University, Makkah Police, Haram Security Force and Makkah Traffic.
Prince Khaled also launched other activities of the Presidency for this year's Haj. The activities included an exhibition, workshop, meetings and lectures with the theme, "Haj: A worship and a civilized behavior." He toured the pavilions of the exhibition that showcased various types of facilities and services being offered by the Presidency and its departments to the pilgrims.
Sheikh Abdul Rahman Al-Sudais, head of the Presidency and imam and khateeb of the Grand Mosque; Sheikh Muhammad Al-Khozaim, deputy head of the Presidency, several other officials, scholars and citizens attended the function.
Meanwhile, Minister of Municipal and Rural Affairs Prince Mansour Bin Miteb will make on Saturday an inspection tour of the holy sites and review the final preparations for the Haj. He will also open a number of development projects implemented at the holy sites.
As of Tuesday, a total of 854,402 pilgrims have arrived for performing Haj. Of these, 814,350 came by air, 29,400 by land and 10,652 by sea, according to Lt. Gen. Salem Al-Bulaihed, Director General of the Passports.