Saudi Civil Defense authorities have warned hajj service providers that they will face stringent penal action in case of any violations in safety regulations during the pilgrimage season.
More than 70 security patrol teams will be deployed to catch those who enter Makkah and the holy sites without a hajj permit.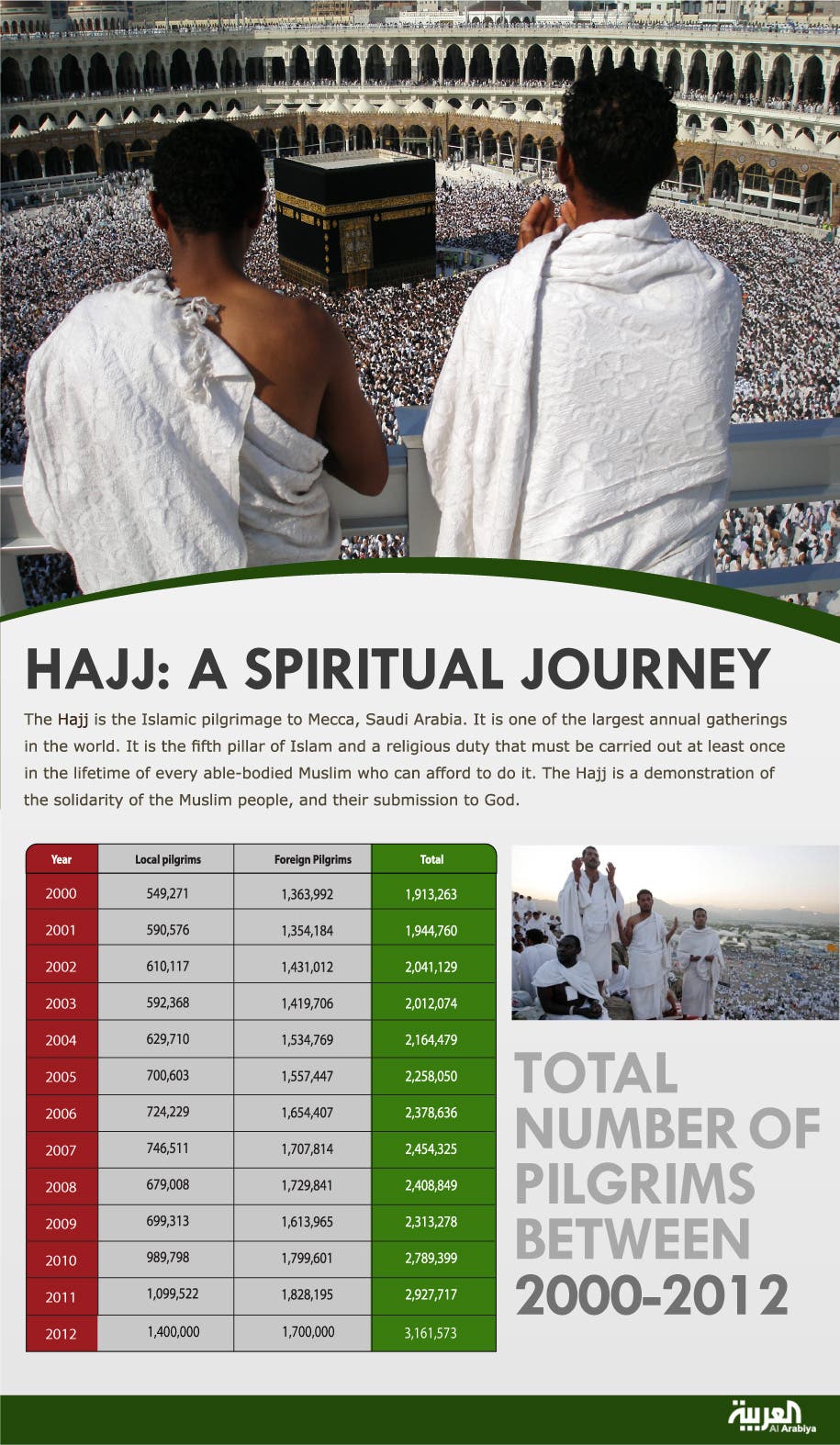 Lt. Gen. Saad al-Tuwaijry, Director General of Civil Defense, warned firms engaged in providing accommodation for pilgrims against committing any violations with regard to the safety requirements and standards of the buildings. "We will deal sternly with those who are negligent with regard to the safety of pilgrims," he said.
Tuwaijry praised Civil Defense field teams for finding out some violations of safety regulations during their inspections in the last few days. "These cases were referred to the preventive supervision teams at the Civil Defense. Subsequently, these violations have been rectified and penal actions were taken against the violators," he added.
Tuwaijry drew attention to the dangers of using some unlicensed buildings for accommodating pilgrims.
"Licenses were denied for these buildings for want of safety requirements. All these buildings will be under the close surveillance of our inspection squads around the clock," he said, adding that punitive measures will be taken against those who use these buildings to accommodate pilgrims.
He urged the pilgrims to call the Civil Defense on the toll free number 998 if they notice any safety violations in their accommodation. He also called on all tawafa establishments and hajj firms to strictly adhere to the safety requirements and not to make any construction and décor work in the buildings or passageways at the expense of the pilgrims' safety. He also warned that those who repeat violations such as bringing cooking gas to the holy sites and illegal erection of tents will face imprisonment.
The hajj Security Command officials told a press conference in Mina on Saturday that these illegal pilgrims will be handed over to the concerned agencies so as to take penal action against them. The authorities earlier disclosed that those who are caught performing hajj without permit would be deported immediately and banned from entering the Kingdom for 10 years. Similarly, owners of vehicles used to smuggle illegal pilgrims to the holy sites would be detained and fined, and their vehicles will be impounded.
Brig. Gen. Abdullah al-Obaid, field security commander for al-Behaita Center in Taif, said that the center, one km from al-Sail Meeqat (place from where pilgrims enter in a state of ihram), will closely check all the pilgrims coming by land from the central region and GCC states. He said that there will be a foreigners' department at each security center, and any foreign pilgrim who was caught without a valid hajj permit will be fingerprinted and deported instantly. Penal action shall also be taken against illegal Saudi pilgrims, he said.
"The hajj Security Command will strictly enforce the slogan of "No hajj without a permit" in cooperation with all the concerned departments and agencies, said Maj. Gen. Yahya al-Zahrani, Commander of the Special Forces for the Security of the Grand Mosque.
Meanwhile, the Civil Defense pressed into service vehicles equipped with devices for air filtration and exhaust fans. These vehicles will be used mainly in tunnels used by pilgrims as well as at residential towers and commercial centers to bring down temperature, according to Civil Defense sources.
The hydraulic fans in the device will help clean 200,000 cubic meters of air and smoke in an hour. These fans can also sprinkle more than 150 liters of water in a minute. This will be helpful for safety and rescue operations in case of any accidents such as fire in tunnels and residential towers, the sources said.