All Saudi authorities involved in organizing this year's hajj have completed preparatory measures to begin transferring more than 1.3 million pilgrims from Makkah to Mina for the day of al-Tarwiyah.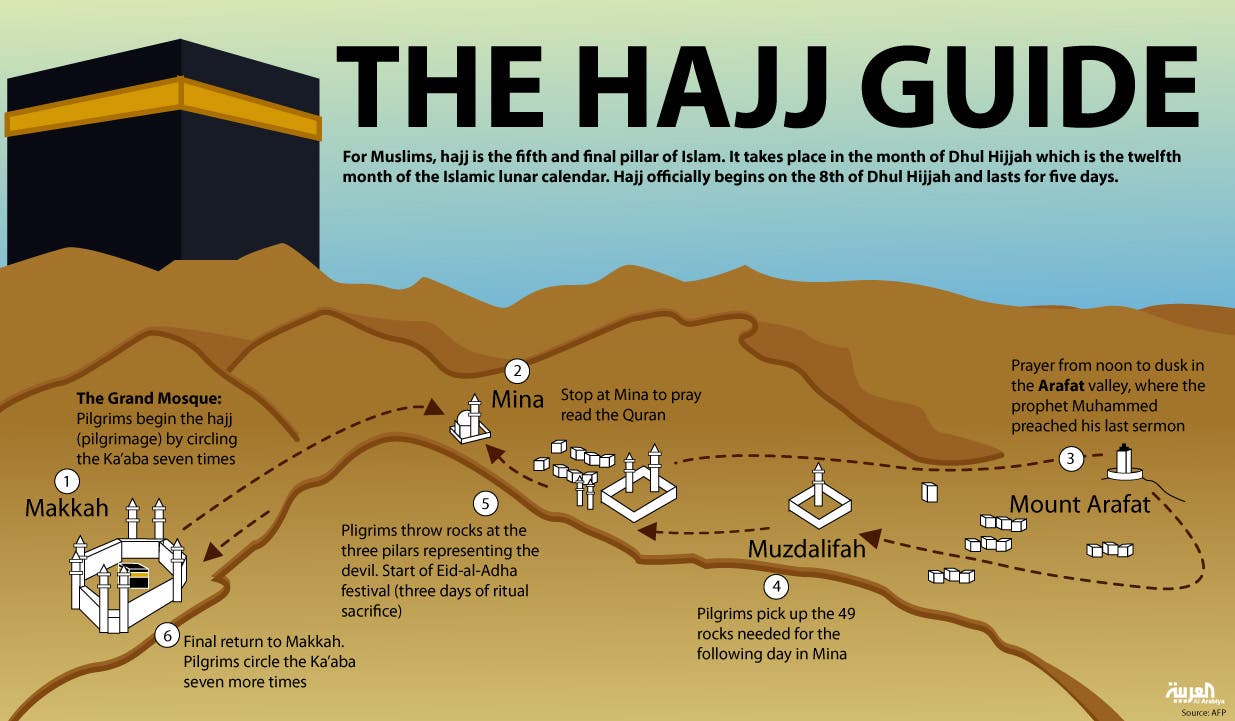 The transfer of the pilgrims to the holy sites is set to begin on Saturday evening. At Mina, air-conditioned tents provide temporary accommodation to the visiting pilgrims.
A plan ensuring the safety of pilgrims has been arranged by a committee consisting of members of the hajj ministry, in collaboration with the executive committee responsible for monitoring the transfer of pilgrims and the General Cars Syndicate, along with other companies, explained Marwan Rashad Zubaidi, secretary general and spokesman of the Syndicate.
The transfer processes ensures the smooth and safe arrival of the pilgrims to the sites of Mina and Arafat, as authorities provided the transportation buses with guides that are familiar with the roads and the sites, and can efficiently assist the pilgrims, added Zubaidi.
Shuttle busses will serve 563,000 pilgrims from Turkey, Europe, Southeast Asia, Africa, and Iran, while regular transportation will be serving the pilgrims from South Asia and the Arab states, said the official.
He added that 500 buses would be centralized at Mount Arafat to assist delayed shuttles, all to be done under the supervision of the relevant official committees and authorities.
The sectors involved in the organization of this year's hajj are working round-the-clock to ensure the completion of all the preparations in the holy sites, and provide the best conditions for pilgrims to devote themselves to the performance of hajj.
The security authorities, including civil defense, are inspecting the tents set up in Mina to ensure their suitability and safety. All security forces are also all prepared to ensure the security and safety of the pilgrims. The main and provisional hospitals are also well equipped and ready to receive the pilgrims.
Mina has received large amounts of furniture, food, water and all the required daily needs, which are enough to meet the needs of the 2 million pilgrims and workers during the hajj season.
Hajj officially begins on the 8th of Dhul Hijjah (Oct. 13) and lasts for five days.
The pilgrimage is obligatory for all Muslims once in their lifetime. On the 8th of Dhul Hijjah, soon after the dawn Fajr prayers which are performed in Makkah, pilgrims travel to Mina, which is roughly eight kilometers away.
Pilgrims spend the day and night in Mina praying and reciting praise of their Lord.
On the 9th of Dhul Hijjah, the dawn prayer is performed in Mina. After this, pilgrims make their way to Arafat, which is roughly 14 kilometers away.