As this year's hajj pilgrimage nears to an end, some 1.2 million Muslim pilgrims on Tuesday began the symbolic rite of stoning the devil.
The pilgrims headed to desert valley of Mina, near the Saudi holy city of Makkah, were they used previously collected pebbles to stone a series of three pillars representing the devil.
Women and elderly pilgrims can delegate this responsibility to a male in their party.
"This partly signifies stoning away the enemy is sometimes inherent in all of us, the enemy that is taking us away from the path of Islam," Mustafa Jaffer, a lecturer at the Stanmore Mosque Muslim Center in London, told Al Arabiya News earlier this month.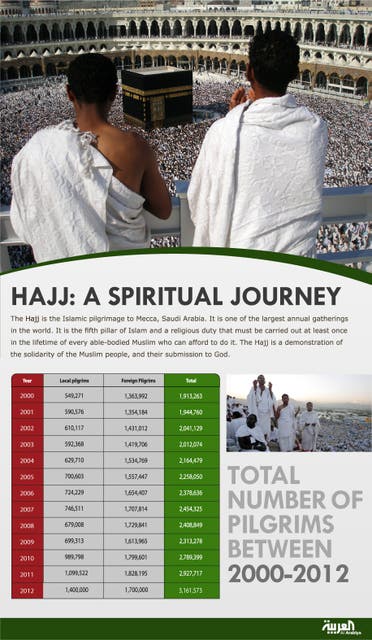 On Tuesday, Muslims marked the holiday, known in Arabic as Eid al-Adha, commemorating what Muslims believe was Prophet Ibrahim's willingness to sacrifice his son Ismail as a test of his faith from God.
For the stoning ritual, the pilgrims filed in crowds through a multi-level structure housing the walls symbolizing the devil.
The ritual is an emulation of Ibrahim's stoning of the devil at the three spots where he is said to have appeared trying to dissuade him from obeying God's order to sacrifice his son, Ismael.
Muslims from around the world pour to Makkah every year to perform Hajj, one of the five pillars of Islam.
Every able-bodied adult Muslim who can financially afford the trip must perform Hajj at least once in a lifetime.
At this stage of hajj, male pilgrims are required to shave their head; a common way in which a male who has performed the pilgrimage can be identified on his return home. Women cut a lock of their hair.
Pilgrims are also required to sacrifice animals, sheep or cattle, to mark the beginning of the four-day Eid al-Adha.
The meat is handed out to needy people and those who are unable to perform the sacrifice themselves can delegate the task.