Beijing Declaration 20 years on: Gender-related violence in the Mideast
Article 14 of the Beijing Declaration asserts that "women's rights are human rights"
Al Arabiya News is marking International Women's Day, and the 20th anniversary of the Beijing Declaration on gender equality. Here, we take a broad look at gender-related violence in the Arab world.
Twenty years have passed since the signing of the Beijing Declaration, a landmark document that called for the elimination of all forms of violence against women and girls as a prerequisite to advancing gender equality.
Years later, while not exclusive to the Middle East, gender-based violence in the region has been placed under the spotlight as repeated violations continue to go unpunished.
But milestones such as Saudi Arabia's creation of a set of laws deeming domestic violence a criminal offence, Egypt's outlawing of female genital mutilation and Lebanon's parliament passing a domestic violence law, point to a brighter future.
"When addressing gender-based violence in the Middle East, the first important observation is that the public discussions of many different forms of violence, thankfully, are expanding," Professor Pernille Arenfeldt, a historian of women and gender at the American University of Sharjah told Al Arabiya News.
"Taboos are being challenged," she said, describing a 2013 campaign against domestic violence in Saudi Arabia as a "prime example."
Following the campaign, the kingdom passed the protection from abuse law. Those found guilty of committing psychological or physical abuse could face up to one year jail and a maximum 50,000 riyals ($13,300) fine.
Female genital mutilation
While outlawed in Egypt in 2008, a UNICEF report revealed that 27.2 million Egyptian girls had undergone female circumcision, placing it in the top three countries with FGM.
"While the number above is an overall estimate, "the assumption is that since 2013 to date this estimate must have increased in terms of overall, absolute figures as the procedure is still practiced," Jaime Nadal, the U.N. Population Fund's (UNFPA) representative in Cairo, told Al Arabiya News.
"…But, at the same time," he continued, "there has been a decrease in relative terms (percentages) among the younger generation as stated by the preliminary results of 2014 DHS [Demographic and Health Surveys], which will be released in the coming weeks."
Alarmingly, little more than 30 percent of women surveyed by UNICEF said the practice should stop. But only 33 percent of those aged 15 to 19-years-old agreed, possibly a sign that younger generations are beginning to shun the procedure.
In January a man was convicted of manslaughter after conducting the often fatal procedure on 13-year-old Soheir al-Batea. Nadal described the trial as "a milestone in the right direction."
The case was the first to handle FGM, seven years after the law was passed.
"Curbing the practice requires work to control both the demand for FGM among families, as well as control over the supply side," such as persons or medical staff willing to provide the prodecure, Nadal said.
"Affecting supply requires work on the community level to change social norms in regards to FGM especially in rural areas where it is widely practiced."
"Work on supply side also requires strengthened surveillance over private clinics where most of the FGM is practiced as well as enhanced law enforcement to ensure efficient investigation and litigation of FGM cases which is also challenging to implement across the governorates of Egypt," he added.
Honor killings
An estimated 20 women - an official number experts say is likely to be an underestimation - are killed in Jordan every year in honor-related crimes, al-Monitor news website reported.
Honor killings are often based on claims of daughters, sisters or wives "shaming" the family through sex-related acts, but the case of Batool Haddad, killed by her father and uncle for converting to Islam showed there were other reasons.
In similar cases, articles 98 and 340 of the Jordanian penal code allow for reduced sentences for perpetrators of "honor crimes," Human Rights Watch reported.
Additionally, according to a report submitted to the U.N. General Assembly, Jordanian - and Iranian - law protect a man for murdering an adulterous wife.
"Many Middle Eastern states have codified personal status codes that ascribe extensive authority to male-heads of household and because state-issued laws as well as social norms define the familial sphere as intensely private and beyond the reach of state authority," Arenfeldt said, explaining that gender-based violence was not specific to any particular part of the world.
While Jordanian political and social activist - Lahib Bani Sakhar believes such laws could be amended in the future it is still not enough.
"It is not enough to amend laws. But to change society's attitudes is unfortunately a long term process," she told Al Arabiya News.
"A few timid steps have been taken to tackle the issue by the government, parliament, and civil society," she said.
"But I think a lot of work has to be done, and in particular the issue of enforcing the laws and addressing honor killing as a crime."
'Women's rights are human rights'
Article 14 of the Beijing Declaration asserts that "women's rights are human rights." It moves on to afford women "the freedom, thought, conscience, religion and belief."
While in article 29, signatories reveal their "determination" to "prevent and eliminate all forms of violence against women and girls."
"On International Women's Day, the fundamental question to ask is probably why the need for this day? This question is perhaps best answered by another question, namely, 'Are women human?' I am sure that we all agree that this is the case. Sadly, the evidence related to gender- based violence documents that we do not all agree on the implications of the answer," Arenfeldt said.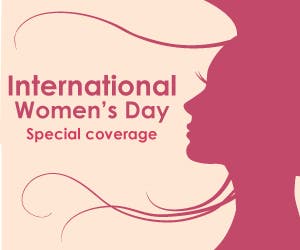 This article is part of Al Arabiya News' Special Coverage on International Women's Day.