Gamer, mother, advocate: Meet the woman taking the tech industry by storm
Reine Abbas has been recognized by several awards, and Inc.com considers her among the five most important women in gaming
Al Arabiya News is marking International Women's Day, and the 20th anniversary of the Beijing Declaration on gender equality, with a special series profiling leading women around the world, among them Lebanon's Reine Abbas.
The tech industry is known for its male dominance, an imbalance women such as Lebanon's Reine Abbas are trying to change.
She has been recognized by several awards, and Inc.com considers her among the five most important women in gaming, another industry where her gender is under-represented.
Women "are less than 15 percent in gaming, less than 12 percent in tech," she told Al Arabiya News. "I thought to myself, 'I don't like these numbers'."
A visual artist by education, Abbas is a self-taught game developer. Along with Ziad Feghali and Karim Abi Saleh, she launched Wixel Studios in 2007, which saw the development of several successful video games.
"Lots of people say women don't step forward, we don't attend meetings, we get scared, we get married and have kids," she said.
However, "we weren't born like that. For me, and according to studies, it's how girls are raised."
According to Abbas, the culture that girls are exposed to at an early age disengage their interest in things that may require more critical thinking.
A limiting upbringing
"Most of the activities belonging to girls are boring, they're not challenging." Boys are pushed "toward activities where they have to get their brain working."
Even educational toys, she says, are designed to appeal more to boys than girls, which is at the root of the problem of not having more women in the tech industry.
"I was in a park," the mother of three recounted. "There was a mother and a little girl. The girl was climbing a small tree, then the mother yelled, 'get down! You're a girl! You can't climb a tree.'
"I wanted to tell her, 'you can't tell her this. What do you want her to do, play around with make up all day?"
Abbas said a mother refused to enrol her daughters in a workshop that Wixel was hosting on gaming.
"One mother, with two girls - they're great, very smart, good at physics - I asked her to send them to our workshop on gaming. "She said no, then I told her it's for free. 'No, even if it's free, they have their ballet classes'."
Abbas is encouraging women to join the industry through workshops, talks and conferences.
She was invited to speak at a gaming event in Tunisia last year, and she conditioned her attendance on talking about girls and gaming. She has been invited to a gaming event in Germany, and has set the same condition.
Motherhood
Reaching where she is today was not a walk in the park. Three months after launching Wixel with Feghali and Abi Saleh, Abbas got pregnant.
"It wasn't easy for them to see me pregnant. They thought, 'she's in pain, maybe she'll stop work'.
"I saw it with the clients. Their eyes would get bigger. It was challenging, sometimes frustrating to prove that you can do it. You have to make double the effort to show that you can do both."
Abbas said she was thankful for her supportive partners. "I'm not saying I did it because of them. I did it because I know how to do it, but they were great partners. Maybe they were upset with a lot of things, but they were supportive all the time."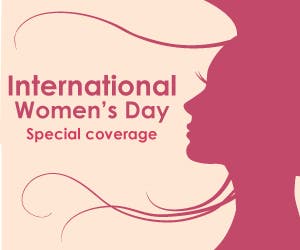 This article is part of Al Arabiya News' Special Coverage on International Women's Day.