At the bustling Vali Asr intersection in central Tehran, pro-reform camp supporter Armin settled in for a heated showdown with supporters of a conservative frontrunner in this week's Iranian presidential election.
"I don't want a president who lives a simple life, I don't want a president who survives on bread and cheese and wants the same for us," said the 30-year-old in jeans and a plaid pink-and-white shirt, pointing to a banner of top nuclear negotiator Saeed Jalili.
"I want a president who eats pizza and wants to improve the economy," said Armin, who did not give his first name, as he adjusted his rimless glasses.
Jalili, a devout revolutionary and wounded war veteran, is running on a ticket that boasts opposition to détente with the West. He is considered a frontrunner among the seven candidates, most of them conservative, vying for Iran's highest elected office on Friday.
His power-base stems from the paramilitary volunteer force Basij, whose young members are impressed by Jalili's calm, low-key demeanor, as well as his uncompromising stance in talks with world powers over Iran's disputed nuclear drive.
He has managed to appeal to the same constituency, including the Basijis, that catapulted President Mahmoud Ahmadinejad into power in 2005 and re-elected in 2009.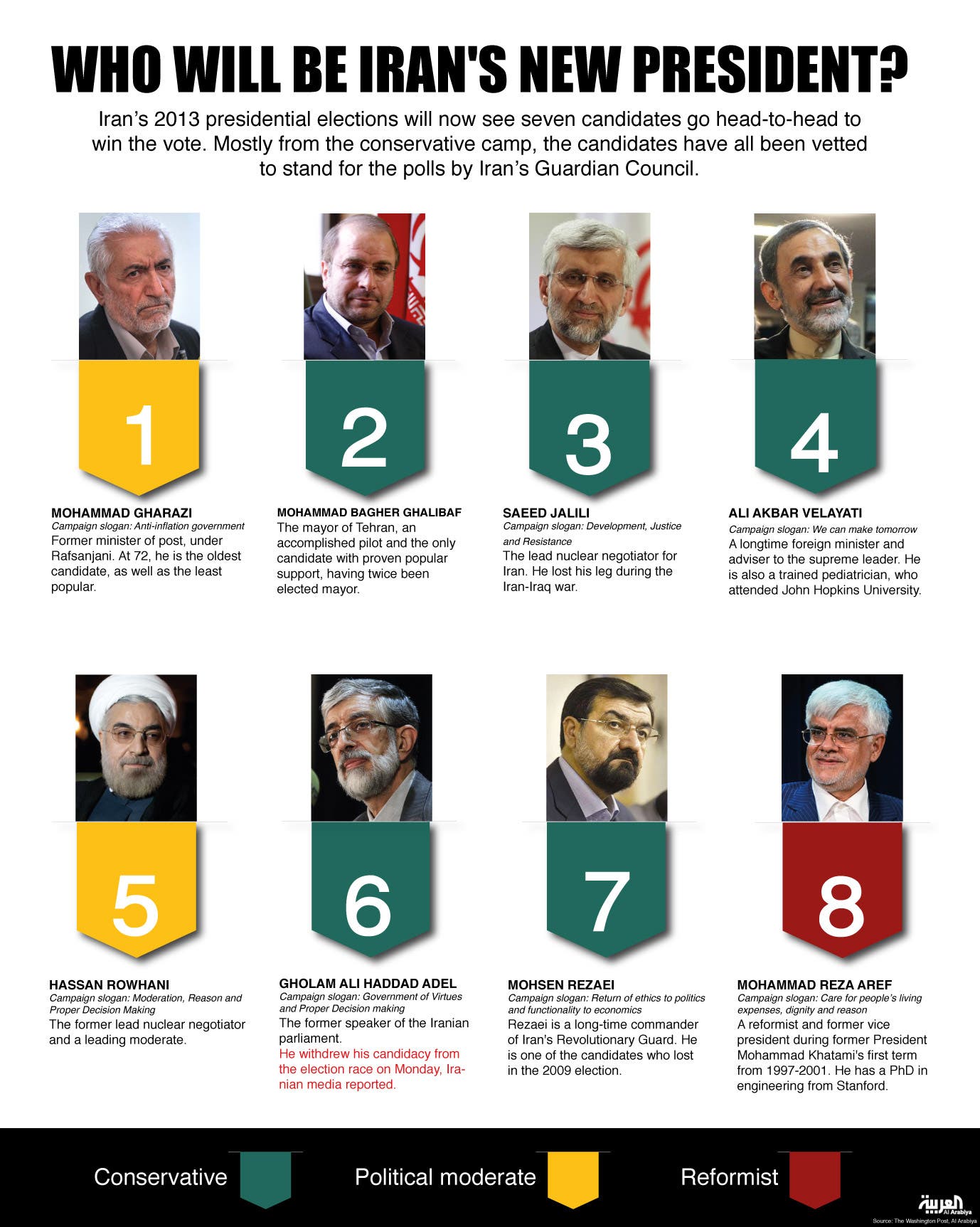 Responding to Armin's rhetoric, Mehdi Sadghiani pointedly waved a large poster of Jalili, adorned with the slogan in bold letters: "Jalili, the most devastating response to sanctions."
Mehdi, a 22-year-old mechanical engineering student, said: "We don't need to rely on other countries. This is the message of the revolution that Jalili has revived."
"He is an independent person, and God willing he will never bow to the demands of the enemies," said Milad Rahmani, another 22-year-old university student, who joined in the conversation.
Dressed in low cut, denim jeans, Milad argued that with Jalili in office, Iran would overcome all difficulties through "resistance" against the demands of the international community, which has been urging Iran to cut back on sensitive aspects of its nuclear program.
The face-off on Vali Asr intersection was one of the livelier incidents in a calm run-up to the polls.
This year's election campaign has been a far cry from the last vote in 2009 when boisterous campaign rallies and street parties attracted crowds, as supporters of pro-reform candidates Mir Hossein Mousavi and Mehdi Karroubi faced off with those of the conservative-minded incumbent.
The rallies led to an upsurge of emotion when Ahmadinejad was announced the winner, as his opponents challenged the official results claiming massive voter fraud and staged street protests which were suppressed in a brutal crackdown by the regime.
This year, the election campaign has been lackluster as no heavyweight candidates from the moderate and reformist camps are on the ballot. Akbar Hashemi Rafsanjani, a founding father of the revolution and two-time ex-president favored by both camps, has been barred from running.
The reformists have one candidate in the race, Mohammad Reza Aref, but their votes are expected to be divided between him and moderate hopeful Hassan Rowhani.
Authorities have banned open-air rallies and most candidates have mounted low-cost campaigns, highlighted by three live televised debates that only managed to produce a few heated exchanges between the candidates.
As crowd emerged at the intersection, Ramin, 23, was setting up shop to spread the word of Aref, sporting a t-shirt with a picture of his favorite candidate.
"We should vote for a reformist government to salvage this mess of the economy," he said, refusing to give his full name. "Only with that government can we have freedom of expression."
Another Aref supporter, Meysam, a 27-year-old electrical engineer, agreed.
"Only a reformist can save this country," he said, while expressing hope that Aref and Rowhani would unite under a single candidate to increase his chances.
As crowds gathered, Meysam launched into one-on-one discussions with onlookers to persuade them to vote.
"We have to convince people to vote," he said. "Boycotting the election will yield no result. It would only translate into a repeat of the same situation."
Iran is at loggerheads with world powers over its nuclear ambitions, with draconian sanctions against its economy imposed by the United States and the European Union.
Despite Iran's insistence that it only seeks the peaceful application of the technology, the standoff has cost Tehran many of its friends in the international community as well as a hefty economic price.
Amir, a 36-year-old employee of a private company and former Basij member, said regardless of who takes office, Iran "has to be friends with the rest of the world."
"The people want to have nuclear energy but at what cost?" he asked the crowd, waving an empty box of an imported breast cancer drug that he said had become scarce because of the sanctions.