The forthcoming Iranian presidential elections will inevitably cast its influence on neighboring Iraq.
However, its impact will more likely be seen as tampering with the Arab country's nascent democracy.
"If any conservative candidate wins the elections, there won't be any change seen in Iraq," Hani Ashor, advisor to the secular, Sunni-backed Al-Iraqiya movement, told Al Arabiya.
"Iranian influence, which is already starkly present" in Iraq, will increase if an Iranian conservative candidate wins the June 14 election, he added.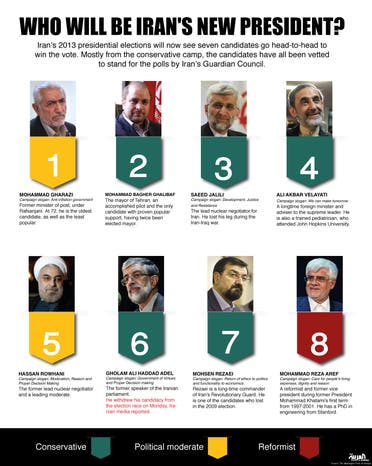 Eyad Allawi, former prime minister and head of Al-Iraqiya, won elections in March 2010 by two more seats than incumbent premier Nuri al-Maliki, who heads the State of Law coalition.
However, some of Maliki's opponents said he was announced as prime minister due to strong backing from Iran.
"A real balance of power between different political factions in Iraq is missing" due to Iranian influence, Ashor said, adding that he expects "inevitable Iranian influence on Iraq's upcoming elections, and who will be the next prime minister."
Others, however, argue that Iranian influence in Iraq's 2014 elections might be diluted.
Reformists want "improved diplomacy with neighboring countries, as well as with the United States. They want relations with regional countries to be based on respect, and respect for all sects," Baghdad-based political analyst Haider al-Mossawy told Al Arabiya
The current administration in Tehran already wants more open diplomacy with Washington, but regional developments will dictate the extent of Iranian influence, Mossawy added.
"US policy is undermining the region by trying to oust the Syrian regime, which isn't acceptable to Iran, Russia and China," he said.
US not confronting Iran
US policy is criticized for magnifying Iran's regional influence.
"Delivering Iraq to mullahs, ignoring the Iranian people's uprising, letting Iran crush Syrian resistance: this is US policy with Iran," tweeted Hassan Dai, a US-based Iranian human rights activist, and editor of the Iranian American Forum.
He described the election as a "sham," and said a conservative candidate is highly likely to win the presidential race and maintain Tehran's "confrontationist" policy.
Conservatives believe that the regime will collapse if they do not continue such a policy by expanding their regional power in countries such as Syria, Lebanon and Iraq, and challenging the West by not compromising on Iran's nuclear program, Dai said.
Supreme Leader Ayatollah Ali Khamenei, Iran's ultimate decision-maker, is giving "a clear message that the confrontationist policy will stay."
Ashor said the strengthening of sanctions against Iran is "working," but at a slow pace that is "giving an opportunity for Iran to increase its influence in the region, if not maintain it."
Iraqi Sunnis
While regional events can dictate Iran's foreign policy, Sunnis in Iraq have emerged with a greater role in curbing Tehran's influence in the country.
Protests that started in late 2012 in Iraq's predominantly Sunni province of Anbar have spread to other major Sunni areas.
High on the list of demands are the release of prisoners arrested on terrorism charges without judicial warrants, the scrapping of anti-terrorism measures that protesters claim target innocent people, and the curbing of Iran's influence.
Fearing a domino effect of an Arab Spring hitting Iraq's Sunni-dominated areas, "Maliki has changed his policy, and admitted that these protests are big, with real demands," Mossawy said.
Ammar al-Hakim, head of the Islamic Supreme Council of Iraq, a popular Shiite political party, was previously seen as an ardent supporter of Iran.
However, he is remodelling himself as a politician who puts Iraqi interests first.
"He was more pro-Iran, but not anymore. He has come up with a new strategy. He is emerging as a mediator between different factions to bring more unity to the Iraqi political scene," Mossawy said.
In May, Hakim successfully mediated between Iraq's top political and religious figures at a meeting that addressed unrest that killed more than 1,000 people that month.
However, Iraq has not yet reached a political balance. Some Sunnis are demanding a federal system to reduce Tehran's influence in their provinces.
"Tehran either needs to give guarantees to the Sunnis, or heat waves coming from the Syrian uprising will hit Sunni areas in Iraq," said Ashor.