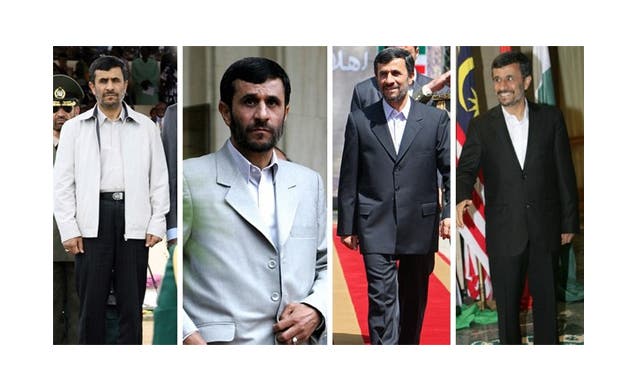 What makes Ahmadinejad smile? What's behind Ahmadinejad's smile? How much does Ahmadinejad's famed white jacket cost? Is Ahmadinejad preparing for the apocalypse? Is Ahmadinejad the George W. Bush of Iranian politics?
During the past eight years of Iranian President Mahmoud Ahmadinejad's rule, an assortment of curiously scornful questions have been asked by the international media, attempting to raise an eyebrow at the leader.
But as his second term draws to a close when a new president is picked on Friday, scrutinizing his legacy is mired with a flurry of diplomatic and economic episodes.
Among both urban Iranians and more rural groups, his presidency may be reflected upon with mixed sentiment.
"On the one hand, he is still perceived by many to have restarted Iran's nuclear program," says Sasan Aghlani, a researcher at London-based think-tank Chatham House.
"He also took the decision to cut fuel subsidies, which previous presidents had shied away from. On the other hand, the allegations of corruption within his administration and the criticism that he mismanaged the economy will perhaps overshadow his legacy among many Iranians."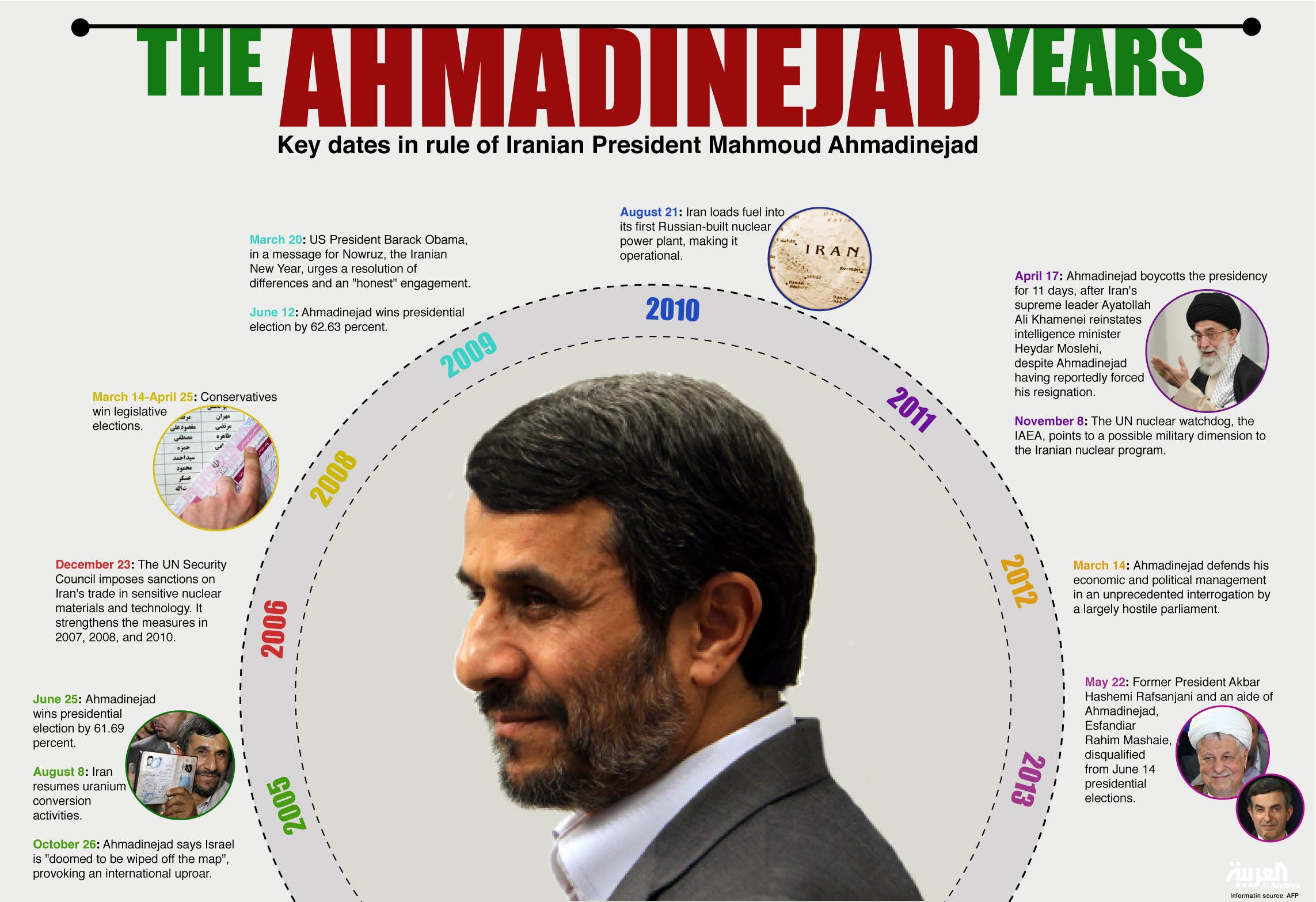 Political roadshows and cash handouts
Ahmadinejad's economic legacy has marked many milestones in his turbulent tenure. For eight years, his political roadshow included traveling to small towns and villages, in his famous white jacket – a symbol of his humble beginnings, to give cash handouts to impoverished areas.
While his critics called it demagoguery and evidence of economic mismanagement, it was under his presidency that Iran maximized nuclear enrichment activities - increasing the number of centrifuges from 3000 at the end of the Khatami's presidency to about 12,000 today, yielding a spike in uranium enrichment to 20 percent. But were they bittersweet advances?
"All of this came at a heavy price, in particular for the Iranian middle class and the poorer strata of society who are suffering from western sanctions despite the social security system that the state in Iran and its immense underbelly administer," says Arshin Adib-Moghaddam, the chair of the Center for Iranian Studies at the London-based School of Oriental and African Studies.
Oil, of which Iran has the fourth largest reserves on the planet, is the country's main natural resource. Western sanctions aimed at curbing Iran's nuclear program have since early 2012 halved its oil revenues, AFP news agency reports. The sanctions have also led to a dearth of foreign currency which has caused a 70-percent collapse in the value of the currency, the rial, against the dollar and an explosion of inflation, which stands at above 30 percent. The economy grew by only 1.9 percent in 2012, according to World Bank figures.
All the while, the president's plan for economic reform – which greatly involved increasing the Iranian's people's purchasing power – was criticized for not being implemented correctly.
"The allegations of corruption within his administration and the criticism that he mismanaged the economy will perhaps overshadow his legacy among many Iranians," says Aghlani.
While the allegations pelted down on Ahmadinejad, support from his voters remained strong due to his staunch stance of standing up to Western powers.
"There are people in Iran who voted for Ahmadinejad because they believe he is against the domestic corruption and at the same time stands firmly up to the western powers, and especially the United States, says Denise Ajiri, founder of U.S.-based Iran Election Watch.
"Looking back at Ahmadinejad's eight years, his government's ongoing nuclear talks with global powers is also seen by his supports as a sign of success. They believe Ahmadinejad did not give up on his Iran's nuclear rights," Ajiri adds.
Inflammatory gaffes
But while this may have drummed up domestic support for the leader, Ahmadinejad's continued to stir the wrath of the West and Israel, gleefully predicting the annihilation of Israel.
In his earlier years as president, the pro-Palestine Ahmadinejad provoked sporadic international uproars after saying Israel is "doomed to be wiped off the map" and questioning the holocaust. More recently in 2012, he branded the Jewish state an "insult to humanity" amid Israel's open debates on whether to attack Iran over its nuclear program.
As inflammatory as his outbursts were, they were also scoffed at. In Iran and Israel, there are jokes that Ahmadinejad was an agent of Mossad, the Israeli spy agency, wrote journalist Michael Theodoulou in the UAE-based The National, adding that educated Iranians winced whenever he traveled abroad.
"Apart from his denials of the Holocaust, Ahmadinejad was ridiculed during one trip to the United Nations General Assembly in New York - an annual jaunt he loved - when he claimed there were no gays in Iran," Theodoulou added.
Such gaffes have resulted in the president being described as being lax and immature, with the press even questioning his appearance, his smiles, and his gazes.
"He is notorious for his odd personality traits even among the high ranking authorities of the Islamic regime: fierce rhetoric, use of vulgar vocabulary, hectic gestures, lapse of concentration and etc., show not only his derisory immaturity, but also his personal abnormality," wrote Iranian-born German writer Jahanshah Rashidian in April.
While the anti-Israel rhetoric had been played to the Arab gallery, quietly applauded by some Arab states, Iranian relations with Gulf Arab states took a hit during his rule.
"His administration failed on the diplomatic front in its dealings with the GCC. He had been repeatedly admonished for his lack of strategy vis-a-vis the GCC countries in general and Saudi Arabia in particular," says Adib-Moghaddam.
Reformist candidates have been quick to point out that under former president Rafsanjani, Iran had good relations with GCC states, says Aghlani.
"But circumstances are now very different to those during the presidencies of Rafsanjani and Khatami, and it's hard to verify if a different president would have, for instance, treated the uprisings in Bahrain, or Yemen, differently to Ahmadinejad during the Arab Awakening," Aghlani added.
A troubled legacy
While economic turbulence and gauche episodes of foreign diplomacy stain Ahmadinejad's legacy, there is another vestige the president leaves behind, deeply impacting the country's political landscape.
During his rule, the Iranian leader had stood up to Iran's clerical elite, had standoffish interactions with parliament and was embroiled in a rift with Supreme Leader Ayatollah Khamenei. Many who supported him in 2009 during his re-election, were troubled by such actions during his second presidency, says Sasan.
In April 2011, Ahmadinejad boycotted the presidency for 11 days, after Khamenei reinstated intelligence minister Heydar Moslehi, despite Ahmadinejad having reportedly forced his resignation.
Analysts say his rift with the clerical elite was part of the dynamic which ensured a line-up of mostly conservative candidates for the 2013 elections, selected by electoral watchdog, the Guardian Council.
The June 14 presidential elections will be Iran's 11th since the 1979 Islamic revolution.
Among the candidates are nuclear negotiator Saeed Jalili, former Foreign Minister Ali Akbar Velayati, and Tehran Mayor Mohammad Bagher Qalibaf - all Khamenei loyalists.
Mohsen Rezaei, former head of the Revolutionary Guards, and Mohammad Gharazi, a little-known former minister, are also in the race.
Only one of the six candidates is a pro-reform figure: former nuclear negotiator Hassan Rouhani.
Ahmadinejad's controversial ally Esfandiar Rahim Mashaei, who the Iranian leader publicly anointed to succeed him, was barred from the elections by the hardline vetting body. Surprisingly, Ahmadinejad is yet to challenge this ruling.
Meanwhile most of the current candidates continue to express their adoration for the clerical elite and that they would stand by the ideals of the Islamic Revolution if picked.
This is perhaps one consequence of Ahmadinejad's rule; crushed support for those who challenge the clerical elite.
"He leaves the presidency with minimal support. Out of all the presidents after the death of Ayatollah Khomeini in 1989, Mahmoud Ahmadinejad departs with the least systematic support and a rather diminutive power base," says Adib-Moghaddam.
"In many ways he is the George W. Bush of Iranian politics," he adds.