Iranian voters weary of years of economic isolation and tightening political restrictions threw down a blunt demand for change on Saturday by handing a moderate cleric a landslide victory in a presidential election.

Having waited throughout Friday night and most of Saturday, millions of Iranians at home and abroad greeted Hassan Rowhani's victory with a mix of euphoria and relief that eight years under hardline president Mahmoud Ahmadinejad were finally over.

That Rowhani, a former nuclear negotiator, trounced hardline "Principlist" rivals most loyal to the theocratic system and Supreme Leader Ayatollah Ali Khamenei in Friday's contest left many in the Islamic Republic in shock.

A second surprise was that the country's first presidential poll since a disputed re-election of Ahmadinejad in 2009appeared to be free and fair.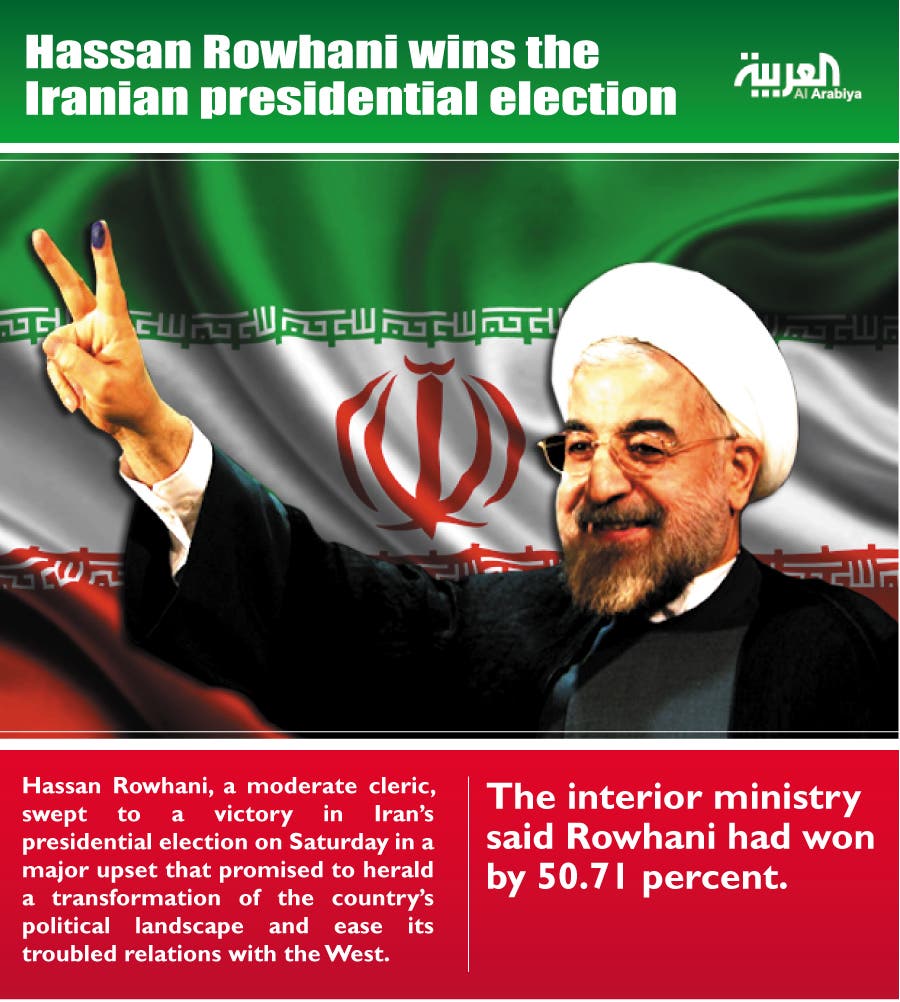 His victory goes some way to repairing the legitimacy of the Islamic Republic, badly damaged four years ago when the disputed poll led to mass unrest. And it may herald an increase in political space for the sort of reformist groups which bore the brunt of the security crackdown that ended the disturbances.

"Though hardliners remain in control of key aspects of Iran's political system, centrists and reformists have proven that even when the cards are stacked against them, they can still prevail due to their support among the population," said Trita Parsi, president of the National Iranian American Council.

After final results were announced and the nerve-racking wait came to an end, Iranians reveled in having delivered their message to Iran's theocratic leader, Ayatollah Ali Khamenei, whose loyalists dominated the field of candidates.

From the streets of Tehran came reports of a festive atmosphere, as crowds of Rowhani supporters dressed in his campaign color purple gathered to celebrate his emphatic victory. Some chanted "Ahmadi Bye Bye" heralding the imminent end to incumbent Mahmoud Ahamdinejad's presidency.

The long wait quickly became the subject of rich humor. "Don't be in a rush. It is the first time they are counting votes. They didn't expect it would take so long," quipped one Facebook message, alluding to the widespread allegations of vote-rigging four years ago.
Economy and sanctions


Victory will be followed by the colossal challenge of putting Iran back on its feet, repairing the damage done by eight years of growing mistrust between Tehran and the West.

Iran has been battered by economic sanctions imposed by the United States and its allies over its nuclear activities, resulting in soaring inflation and unemployment.

While Iran maintains it will not develop nuclear arms, it has refused to curb what it says is its rights to nuclear power.

With such a strong mandate and a clear intent to reach out his hand, there will be guarded hope that the 64-year-old cleric can progress nuclear talks. But with Iran's supreme leader, Ayatollah Ali Khamenei, deciding state policy, Rowhani will face limits to his area of operations.

"(Mr Rowhani) will choose the core cadre at the foreign ministry and Supreme National Security Council and this can definitely have an impact. But the general orientation is decided by the Supreme Leader ... and naturally Mr Rowhani will cooperate with him," said conservative member of parliament Ahmad Tavakoli, the ISNA news agency reported.

Equally intractable will be the issue of two reformist leaders who have been under house arrest for more than two years over their role in what critics have decried as their seditious role in the post-election protests in 2009.

Throughout the campaign Rowhani supporters have stirred the memories of 2009, chanting the names of the two imprisoned leaders, Mir Hossein Mousavi and Mehdi Karoubi, at campaign events and intensifying calls for their release.

But that means confronting powerful elements of the conservative establishment who may not yet be prepared to welcome people they call "seditionists" back into the fold.

"A Rowhani landslide will have to deliver substance, not just cosmetics, and this requires quite a few people to admit that the last eight years have been an aberration," said Ali Ansari, professor at St Andrew's University in Scotland.

"I don't see that coming from the pages of Kayhan (a hardline newspaper). I still have reservations," he added.

Support from liberals

The 64-year-old cleric has pledged to draw up and implement a "civil rights charter" and has spoken up for the rights of women and ethnic minorities. He was heavily critical of the atmosphere of tight security ahead of the election and garnered strong support from liberal Iranians as a result.

But voters seemed most preoccupied with the desperate state of the economy.

Between them Rowhani and the runner-up Mohammad Baqer Qalibaf- the pragmatic modernizing mayor of Tehran who is very popular in the city for his clear managerial skills - took more than two thirds of votes cast.

Even many conservatives had called time on Iran's overtly ideological stance for not providing for the Iranian public.

"The defeat of the Principlists was necessary," read an editorial on the Tabnak news website affiliated to Mohsen Rezaie, a conservative election candidate and former head of the Revolutionary Guards who came fourth in the election.

"The Principlist current must understand that one cannot be inefficient and expect the people to still support them in throngs."

Despite widespread calls from conservative activists to get behind a single candidate, three big-hitters all remained in the contest, pulling their shared power base apart at the seams.

The man many expected to be at the front of the pack, current nuclear negotiator Saeed Jalili, slumped to third place.

"Iranians are worried about their future. (The prospect of)a Jalili presidency and a harsh securitized domestic environment- I think people thought it would lead to a situation of confrontation inside the country," said Farideh Farhi of Hawaii University.

Iranians may have to wait patiently for change because of Iran's multi-tiered power structure, which has gradually eroded the office of the president over the last two decades.

"Rowhani's upset victory has effectively redeemed Iran's electoral system, which was tainted after the 2009 presidential poll," said Ali Vaez, an analyst at International Crisis Group.

"Remember that Iran is governed by complex institutions and competing power centers that inherently favor continuity over radical change."