Ramadan marks a "golden opportunity" for businesses to reach customers through social media, with use of Facebook and Twitter rising by at least 30 percent during the holy month, according to research agency The Online Project (TOP).
Regional social media activity reached its annual peak during Ramadan last year, according to TOP's 'Social Media in Ramadan' report.
Facebook numbers surged by 30 percent and Twitter engagement was up 33 percent, the report found.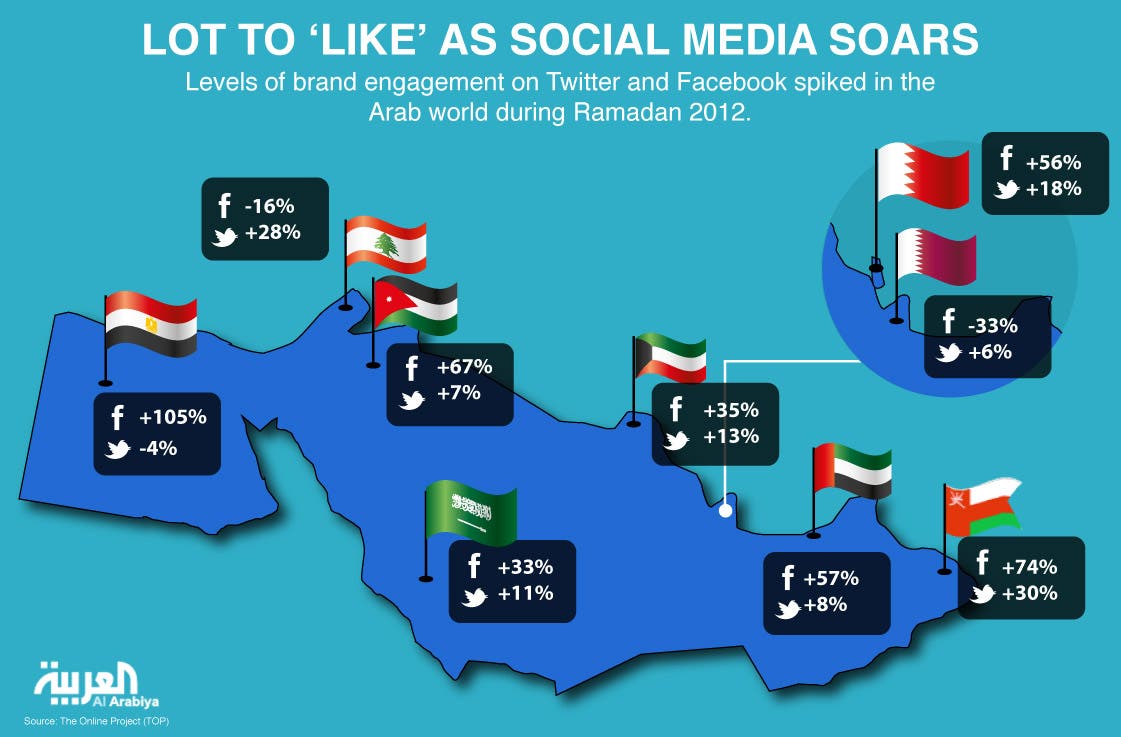 TOP said this represents a prime opportunity for businesses to advertise and market their brands.
"Engagement with brands is hugely multiplied during Ramadan providing businesses with the ideal window to communicate with customers," said the report.
TOP analyzed around 9,000 individual users on Twitter, and 102 Facebook brand pages during Ramadan last year, based on users in nine different countries across the Middle East.
The report measured individual activity on the sites, such as comments, 'likes' and shares on Facebook and mentions and retweets on Twitter.
It also measured social media users' engagements with specific brands, with mixed results across the Middle East region (see infographic, above). In Egypt for example, Facebook users' interactions grew by 105 percent during Ramadan last year. However, brand interactions via Twitter fell by four percent during the same time period.
Consumer spending typically soars during Ramadan, and Middle Eastern companies boost their spending on traditional offline campaigns by as much as 20 percent, according to TOP. The largest four telecoms companies spend a combined $200 million on advertising over the month, it said.
TOP also examined the timing of social media interactions during Ramadan compared with other times of year. The results showed that consumers tend to switch their engagement time from early morning, before work, to early evening at 7pm, before Muslims break their fast.
"If brands wish to take advantage of this spike in audience [they] should also consider posts that include content tailored to specific audiences that is entertaining or value-adding," commented Zafer Younis, the chief executive of TOP.
The report recommends that businesses align publishing times, increase advertising support budgets and implement integrated marketing campaigns via social media, in order to maximize communication during Ramadan.
The first day of Ramadan is likely to begin on Tuesday, with Muslims across the world beginning a month of fasting.