Syrian refugees: Sharing knowledge, building confidence
Homework is something most kids dread at the best of times, but it is often made easier when their parents are able to help
Homework is something most kids dread at the best of times, but it is often made easier when their parents are able to help.
However, when the children are Syrian refugees, whose parents do not speak English, the task becomes more challenging.
The challenge is being tackled by a group of Syrian women who have taken it upon themselves to help their fellow compatriots learn the basics.
Riham, 24, left Damascus with her family in 2012 when the fighting worsened. She is single, has no children and graduated from Damascus University, having completed a secretarial and administration course.
"I started with two children who had been left with their mother by their father. I decided I wanted to help them. I started teaching them how to read," she told Al Arabiya English.
She said she then helped a relative's children, and was eventually asked by a school to work there in a supporting role. When asked why she was doing this as a volunteer instead of as a paid worker, she said it was a "social responsibility."
Riham is not alone. Thirty-year-old mother of four Aisha Zein el-Dine decided to follow a similar route, having fled with her family from Homs in 2013.
"I'm teaching children around Beirut how to read and write, and helping their parents find school places for their children," she told Al Arabiya English.
She said she started with some relatives who needed help with their children, then extended her services across the city - like Riham, for free.
Both women said they were aware of other women doing similar work voluntarily. However, their work goes largely unreported, while the rest of the world focuses on the negative aspects of the refugee issue.
Asked if she felt Europe understood the kind of work they were doing, or many Syrians' efforts to better themselves, she shook her head.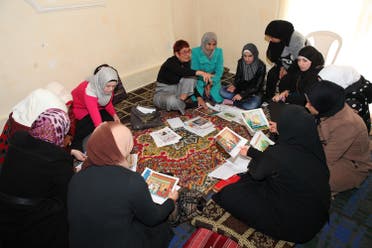 "Europeans seem to think we're all illiterate and after handouts. We're not. My husband has a degree. In Syria he was a professional - now he works as a painter and decorator so we can eat."
Education is imperative to the efforts made to prevent the exclusion of Syrian refugees. It is feared that children who are not educated - especially in languages such as English - are easier prey for radicalization by terror networks such as ISIS.
Support
In an effort to help, the UNHCR is working with the British Council on a pilot parents support group. The aim is to provide training for Syrian parents to help their children learn foreign languages, even if the parents do not no understand the languages themselves.
Isabelle Grappe, a sociolinguistic consultant working with the English-language project with the British Council, said it was important that women like Riham and Dine continued their efforts.
In single room where a Syrian family lives, she spent about two hours explaining to a group of refugee women the importance of helping their children, and of combining images with words to help them understand words and concepts.
Her work also focuses on helping to build women's confidence by getting them to talk about their skills and interests.
In doing so, they not only get to understand and appreciate their own skills, but the diversity of people, even when they are from the same cultural background.
"We have very positive results when we focus on the attitudes of these people," Grappe told Al Arabiya English.
"When they tell people about their interests and skills, they become proud of this and want to share it. They'll transfer this positive attitude to the children. Everyone can learn by themselves… We only work to give them the strategy and direction."
She said it was important to teach people that there are differences not just between countries, but also local communities.
Grappe said she aimed to help women attending the pilot group to embrace differences rather than feel ashamed of them.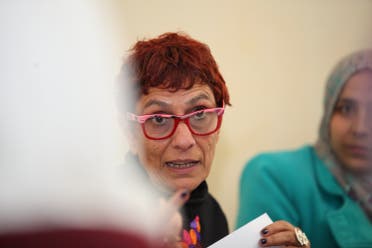 She said the important thing was to ensure they realized they knew things they could share with people. "My hope is that when this course is finished, they'll share what they've learned with other women."
The success of her group, she said, was how many people benefitted, either directly from the group or from those who shared the information.
Ultimately, Grappe's real success will be when she is no longer required, but in the current climate in the Middle East that seems unlikely.