Clinton offers to work with Trump
Hillary Clinton delivered her final remarks of the presidential election after a devastating loss to Donald Trump
Hillary Clinton delivered her final remarks of the presidential election after a devastating loss to Donald Trump.
Clinton conceded her election loss to Republican Donald Trump and said she offered to work with the president-elect.

"Last night I congratulated Donald Trump and offered to work with him on behalf of our country. I hope that he will be a successful president for all Americans," Clinton told supporters and staff at a Manhattan hotel.
She urged her supporters to accept the results, saying they owe Trump an "open mind" and a "chance to lead." She says American democracy depends on "peaceful transition of power."
Clinton said the campaign has been "one of the greatest honors" of her life.
She described the outcome as "painful," but says the effort was not about her but "the country we love."
"This is not the outcome we wanted or we worked so hard for and I'm sorry that we did not win this election for the values we share and the vision we hold for our country," she said.
"This is painful, and it will be for a long time, but I want you to remember this: our campaign was never about one person or even one election."
She said that the constitutional democracy "enshrines the peaceful transfer of power, and we don't just respect that, we cherish it."
"It enshrines other things too," she said.
"The rule of law, the principle that we are all equal in rights and dignity, freedom of worship and expression. We respect and cherish these values, too, and we must defend them."
Clinton took the stage to sustained applause.
Ashen-faced aides sat in the front row as supporters in the audience sobbed at the emotional event.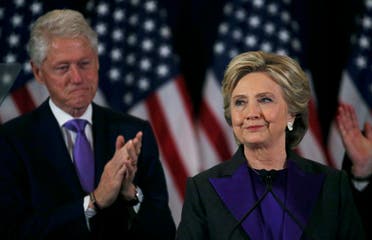 Meanwhile, President Barack Obama urged Democrats on Wednesday to put aside their disappointment after Republican Donald Trump won the race to replace him and work toward a successful transition of presidential power.

"We are now all rooting for his success in uniting and leading the country," Obama said after a bitter campaign where he worked hard on Democratic candidate Hillary Clinton's behalf to defeat Trump, who has pledged to undo Obama's top legislative and executive accomplishments.

"I want to make sure that hand-off is well executed because ultimately we're all on the same team," Obama said.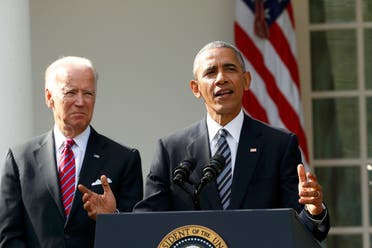 (with Reuters, AFP and the Associated Press)