Barcelona's "Peace Tour" of Israel and the Palestinian territories reached its climax on Sunday evening with Lionel Messi and his teammates putting on a display of skills and training techniques in front of 12,000 children.

As Messi juggled the ball, thousands of Israeli youngsters in the crowd at Bloomfield Stadium in Tel Aviv cheered his name. Dozens of young Israelis, including Israeli Jews and Arabs from the Peres Center for Peace, took part in the training session alongside Barcelona's stars, including Dani Alves, Gerard Pique, Andres Iniesta and new signing Neymar.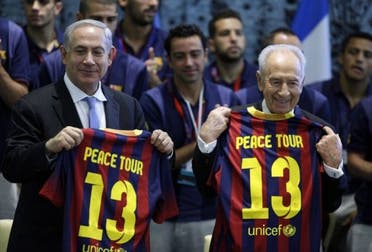 Before the session began President Shimon Peres thanked the players.

"You are ambassadors of peace. You brought light to our people, hope to our children, and a message of peace to the Middle East," Peres said

The event wrapped up a busy two-day trip for the Spanish champions, which included meetings with Palestinian politicians in Bethlehem and Israeli leaders in Jerusalem as well as two soccer clinics for Palestinian and Israeli children.

The team flew into Israel on Saturday afternoon, just hours after beating Brazilian side Santos 8-0 in a preseason friendly on Friday night. After leaving later Sunday, the players will fly straight to the Far East to begin its Asian tour, which will include games against Thailand and a Malaysian XI.

Barcelona arrived in the region a week after Israeli and Palestinian leaders re-launched peace talks in Washington. The club's management expressed hope that Barcelona could bring some hope and impetus to the region.

"It's a big honor for us to be here and share our time with all our fans in Israel, especially children," Barcelona president Sandro Rosell said Sunday during a reception at Peres' official presidential residence.

"It is good timing because it coincides with negotiations for peace in Washington. All of the world is watching you and the negotiations and we all pray these negotiations will end in a good manner."

Referring to Barcelona's famous passing style, Peres said: "Messi, Xavi, Iniesta, you and the whole team can teach us and the Palestinians to play 'tiki-taka' so we can score the goal we all hope for - the goal of peace."

When the trip was first announced in February, Rosell said he hoped to center events around a match between Barcelona and a mixed Israeli-Palestinian team. But the proposed game was cancelled after objections by Palestinian Football Association chairman Jibril Rajoub.

"We know that coming here is a drop in the ocean but for us this drop is very important and we will deliver any drop we can give to Israel and the Palestinians to make peace happen," Rosell said.

Earlier Sunday the Barcelona squad visited Jerusalem's Western Wall, a retaining wall of the biblical Jewish Temple compound and the holiest site where Jews can pray. All of the team members wore traditional Jewish skullcaps and many were seen leaning their heads against the ancient stones, apparently taking a moment for personal prayer.

Throughout the trip, wherever the Barcelona squad went, they were greeted by hundreds of cheering fans.

On Saturday afternoon the squad visited the Church of the Nativity in Bethlehem and met with Palestinian Authority President Mahmoud Abbas in the city.

The 140-strong Barca delegation then traveled to the Dura Stadium in the southern West Bank to meet Palestinian youngsters and hold a soccer clinic.

Rajoub described the visit as an historic moment for his people.

"We are hugely respectful of this visit being paid by Barça," he said. "It is a big step towards our desire for peace."

This is not the first time a Spanish team has visited Israel to promote peace. In 2005, Barcelona beat a joint Israeli-Palestinian team 2-1 in a match held at the Camp Nou. In 2007, Real Madrid won a similar game 8-0 at Ramat Gan Stadium.