Former player: drug use rife in Saudi football league
Fouad Anwar proposed that clubs increase awareness on the subject among youth as well as first league players
Former Saudi footballer Fouad Anwar was heavily criticized after publically stating that the use of hash, or "hashish" as it is commonly known in Arabic, is widespread among footballers in Saudi Arabia.
"This is something we must admit … Hashish is widely spread in … [Saudi] football," Anwar said earlier this week during an interview with the Saudi channel al-Riyadiyah.
Anwar explained to Al Arabiya News that his intentions were to "ring the alarm."
"I think the message has been delivered," he said after being widely accused of wanting to hurt the popular sport in the kingdom.
The former football star refused to discuss the topic further to avoid misinterpretation. "If I speak more about the topic some may think it's a personal issue… but it is about the public interest," he said.
Earlier he said football clubs in the kingdom "must subject their players to random medical tests" to ascertain whether they use the drug.
Fouad Anwar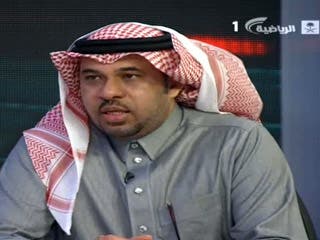 Athletes already undergo tests checking for banned substances by the Saudi Arabian Anti-Doping Committee (SAADC), and are penalized accordingly.
"All clubs in the kingdom subject their players to random medical tests," Dr. Mohammad Saleh al-Konbaz, president of the SAADC, told Al Arabiya News. He added that players undergo the tests during the games and off season.
"Since the beginning of the year till March 2, a total of 284 players were tested across 14 different sports, with only one case which tested positive for banned substances in weight lifting," Konbaz said.
Compared to previous years, this is was a significant improvement, Konbaz added.
Anti-doping committees are requested to specify the "banned substances" found in players' blood. The committee in Saudi Arabia announced its intention to follow the international regulation, but has not yet done so.
"Because of sensitivities within Saudi society, the international agency allowed us to not name the substances just yet," said Konbaz.
Regardless, Konbaz said: "We must not berry out heads in the sand. The athletes are part of Saudi society."
Regarding the use of drugs by sportspersons, Anwar said: "If they are being tested it does not mean the phenomenon ceases to exist." He said hash is not detectable unless it was tested for around the time of consumption.
Saudi Arabia has a zero tolerance policy on the consumption of drugs and alcohol among its citizens and residents, but the SAADC only has the authority to penalize and punish within the sports world.
"We deal with these cases from an athletic perspective only, neither a legal nor a shariah perspective [is applied]," Konbaz said, adding that if other issues were at stake, such as promoting or selling of drugs, the committee would then cooperate with authorities.
The 41-year-old former footballer, Anwar, called on players to avoid taking any illegal substances, explaining that hashish does not only harm their health but also their careers.
"My first and last intention was to ring the alarm, and for the clubs to care for their players… and for the topic to take a fair share of discussion on the media," he said.
Anwar, who was a former captain for Saudi Arabia's national team, is well known for scoring during the FIFA World Cup against the Netherlands in 1994. He insisted that he was not about to step away from his "cause, and will tolerate any criticism," regarding his outcry on alleged drug use by Saudi Arabia's footballers.