Egyptian footballer suspended over 'Sisi' sign
Salah Amin will be suspended for the rest of the season and fined $2,900
Egyptian football player Salah Amin was punished by Egypt's Football Association (EFA) after making an on-pitch political gesture in support of the country's military chief, Gen. Abdel Fatah al-Sisi, the BBC reported Thursday.
Amin, who plays for the military team "Tala'ea El-Gaish" or "Vanguard Army Club," was accused of violating the rules against political statements by players, after he shaped the finger and thumb of each hand into the letter "C" during a recent league game.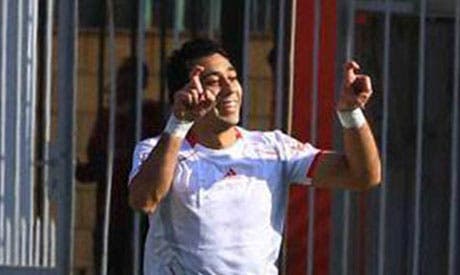 Egyptians generally use "CC" to refer to the army chief, who is also widely expected to take part in Egypt's upcoming presidential elections.
The Egyptian Football Association's disciplinary committee said the player will be suspended for the rest of the season and fined $2,900 (20.000 EGP).
But the 31-year-old striker denied the accusation, telling state television he doesn't "know anything about politics."
"He doesn't know anything [about politics]," his former coach also said, during a televised interview.
Amin's Cairo-based team was also fined following the decision, for not replying to the EFA letters related to the case.
Amin is the latest sportsman to be punished for making a political gesture.
Last December, the football association threatened to punish players who used political signs or gestures during Egyptian league matches.
In 2013, several athletes were penalized for displaying the "Rabaa sign," a message of support for ousted President Mohammad Mursi and the Muslim Brotherhood from which he hails.