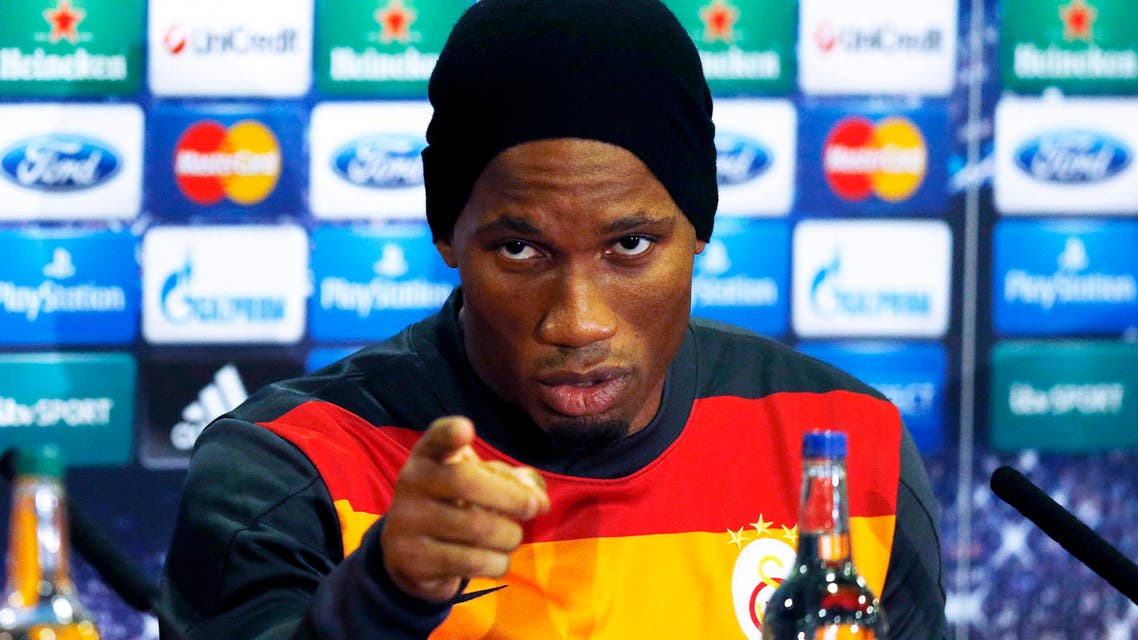 Drogba: I must control emotions on Stamford Bridge return
Drogba will returned to Stamford Bridge for Galatasaray's Champions League last-16 second leg against Chelsea
Didier Drogba will have to fight hard to control his emotions when he returns to Stamford Bridge for Galatasaray's Champions League last-16 second leg against Chelsea, the Ivorian said on the eve of Tuesday's match.

The 36-year-old striker ended a glittering eight-year career with the London club by scoring the winning penalty in the 2012 Champions League shootout victory over Bayern Munich in the final at the Allianz Arena.

After a hesitant start to Galatasaray's pre-match news conference, Drogba had the reporters in stitches.

"I'll ask myself the first question," he said. 'Didier, how do you feel about returning to Stamford Bridge?.

"Well, I'm really happy to come back and to see some familiar faces for a big game in a big competition.

"It's very difficult to play against Chelsea but it's not going to be difficult for me to put myself in competition with them because now I belong to Galatasaray and I need to be professional," said Drogba.

"Of course there will be emotion playing against my ex-team mates, like there was in the first leg," he added in reference to the opening match in Istanbul that ended in a 1-1 draw.

The big, powerful center forward was once voted the best player in Chelsea's history and he said he did not know how he would react if he scored a goal on Tuesday.

"With all the respect I have for the club, the fans and the players, I might not celebrate if I score but if we win I'll be happy," said Drogba.

"I think to leave Chelsea on the high that I did, if I could do it again I would do it the same way, but I'm really happy at Galatasaray and I will be professional for this game tomorrow because for me it's an important one."

Drogba also won three Premier League titles, four FA Cups and two League Cups at Chelsea, scoring 157 goals in 341 appearances between 2004-12.

"I've nothing to prove to this club, everything I had to prove I think I did it with Chelsea," said the Ivorian.

"I just want to win this game and qualify. There is nothing personal against anyone here, there never will be."

Fernando Torres gave Chelsea an early lead in Istanbul but Galatasaray equalized through Aurelien Chedjou to leave the tie delicately balanced in Chelsea's favor.

"I think we had a lot of respect for Chelsea in the first 20 minutes and probably we were so nervous for that game," said coach Roberto Mancini.

"The important thing tomorrow will be the mentally we have when we start the game, the attitude we have."

"Chelsea are one of the best teams in Europe but in football you never say never. Anything can happen if you believe in yourself," added Mancini.

"We want to do a good job. It will be tough because they are better than us but we want to try."

Mancini said he would treat opposite number Jose Mourinho if Galatasaray caused an upset by knocking out Chelsea.

"If we win I'll take him out for dinner and I'll pay," said the Italian.