Egypt's Salah celebrates first goal with Chelsea
Mohamed Salah's goal 71 minutes into the match was celebrated by the Egyptian player bowing down in prayer
Chelsea's recently appointed midfielder Mohamed Salah scored his first goal with the London-based club on Saturday – celebrating with an apparent demonstration of sujood (An Islamic act of bowing down in prayer).
The Egyptian player, who previously played for Swiss-based team Basel FC, made no attempt to hide his elation in a 6-0 trouncing of Arsenal in a Premier League match.
His goal - the final in a steady succession peppered of victories throughout the game - came 71 minutes into the match.
Fans of the 21-year-old midfielder took to micro-blogging site Twitter to share in his joy.
One Jeddah-based Twitter user said: "This is Egyptian blayer. You listen Murinho shut ab your mouse Murinho. Salah yes Salah yes. Etoo no Etoo No," in a parody of an Egyptian protester's recent remarks which were widely distributed on social media networks.
Internet joy
One Egypt-based user proclaimed that one goal by Mohammad Salah is worth all of Chelsea's five goals in the match.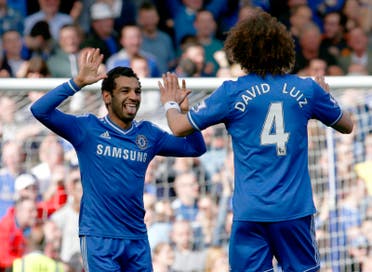 A Saudi-based user said the image of Salah's celebration was the "photo of the day sujood by Mohammad Salah seen by the entire world… the best depiction of Islam and Muslims and the best message."
After moving to the London-based club in late January, Mohamed Salah reportedly found adapting to the team's competitive atmosphere and playing style challenging.
Last week, Chelsea manager Jose Mourinho's spokesman said that Salah - who plays on Egypt's national team - would need time to get adjusted to playing for the highly competitive British footballing scene.
"Salah needs six months to adapt our game and the demands of the Premier League," said the spokesman, stating that Mourinho told the player that the next season would be his "breakthrough" one.
Unbeaten record
Chelsea's victory marks a demoralizing defeat for Arsenal manager Arsene Wenger, which is his 1,000th game.
Goals from Samuel Eto'o, Andre Schuerrle, Eden Hazard, Oscar (2) and Mohamed Salah coupled with referee Andre Marriner's erroneous decision to send off Kieran Gibbs for a handball by Alex Oxlade-Chamberlain will ensure Wenger remembers the day for all the wrong reasons, Reuters reported.
Mourinho extended his unbeaten record against his managerial rival to 11 games and the league leaders moved seven points clear of third-placed Arsenal having played a game more.
Second-placed Liverpool, who are also seven points adrift of Chelsea with two games in hand, visit Cardiff City later on Saturday and Manchester City, in fourth, host bottom club Fulham.
(With Reuters)