Women take to the pitch as female footballers wow Jordan
Jordan is a conservative Arab state, yet football is increasingly popular among women
It is a conservative Arab state, yet football is increasingly popular among women, who do not see a contradiction between the world's most popular sport and Islamic values. In Jordan, female footballers love to be referred to as "Nashmiyyat," or the "brave ones." That is the official name of the national women's team.
"If there has ever been an Islamic reason restricting women's involvement in football, it's no longer in place, with the international rule-making body FIFA lifting the ban on the use of hijab during football matches," said Sama Zghayer, a professional footballer and former member of the national women's team.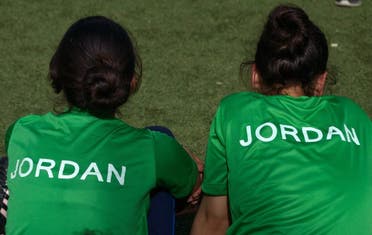 The level of women's involvement in football has increased "immeasurably," she told Al Arabiya News. "Here in Jordan, we have the under-15 and under-17 football teams, in addition to the first women's team."
Danielle Salton and Mary Harvey, former members of the U.S. Women's National Soccer Team, visited the Jordanian capital last week. The U.S. ambassador to Jordan, Stuart E. Jones, told Al Arabiya News that the visit aimed to enhance women's empowerment and involvement in sports.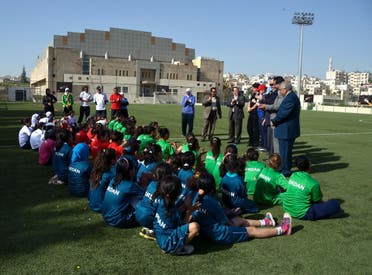 Jones, who joined a workshop held by Salton and Harvey at Al-Hussein Youth City's Polo Stadium, commended FIFA for lifting the ban on hijab: "Cultural differences have to always be respected and taken into consideration by all international governing bodies."
The fact that Jordan is hosting the 2016 FIFA under-17 Women's World Cup is evidence of the sport's growing popularity among females, the American footballers told Al Arabiya News. "In schools, they have passion for the game," Harvey said. "In Jordan, the game is massively popular, with female footballers becoming national icons."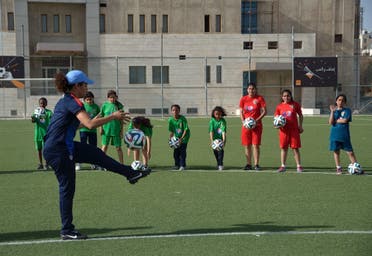 The former international players also visited the kingdom to increase participation in the Jordan Football Association's Prince Ali Centers, which comprise a new nationwide network of football clubs for adolescent girls, according to a U.S. embassy statement.
In cooperation with the Prince Ali Centers, Salton and Harvey led one workshop with coaches, and three workshops with several of the 15 Prince Ali Centers. The program culminated in a mini-tournament for all the Prince Ali Centers on Friday at the Polo Fields in Amman, with 375 Jordanian girls taking part, according to the U.S. embassy.