No 'free' World Cup TV in Arab world, says Germany's ZDF
German broadcaster denies reports it will broadcast 2014 FIFA football games for free in Middle East
Football fans in the Middle East will still have to pay to watch the 2014 FIFA World Cup legally, after a German broadcaster denied reports it will broadcast the tournament for free.
The rights to air games in the Middle East and North Africa are held by beIN Sports, formerly Al Jazeera Sports, which charges new subscribers about $250 for an annual package of channels that includes games from the upcoming tournament in Brazil. (The network is offering a 20 percent discount until April 30.)
Infographic: What it costs to watch the World Cup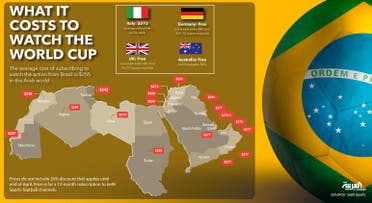 But reports have been circulating claiming that German broadcaster ZDF, which jointly owns the German rights to air the FIFA tournament, plans to air games for free in the Middle East.
Some Arabic and French media outlets had claimed the German channel had won a lawsuit against it filed by beIN or Al Jazeera, alleging that the Qatari media firm faces heavy losses due to ZDF's move.
"How can a country which did not even qualify for the World Cup once monopolize the FIFA games alone when its population doesn't exceed 1 million?," a ZDF executive was reported as saying. "Football is the game of the poor, and we are with the poor and the rich. We will broadcast the FIFA (games) to everyone in the world for free."
Such reports are false, ZDF told Al Arabiya News. No such comments were made by its executive, and no court case has been filed, ZDF said.
"There is no court case involving ZDF and the broadcaster beIN Sports," a spokesman said.
The broadcaster denied claims it would air games over satellites that cover the Arab world operated by Eutelsat/Hot Bird or Nilesat.
beIN Sports and Al Jazeera did not provide a comment when contacted by Al Arabiya News.