Cricket-crazy Pakistan kicks off FIFA ball production
In Pakistan, the production of World Cup footballs is a national business
Among the clamor of the machines and the smell of heated steel, scores of men and women, dressed in their traditional attire, work on dozens of assembly lines making footballs of various colors.
Factory owner Khawaja Masood Akhtar, marked by his small black beard and a beaming smile, keenly inspects the work at his plant - Forward Sports - the official ball maker for the 2014 FIFA World Cup.
"It was our dream to supply footballs to the Brazil 2014 World Cup and it came true today," he said. "Yes! We are the official suppliers of Adidas in World Cup 2014," he added.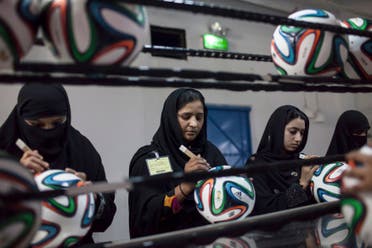 "It was not easy bagging the contract for official match ball," the factory owner told Al Arabiya News.
When World Cup's Chinese supplier Adidas failed to meet the demand in Rio de Janeiro, he immediately invited executives to visit his plant in Sialkot, which was not a success the first time, or even remotely close.
"They said 'You have Stone Age equipment,'" said his oldest son Hassan Masood Khawaja, with a chuckle. He added, "After they left, my father called a meeting and said: "If we show them we can't do it, we will never get another chance like this."
Khawaja took the challenge; he set up a production line that normally takes around six months, within 33 days. He turned his factory around, designed, brought in the equipment and modernized each bit of every process, as Adidas, the German sports equipment manufacturer did not have much time at hand.
"It was hard, probably the hardest thing I have done so far," Khawaja remarked.
The man behind the Brazuca
Brazil unveiled the latest 2014 edition football – the Brazuca – referring to Brazil, the host of 2014 World Cup.
More than 3000 "Brazuca" balls will be used at the month long tournament. Akhtar estimates his company would also supply more than two million Brazuca balls of various grades.
"We got the order, completed it in no time, and the shipment has already been dispatched," he said.
The magnificent mirrored-glass structure of the factory houses 1,400 employees, busy sewing patches of synthetic material together and flipping the ball inside out as it is stitched from inside.
Some workers use sewing machines while others employ the old-fashioned way; stitching patches together using two needles. Some are working on thermal-bonded technology of making balls that meet the newly introduced standards of FIFA regarding the roundness of the football.
"It is hard work. You need very strong upper body strength to do that, and this is not easy. They are doing the job by hand but it looks like some machine", said Akhtar.
Producing footballs but playing cricket
While footballs are undoubtedly a national business in Pakistan, as Sialkot, the eastern city of Pakistan, produces around 60 million footballs a year, constituting 70 percent of the world's production.
However, Pakistan is ranked at 159th place in world football rankings, being instead a leading force in cricket.
"We made the employees a football pitch," said Akhtar, pointing toward the grassy patch in one corner of the compound. "But they started playing cricket instead."
The Football industry in Sialkot faced a huge bump in 1990s when human rights organizations voiced concerns over child labor.
Local manufacturers condoned the practice considering it a product of impoverishment.
The Atlanta Agreement, forged in 1997 between the International Labor Organization, the Sialkot Chamber of Commerce and Industry and UNICEF, was heralded as a breakthrough by human rights organizations.
Sialkot manufacturers had about 18 months to comply with the eight-page statute. Many companies put their act together, while others could not survive.
Now a sign at the Forward Sports' factory gate reads: "We don't employ under 15."
Before the Atlanta Agreement, the balls were manufactured locally, in the villages. The women could tend to their children and households and make a few balls alongside. The new regulation ended this comfort, as Atlanta Agreement required a more centralized production under supervision: banning child labor in football manufacturing.
From cobblers to leading football exporters
As the local legend has it; a poor cobbler made a fortune repairing the punctured footballs of the British colonial-era soldiers. The soldiers soon began seeing him as a go-to football repairman. The cobbler carefully studied the ball and attempted to make one on his own.
He then persuaded the soldiers to buy the balls from him instead of bringing them from England. Success soon knocked on his door. His superbly crafted footballs became famous and so was born Sialkot's football making industry.
Today, Sialkot is the largest exporter of footballs to the world, with nearly 60,000 skilled male and female workers associated with this industry.
As FIFA kicks off in less than a month - where the world will see 32 of its best teams lock horns in the Brazilian playing fields to fight for the ultimate trophy - Khawaja has already achieved his goal.