Ninja knowledge underlies new 'Brazuca' ball: researcher
Knowledge from the ninja is the secret behind the new official ball for the upcoming World Cup, accordign to one Japanese researcher
Knowledge from the ninja, Japan's secretive feudal spies and assassins, is the secret behind the new official ball for the upcoming World Cup, one Japanese researcher has said.
Players during the 2010 World Cup in South Africa complained the 'Jabulani' tournament ball, had the tendency to behave in a bizarre fashion and "knuckle" like a beach ball through the air, prompting German firm Adidas to come up with a more reliable ball for this year's tournament.
The result, known as the 'Brazuca' after a slang word for native Brazilians, should fly with greater stability, said Takeshi Asai, a professor of sports science and head of the Institute of Health and Sports Science at the University of Tsukuba just outside Tokyo.
The new ball has just six panels, down from eight of the Jabulani, and are designed in the shape of a shuriken - the throwing star used by the ninja - while the seams that held them together were the secret to its greater stability, he added.
"Despite the reduced number of panels, the total length of the seams to put them together became longer, which makes the range of the ball speed that creates low air-resistance become wider," said Asai.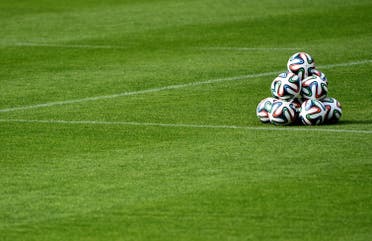 Asai, who has an engineering PhD, collaborated with John Eric Goff, a physics professor at Lynchburg College in the United States, to study the aerodynamics of the Brazuca when it was released last December.
The two concluded that because the total seam length on the Brazuca is 68 percent longer than the Jabulani, it will add resistance that will allow the ball to fly more true at the speeds typically seen at the World Cup.
The seams are also deeper, which adds drag factor.
Asai, however, found that the air resistance around the Brazuca, which at 437 grams (15.4 ounces) is a gram lighter than the Jabulani, is minimised when the ball flies at around 20 metres per second, the approximate speed of fast passes in professional soccer games.
"When the Brazuca flies within this range of speed, the air resistance suddenly drops to help the ball fly fast," he said.
"Because it flies fast with a soft kick, I think it's an optimal ball for Asian players who kick comparatively softer than western players with higher physical abilities."
Of course, not everybody will be pleased with the new ball - especially those who, like Japan's Keisuke Honda or Portugal's Cristiano Ronaldo, try to avoid putting spin on the ball while taking free kicks.
"Because the Brazuca has a lower lift force when it flies, the so-called 'knuckling' effect will be harder to achieve," Asai said.