For Iran, the World Cup is more than a sporting event
Football provides the stage for activism in Iran, where political dissent is always silenced, often by brutal meats
To the Western world, the mere mention of Iran is enough to prompt feuds between respective governments.
But just as customary to most, the Iranians share a fanatical passion for football. The beautiful game – to use a nickname coined by the great Pele - is one of the true social phenomena in Iran, opening up rare opportunities for freedom of expression, while at the same time, on basic level, blocking access to the stadium for women.
It's an inextricable inter-combining nexus of politics, religion and tool for suppression. Even when the Green Revolution exploded on the streets of Tehran in 2009, for reasons greater than a sport, capturing news bulletins across globe and leaving a country in turmoil, football provided the stage for activism.
Several high-profile players wore green armbands during a World Cup Qualifier with South Korea to show support for the protestors. Most, however, would never play for Iran again.
The radical, populist leader Mahmoud Ahmadinejad has since been replaced by the moderate Hassan Rowhani whose academic roots can be traced to Glasgow University where he is a PhD graduate.
If President Rowhani has come away with one snippet of Glaswegian culture in his mind, the value of football as a mechanism for breaking down barriers, promoting equality and moulding an inclusive society would be game-changing for Iran.
"Today, football is not only a sport, but the shining players are countries' peace ambassadors to football fields," Rouhani told the Tehran Times.

But women were still prevented from sharing the jubilation in the Azadi Stadium. And they have been since the Islamic Revolution in 1979. It's argued that women should be protected from stadiums in order to prevent exposure to foul language.
Women were given special dispensation to attend a match in the outskirts of Tehran in 2003 and the game passed "without any descent of the national into moral turpitude," as David Goldblatt writes in The Ball is Round. Two years before, more than 5,000 Iranian women stormed the Azadi Stadium to celebrate during a World Cup Qualifier in 2001. More pertinently, it was an attempt to gain equality.
Most recently, last year, FIFA president Sepp Blatter urged the Iranian government to lift the cultural ban on woman fans inside the stadium. FIFA, the world's governing body, has since matched talk with action – having been outlawed since 2007, the ban on wearing the hijab head dress was lifted at the request of several Muslim nations and Asian Football Confederation members.
Other problems have left Iranian football in a state of flux. More so than being politically isolated, the management of the IFF is bringing the game close to disrepute. FIFA banned the organisation for "political interference" in 2006 when the president of the association was reportedly fired by the government.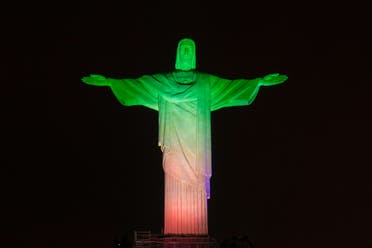 Sanctions
"Iran has faced difficulties off the pitch but we want to make our point on the pitch," head coach Carlos Queiroz said.
"The economic and political situations have put a team from Iran at the complete disadvantage in relation to other teams that are here."
Finances are a problem for the Iran Football Federation – a direct consequence of missing out on foreign investment, sponsorship and extra funding from FIFA.
"I have also discussed the problems of the sanctions that are still imposed on Iran, which is difficult for us. We can't help Iran develop or receive Financial Assistance Programme or to organize Goal Project. In this area, they are so much in need of our help," Blatter said.
Meanwhile, one fascinating story from February 2014 showed the attempts of the Iranian government to privatise the country's two biggest clubs, Esteghlal and Persepolis.
Despite the fact that both teams continue to make losses into the millions of dollars, they hold massive social significance. The two sides represent Iran like no other on a continental scale, competing in the AFC Champions League and, therefore, representing the nation.
But with a core supporter base like no other in Asia, many governments have seen the opportunity to control a large chunk of the activist society. As author Bijan Khajehpour questions: "It remains to be seen whether Rowhani can liberalise the country's soccer affairs."
Mismanagement continues to be rife in the Iranian Football Federation - as the website TeamMelli.com pointed out in a piece criticising the head of the body, Ali Kafashian, for blocking players from swapping shirts at the end of matches, "his economising policy meant the players were given one set of training kits for three weeks of a training camp".
Tapping into European diaspora
Former Manchester United assistant coach Quieroz is the country's third foreign head coach, steering Team Melli to the 2014 World Cup. To do so, he immediately looked outside of Iran's borders, identifying players with regular exposure to European football and have Iranian heritage.
The squad for the training camp in preparation for the trip to Brazil contains seven European-based players: Daniel Davari (Eintracht Braunschweig, Germany), Alireza Haghighi (Sporting Covilha, Portugal), Mehrdad Beitashour (Vancouver Whitecaps, Canada), Masoud Shojaei (Las Palmas, Spain), Ashkan Dejagah (Fulham, England), Alireza Jahanbaksh (NEC, Netherlands), Reza Ghoochannejhad (Charlton Athletic, England), Sardar Azmoun (Rubin Kazan, Russia).
Javad Nekounam, the Iranian national team captain, is the most experienced player at the age of 33. He may play his football in Kuwait at the moment, but he spent six years in Spain with Osasuna and a further two seasons at one of Tehran's heavyweight clubs Esteghlal.
Dejagah, perhaps, will be where most of Team Melli's attacking hopes will be focused. The 27-year-old was born in Tehran, but moved to Berlin at an early age, making his first-team debut at Hertha BSC. He was a regular in Felix Magath's Bundesliga championship-winning team at Wolfsburg in 2009.
Queiroz has introduced Braunschweig goalkeeper Davari and he looks set to be the number one after three international appearances. The World Cup will be an ideal platform for the goalkeeper who is looking for a new club for next season.
Davari and his domestic-based defence will need to face up to the likes of Sergio Aguero and Lionel Messi, Edin Dzeko and Vedad Ibisevic in Group F. Team Melli will need to navigate a route past Argentina, Bosnia and Nigeria in Curitiba, Belo Horizonte and Salvador.
Iranian website Footolio pointed to two of the country's main daily newspapers which had front-page pictures of Team Meilli in Brazil. Otherwise, there is excitement, without expecting much, in Brazil following a feature at the tournament in 1998.
Iran has never qualified beyond the first round at the World Cup – and it looks against the odds considering the factors weighing against Queiroz's team.