Can Messi lead Argentina to new World Cup glory?
Messi has scored four goals, in total, for Argentina at this World Cup, level with Thomas Müller of Germany and Neymar
With the clock ticking into stoppage time, Argentina thought they had hit a snag against Iran. Those plucky, defensively-disciplined West Asians had parked the bus, frustrating the South Americans.
But one moment changed everything. One yard of space, a quick burst of acceleration and a beautiful, bending shot to carve open the Iranian rearguard. Where did it come from? The answer is, unsurprisingly, the boot of Lionel Messi.
"When you have Messi, anything is possible," said Argentine coach Alejandro Sabella. "Messi's playing an amazing World Cup, that's what everybody expected."
More than 100,000 Argentine fans who descend on Brazil this evening will believe exactly the same. Their hopes of World Cup glory are far from misguided - if Messi performs, then Sabella's side have a chance.
It's been a difficult season for the three-time Balon D'Or winner. He only scored 28 league goals, poor by Messi's sky-high standards, as Barcelona surrendered the Spanish title to Atletico Madrid on the final day of the season.
Barcelona weren't sweating over his season form, though and they are not losing patience. Messi extended his contract at the end of May and that will see the 27-year-old earn around $20 million per season.
Luis Enrique will lead the fort next season, but many of the established Barca players are beginning to close-off the current chapter of dominance at the Camp Nou. Xavi Hernandez, for instance, looks set to head to Major League Soccer. It's all down to Messi to fly the flag for the Barcelona identity.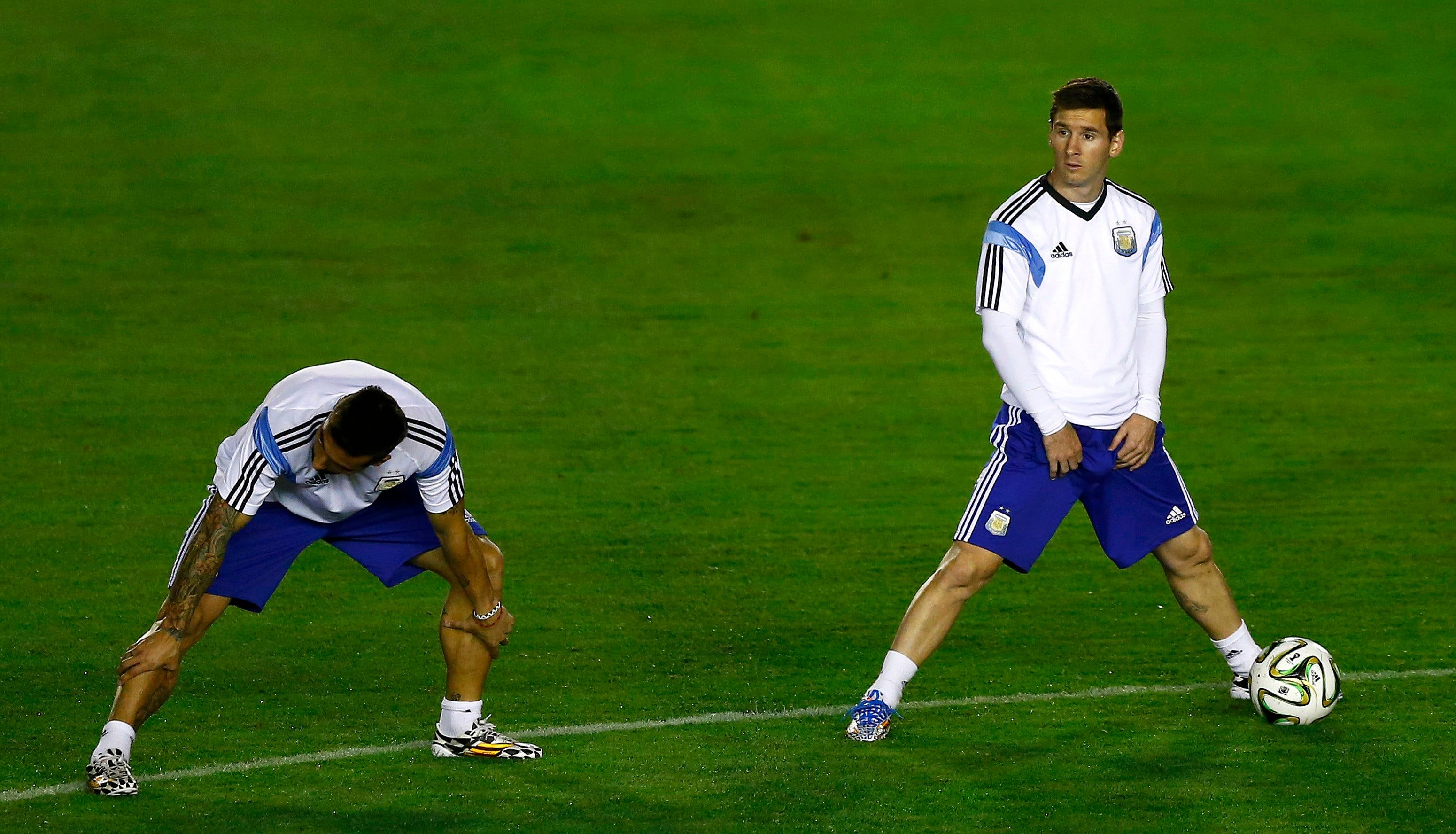 And yet, his character still splits Argentina - on one hand, in his hometown Rosario, it has taken a long time for the attacking-midfielder to achieve acceptance. Having moved to Barcelona, and grown up in Spain, he's not regarded as "theirs" in the same way as Maradona or Neymar in Brazil.
But for those who loathe the politics, Messi is a genius. "Leo, Leo, Leo," cried the Argentine supporters crammed into stadium in Belo Horizonte where the Barcelona star struck the crucial goal against Iran
.
He's scored four goals, in total, for Argentina at this World Cup, level with Thomas Müller of Germany and Neymar. Messi lies one behind the tally of Maradona at the 1986 World Cup (5).
"Leo is the best in the world," Angel di Maria told Spanish newspaper MARCA. "What he does nobody else can do and luckily he's ours.
"He is going to be the World Cup's big goalscorer. He's at a tremendous moment, and that's very good but we all catch it off him."
"As in politics, in Argentina we are always looking for one man to save us," Jorge Valdano wrote in his newspaper column. On one level, Messi transcends politics - the icon, the genius who can unite different groups under for one cause. A World Cup would be the perfect gift for an expectant nation.
But he's always remained in the shadow of Diego Armando Maradona. Nothing Messi can do will make Maradona's most passionate follower consider the Barca forward as being stronger. That's even after winning three European Cups and six Spanish championships - a record that dwarfs Diego's.
But one lone picture tells the whole story: Maradona, center-stage, the focus of the world's attention, hoisted above his other team-mates, as the 114,000 fans in Mexico City laud him. It's the stuff of legends.
And more than 28 years later, Messi wants exactly this.