Samir Nasri's girlfriend mocks French manager Deschamps again
British model Anara Atanes tweeted: "Ooooppsiiiiie! And that's the reason u need ur world class players!"
French footballer of Algerian decent Samir Nasri's girlfriend waited for Friday to crash out in the World Cup quarter final to Germany on Friday to criticize manager Didier Deschamps who overlooked the 27-year-old player for the World Cup team in Brazil.
British model Anara Atanes tweeted: "Ooooppsiiiiie! And that's the reason u need ur world class players!"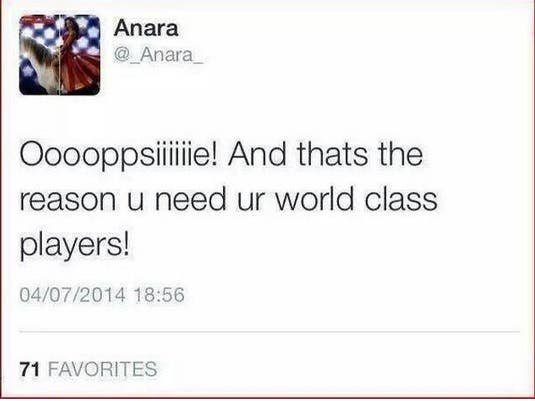 In May 2014, when Anara Atanes found out that Nasri was not included in Deschamps' squad for Brazil, she launched a foul-mouthed attack on Twitter saying: "F*** France and F*** Deschamps! What a s*** manager!"
She later apologized.
"I apologize if i offended anyone from france, My tweets were not aimed at the nation as a whole," tweeted the model.
The French Football Federation (FFF) condemned insulting remarks against Deschamps and fully supported the coach.