Argentina has the tools to rip compact Germany
In game three of the group phase, Nigeria were tough opposition. Argentina came out 3-2 winners with another double from their Barcelona talisman
It would be fair to say that Argentina have stuttered through most of this World Cup. Maybe there's over-reliance on Lionel Messi – "Who wouldn't rely on him?" said coach Alejandro Sabella – or maybe this squad is structured around moments of individual quality.
Messi has scored four goals, so far, at the World Cup. He stands on the brink of greatness; the Barcelona attacker has gone from outsider in his national team, given he was brought up in Catalonia, to a national icon. Even Diego Maradona himself has voluntarily handed over his crown to the little Rosario-born genius.
"If on Sunday Messi has to overcome Maradona to lift the cup, I'll give him the red carpet," Goal.com quotes Maradona from the TV show De Zurda.
"He will be the player who will define the game. The only fear I have is that he is tired, but in the end you cannot be tired. I think he will understand. If you miss a shot on Sunday, you only resemble the best in the world."
Dribble from deep:
Argentina have won each World Cup match by the narrowest of margins. The opening game in the Maracana ended 2-1 with Messi netting the second. A few days later, in Belo Horizonte, in the 91st minute against Iran, Messi dropped the shoulder and smashed home a wonderful left-footed effort from 30 yards out.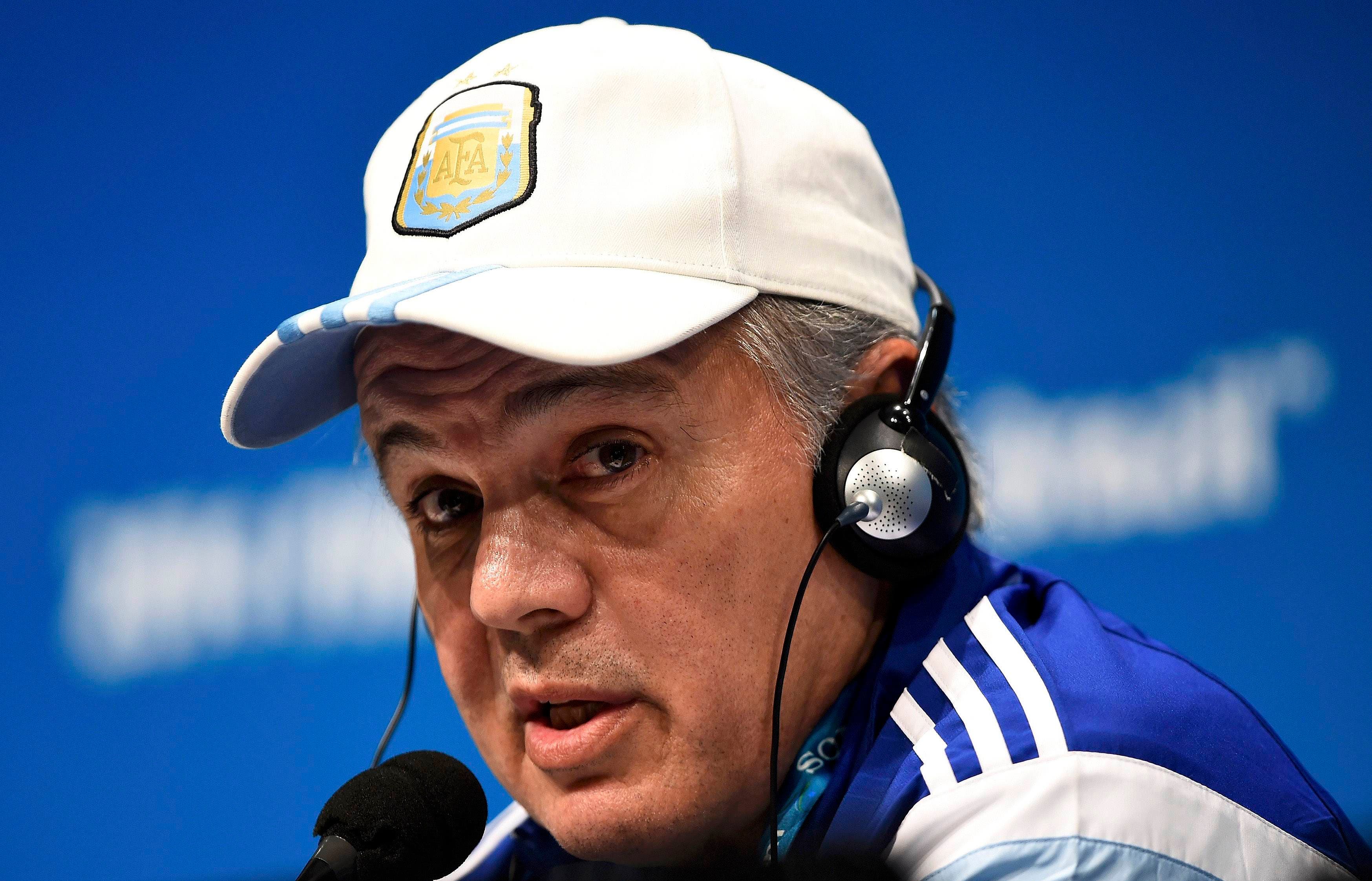 In game three of the group phase, Nigeria were tough opposition. Argentina came out 3-2 winners with another double from their Barcelona talisman. Both Switzerland (AET) and Belgium went down in the knockout stages by one goal, before Albiceleste held their nerve in the semi-final penalty shootout against the Dutch.
The last 16 match against Switzerland hinged on a moment of magic from Messi. A quick turn away from his tired marker, then prompting a rapid counter-attack, that ended at the feet of Angel Di Maria who cooly slotted across the goalkeeper and into the corner.
And this example of Argentina dribbling from deeper positions has been facilitated by their variation of 4-3-3. While Germany's is more compact, Argentina has a little more flexibility, with Di Maria, a natural attacking-midfielder with forward instincts, operating on the left-side of the three. This changes the balance tenfold.
In the shape of Javier Mascherano – a nominee for FIFA's Golden Ball award – and Fernando Gago, Sabella has a strong defensive foundation to help negate Argentina's vulnerability to fast-breaks when Pablo Zabaleta or Marcos Rojo sweep forward. Mascherano, especially, has been on top of his game, physically and mentally.
Therefore, with Mascherano and Gago settling in front of the back-four, Argentina can occasionally rotate to a 4-2-1-3 with Real Madrid's Di Maria offering an outstanding, quick option. Of course, this helps Argentina's ability to initiate counter-attacks quicker and change from defence to attack.
Countering Germany's high-line:
In attack, Sabella leads with a front-three: Messi at the top, or the "false nine" with Ezequiel Lavezzi and Sergio Aguero of Manchester City. There is some panache about this threesome – all are quick, have rapid bursts of acceleration and can offer varying qualities.
Aguero, in particular, poses an interesting threat to the German defence, which has adopted an aggressively high-line throughout the tournament. Goalkeeper Manuel Neuer acts a sweeper behind the central-defenders and, to his credit, he is almost flawless in that regard. But it remains a risk – one slip, one poor touch or one bad piece of judgement could open the door for the Argentines.
The Manchester City striker oozes intelligence. He can play off the shoulder of the last defender or operate deeper, if needed. Aguero's runs in behind will be a threat for Joachim Low to ponder over and the Argentine striker possesses the striking traits to finish the job, if an opportunity arises. It will likely be their best avenue to goal.
Cambridge University in England this week published a list of the three most common words to describe each team. Argentina's three words were "flair", "unconvincing" and "confident". How true when you take a glance back at the names in the squad, like Messi, Aguero and Di Maria.
Germany might be favourites after their demolition of Brazil, but Argentina have the tools to add a second trophy to their honours list.