Midfield three reinvented the wheel for Germany
As Germany readies to face Argentina in the World Cup final, we ask if the Europeans are ready
For those who haven't tracked Germany's preparations for the World Cup, it will be surprising to hear that they were not impressive. After all, this is the team that just smashed Brazil 7-1 in a World Cup semi-final.
But no, even in preparation, Germany looked weak. The Armenia performance – a 5-1 win in their last game before the trip to Brazil – was the most incisive Germany had looked for some time. The two previous summer warm-up games against Poland and Cameroon both ended in a draw.
Before that, in March, Chile visited Stuttgart, losing 1-0. But they thoroughly dominated, creating chance-after-chance, as their expansive and intense style caused the Germans all-sorts of problems.
In 2013, Germany was hardly convincing, bar the odd result against Austria and Ireland, for instance. Defense was a major issue – three conceded against Sweden and Paraguay, then four against the United States.
Having adopted a 4-2-3-1 formation, Germany has changed to a 4-3-3 in recent matches. The strategy, though, remains the same – executing the transition from defense to attack with an almost mechanic-like efficiency, through attacking combinations and team-play.
Kroos deeper, midfield combination
There tends to be a secret to every three-man midfield: one ball-winner, one ball-carrier and one playmaker. Germany's midfield balance has been perfect, aided by intelligent full-backs and attacking-midfielders, also. In the 7-1 win demolition of the hosts in Belo Horizonte, the efficiency and functionality of this triumvirate was clear.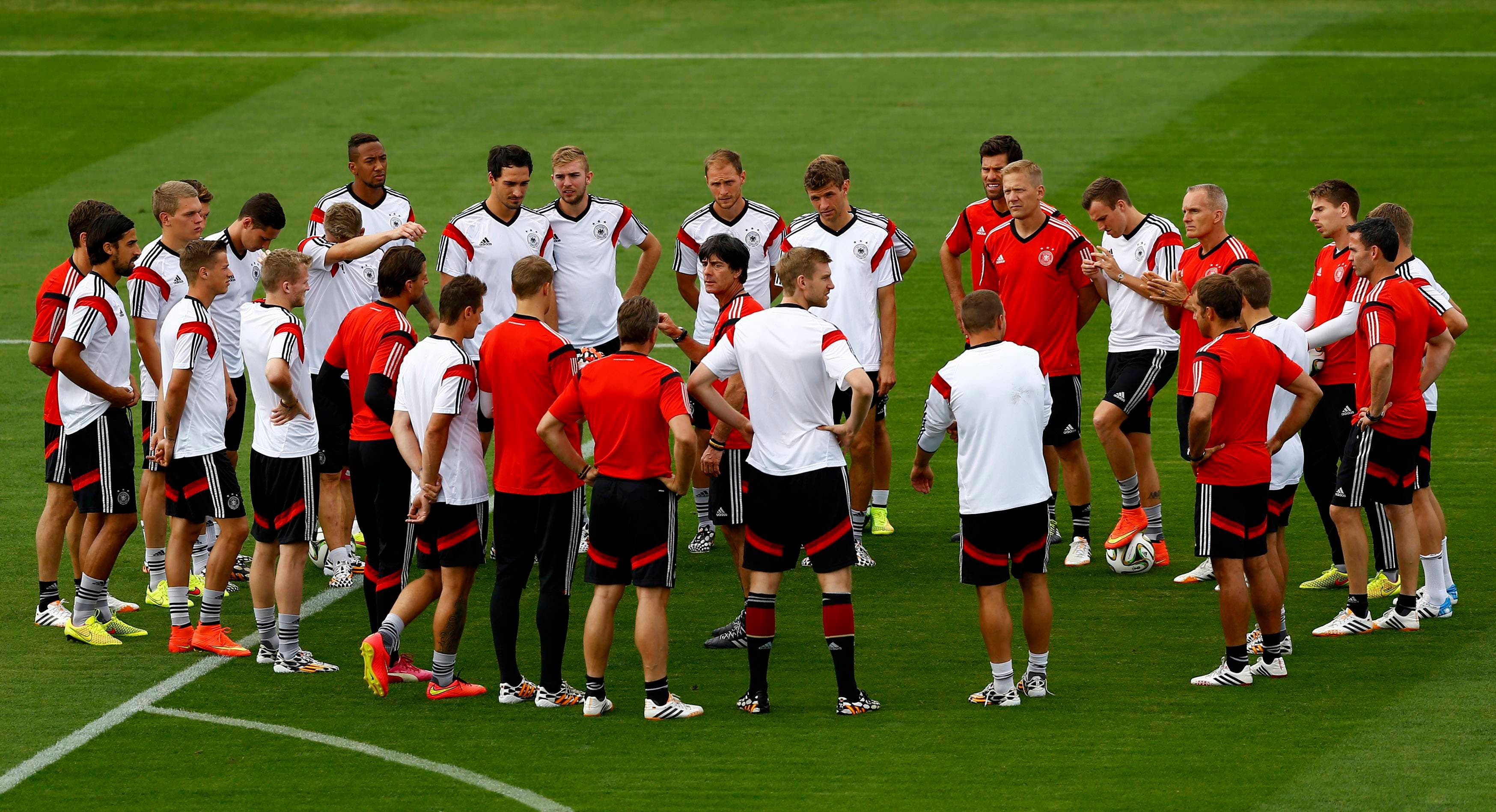 Firstly, though, the conditioning of Bastian Schweinsteiger and Sami Khedira has been a significant plus-point for Germany. The two were large doubts approaching the tournament – forcing Philipp Lahm to deputise in the first place – with the latter making a pretty rapid recovery from such a serious injury sustained in November.
Kroos, who is on the verge of completing a move to Real Madrid, has had a fabulous tournament. Before the World Cup, Germany had deployed a 4-2-3-1 formation with Kroos frequently used in an attacking-midfield slot, akin to the old-fashioned No.10. This was ineffective – as was, Kroos in the traditional No.6 position.
Since the implementation of a three-man midfield, Kroos has flourished. He has found a median between both positions, operating as a midfield playmaker in a 'not-too-deep-but-still-deeper' central role. And so, the midfielder has still been able to play defense-splitting vertical passes, while not being dragged out of the key moments, by being a defensive anchor.
And yet, Kroos was physically imposing across the middle third. His contribution to Germany's high-pressing led to two of the goals in the win over Brazil. Khedira and Schweinsteiger have provided the thrust; Kroos' piercing-passing has controlled.
Lahm's re-positioning is the turning point
Only a few days before Germany's 1-0 win over France in the quarter-finals, Löw was defiant over his decision to field Lahm in the defensive-midfield position. "I took my decisions and that includes Philipp Lahm's role. I stand by it until the end," he told German newspaper DIE WELT.
"Lahm will only play as right back in case we have a case of emergency on the right wing during the match. Then I'd say: 'Okay, now this is Philipp Lahm's task, he can contribute to the pressure going forward.' But we have to avoid a case of emergency."
Maybe after sleeping on it, Löw made a decision. The 30-year-old would return to right-back to face the French, while the aforementioned midfield trident was utilized for the first time at the 2014 World Cup.
Lahm's switch to right-back brings more advantages: the use of possession in defense is crisper and there is a natural balance to the backline. While the Bayern Munich captain filled the gap in midfield, several players were drafted in to play this position – Boateng, Mustafi, Grosskreutz, Westermann, Höwedes and Lars Bender, to name a few.
Bayern Munich's gifted defender is seen as the best full-back in the world. He won't have Lionel Messi to deal with – that is Höwedes' job – but Lahm has bolstered the security in defense, while providing his trademark, calculating runs into opposition territory.
Lahm is one player, of many, standing on the brink of a great honor. Feeding the stereotypes, Germany's effectiveness has succeeded once again, in reaching another World Cup final.
------------
Ricardo Guerra is an exercise physiologist. His articles have appeared in several international publications in five different languages, and his writing covers topics related to medicine, science and sports. He has a Masters of Science in sports physiology from the Liverpool John Moores University. He has worked with several clubs and teams in the Middle East and Europe, including the Egyptian and Qatari national teams.