Footballers lock horns on Twitter over Gaza conflict
Professional footballers Joey Barton and Yossi Benayoun rowed on Twitter over events in the Strip
Professional footballers Joey Barton and Yossi Benayoun on Friday were at odds on Twitter over the Israeli attack on Gaza.
Barton, the 31-year-old midfielder, who has more than 2.6 million followers, used the social media site to illustrate his strong opinion on the Middle East conflict - but the clash was unlikely to end on good terms as both players leapt in at full steam.
Barton, a midfielder for Queens Park Rangers and Twitter aficionado, spoke out about the 18-day-old crisis which has resulted in at least 850 deaths - the large majority of which have been Palestinian.
"The attack on the school in Beit Hanoun is deplorable. #StopKillingChildrenInGaza," wrote Barton on Monday morning.
He continued: "If this was anybody else but Israel the West would intervene. It cannot continue. Innocent children being slaughtered. This must stop."
"How can a God stand by and watch this? Or even condone this? Is this all part of his master plan?"
"The U.N. attempting to evacuate the school when the bombing took place? Asked IDF for window to evacuate. Not given. Children die as a result."
Barton, who used to play for Manchester City and Newcastle also tweeted a picture of Palestinian children in tears.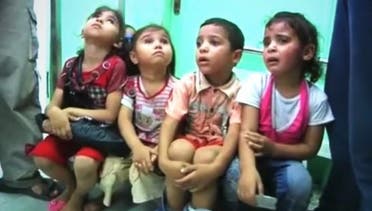 Barton's tweets appeared to irritate former Liverpool player Benayoun, who has made 96 appearances for Israel. Benayoun currently plays for Maccabi Haifa, whose pre-season friendly against French side Lille this week had to be cancelled after pro-Palestinian demonstrators stormed the pitch and attacked players. Benayoun was amongst the violence.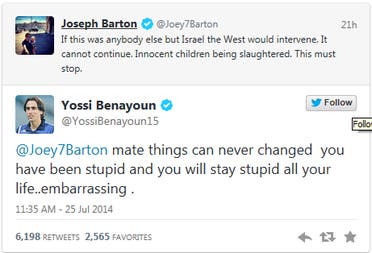 Unsurprisingly, Barton was quick to return fire at the 34-year-old, who was a former team mate at the London club QPR for a short period of time.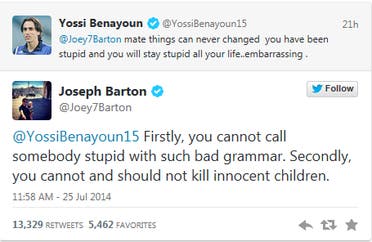 Barton, who was recently a guest on BBC Question Time seemed keen to conclude the exchange on amiable terms.