Saudi Al-Hilal demands probe into AFC finals
Al Hilal insisted the Asian Football Confederation investigate those responsible for appointing Iranian referee Alireza Faghani
Angry Al-Hilal officials are demanding an investigation into the appointment and performance of match officials in the Saudi club's 1-0 aggregate loss to Western Sydney in the Asian Champions League finals, blaming referee decisions that "wasted the players' rights in getting six penalties."

In a statement posted in English on its website late Monday, Al Hilal insisted the Asian Football Confederation president "open a formal investigation through all the official and legal channels" into those responsible for appointing Iranian referee Alireza Faghani for the first leg in Sydney and Yuichi Nishimura for the return leg at Riyadh.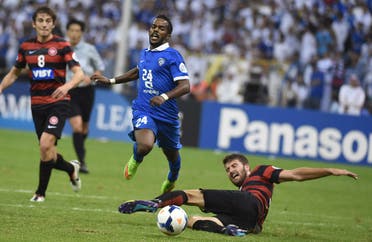 The Wanderers, established in 2012, became the first Australian club to capture the Asian title.
In a goalless match, the Wanderers - who were holding a 1-0 lead from the first leg - enjoyed much of the possession and dominated at King Fahd stadium.
As Wanderers keeper Ante Covic had predicted, Al-Hilal came out "all guns blazing" on their home stadium, launching an almost constant barrage of attacks on their opponent's goal.
But the Wanderers' victory represented a big blow to the Saudi side and also robbed Al-Hilal midfielder Saud Khariri's chance of becoming the first player to win three Champions League winner's medals after helping Saudi rivals Al-Ittihad to victories in 2004 and 2005.