Biting and musical debuts: Footballers make wild headlines in 2014
Days before the New Year, Al Arabiya News focuses on five footballers who sparked controversy and wowed fans
They commonly make headlines for their prowess on the field but this year some football sensations attracted media attention for different reasons.
From singing to crying or biting, each player left his mark on 2014 in his own way.
Days before the New Year, Al Arabiya News focuses on five footballers who sparked controversy and wowed fans.
1. Luis Suarez: Biting in Brazil
It was the story that threatened to overshadow the World Cup this summer: Luis Suarez biting incident in Brazil.
Suarez, who became a third-time biting offender, generated an uproar online and in the media after he bite Italian defender Giorgio Chiellini during the Uruguay-Italy game.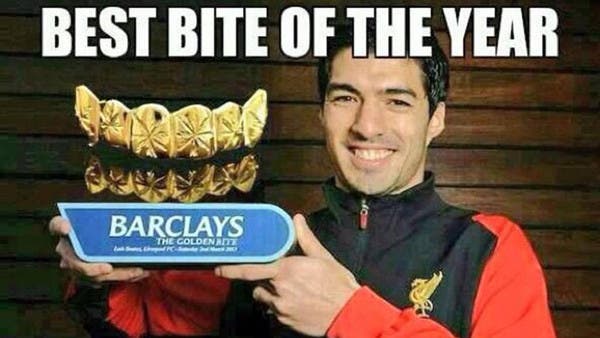 His first biting incident happened in Holland in 2010 when Suarez played for Ajax Amsterdam, while a similar incident took place in April 2013 when the Liverpool striker bit Chelsea's Branislav Ivanovi.
The 27-year-old player, who apologized for his act, was suspended by FIFA for four months, fined and banned from football stadiums for a certain time.
"Suarez was wrong but the FIFA sanction maybe have been a bit too harsh," Hany Hathout, a presenter for Egypt's Youth and Sports Radio, told Al Arabiya News, adding that mistakes that cause even more harm to players happen on the pitch and are not sanctioned as severely.

"But it definitely taught him a lesson and I doubt he would be biting players anytime soon," he added.
2. Lionel Messi: Getting suspect haircuts
While Argentina's Lionel Messi is known for his ability to score hat tricks for Barcelona, he is now probably equally famous for his perhaps questionable sense of style.
In August, the 27-year-old, surprised his teammates by arriving to a training session with a new haircut that immediately sparked debate.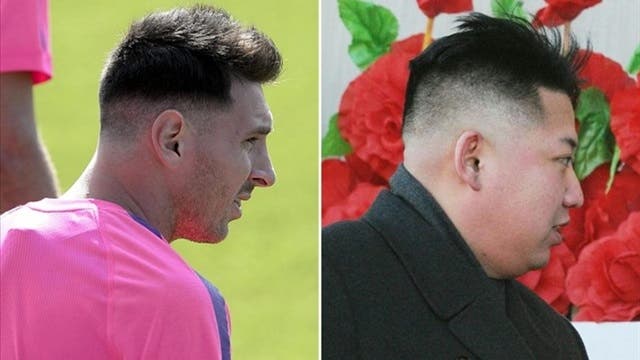 The hairstyle got many to compare the footballer with North Korean dictator Kim Jong-Un.
Ben Burrows of the Daily Mirror wrote: "He may be one of the best players to ever grace the planet but this won't go down as one of Lionel Messi's finest moments."
3. Cristiano Ronaldo: Going a 'little too far' in an advert
Soccer sensation Cristiano Ronaldo may have shot a lot of ads but the Japanese face-work-out ad was perhaps the most bizarre one of all.
In August, the Portuguese player generated controversy after he appeared in a Japanese ad shot for Facial Fitness Pao.
The new ad showed the Ballon d'Or winning player dribbling a football before presenting the strange device and smiling.
"With more than 100 million Facebook followers and around 32 million fans on Twitter, Ronaldo is one of the most famous football players around the globe," Hathout said.
"He can make people buy anything but he may have pushed it a little too far with this ad," he added commenting on the Japanese ad.
4. Neymar Jr.: Releasing emotional videos
Brazil's poster-boy Neymar Jr. sparked sensation this year after releasing an emotional video thanking everyone for their messages of support following his World Cup injury.
The 22-year-old was ruled out of the tournament when he fractured a vertebra after being kneed in the back by Colombia's Juan Zuniga.
The video, in which he fought back tears, was met with solidarity from leading footballers, sports stars, celebrities and even politicians who wished Neymar a speedy recovery.
"Neymar was probably more remembered for this video than for his short performance during the World Cup," Hathout said.
"A lot of people, no matter their nationality, had sympathy after his message and started supporting Brazil for him," he added.
Barcelona FC player Neymar went back to the pitch with his team in September, bagging 14 goals in the run up to the end of the year, just one less than the total he accrued in the entirety of last season.
5. Gerard Pique: Singing in musical clips
He is one of Barcelona's major assets, but this year his personal life attracted more attention than his professional career.
In May, Gerard Pique, who is in a relationship with international pop star Shakira, made headlines after he was featured in in her "La La La," music video.
The song, which was Shakira's contribution to this year's FIFA World Cup in Brazil, also featured the power couple's son Milan.
In the video clip, other players including Brazil's Neymar, Argentina's Lionel Messi and Colombia's Radamel Falcao made appearances.