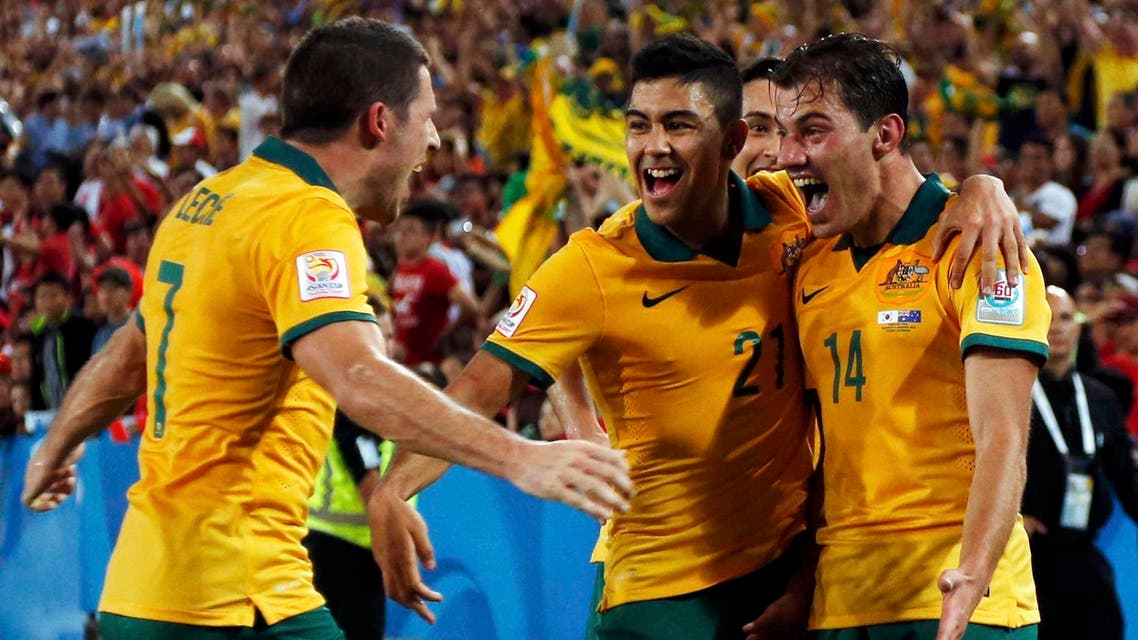 Asian Cup Down Under exceeds expectations
Australia's Asian Cup success can only fuel the dream of holding soccer's biggest event one day
Australia has proved that it could host the World Cup after putting on an Asian Cup that far exceeded expectations in terms of attendance in a country where soccer has often been seen as a minor sport, according to chief organizer Michael Brown.
Brown, who has been involved in organizing some of the biggest events in international cricket, said he was "thrilled" with how the tournament had gone and thought Australia would earn a lot of respect around the world because of it.
In football, no event comes close to the World Cup and although Australia garnered just one vote when they bid for the 2022, the Asian Cup success can only fuel the dream of holding soccer's biggest event one day.
"I've no doubt we could, it's a whole different level of organization but we've done Olympic Games, we've done Commonwealth Games," Brown told Reuters in an interview.
"We could. Will it happen? That's out of my hands. But I think one of the things we should have done is won a lot of respect for the way we've put on this event.
"I hope that we can go to the next level. Whatever's down the track for this sport, I think it's well ready."
Brown's "budget" target for tickets sold for the 32 matches was 355,000 but with reasonably priced tickets -- children could see some matches for A$5 ($4) -- and the success of the host nation, that was already far exceeded before the final.
The 76,385 fans who packed into Stadium Australia on Saturday to watch the Socceroos beat South Korea 2-1 after extra time to win their first Asian crown brought the total tally to 650,446 at an average of more than 20,000 per match.
"It's remarkable, I couldn't be more delighted," Brown added.
"Some of the games you would never have expected -- Iran versus Iraq in a quarter-final sold out, China versus North Korea sold out, Japan versus Palestine sold out, Japan versus Jordan sold out."
Proud
Part of the success was certainly down to engaging immigrant communities, most notably the passionate Iranians who lit up every match they were involved in.
"We talk to community leaders and we talked to their fans and said 'let's make this a celebration'," Brown said.
"The color and movement of Iran, the red of China, South Korea and Iraq have been just fascinating and brought a level of support to the event even I couldn't have foreseen.
"With 30 percent of Australia's population born overseas, it's been a rich celebration of our multi-cultural heritage."
There was some criticism of the staging of one semi-final in Newcastle which, after Australia lost their final group match and veered off their pre-ordained path to the final, meant the hosts beat UAE in front of 21,079 fans.
"We've had some criticism, and fairly too, but sport's not just about money, it's about growth, the legacy you leave," Brown said.
"We knew the risks, we didn't think it would happen but I was very proud to bring the national team to a city like Newcastle."
Not everything in the tournament ran smoothly but most of the major issues would better be placed at the door of the governing body of Asian soccer, the Asian Football Confederation (AFC).
The AFC did nothing to dispel their reputation as an organization more concerned with looking after "VIPs" and observing bureaucratic procedure than presenting an air of basic competence.
The worst was probably a botched dope test of Ahmad Fayel of Jordan, whose FA complained to the AFC after he arrived back at the team hotel "suffering from semi-coma, general weakness and hypothermia".
Despite the encouraging crowds in Australia, those records are likely to be broken in Iran or the United Arab Emirates in 2019 when the tournament will controversially grow from 16 to 24 teams.
For the 2015 organizing committee, though, their job is all but done and Brown is confident they have left football in a stronger position Down Under than the way they found it.
"In sport, it's about building credibility. We knew that if we put on a good event, that's got to be good for football in this country," Brown said.
"I'm proud that this sport can sit alongside every other sport -- Australian Rules, rugby league, rugby union, cricket -- no better, no worse, but it deserves a seat at the table."