Bad omen Boubacar Barry wins African Cup for Ivory Coast
It was Ivory Coast's second title since their only previous win in 1992
He was the ugly duckling of the golden generation; the one that no one talked about. Who would have thought that he would be the ban to finally bring them the silverware they so desperately wanted.
The Africa Cup of Nations once again conspired to forge an absolutely miraculous story, as Ivorian goalkeeper Boubacar Barry scores the winning penalty to win the tournament for Ivory Coast – after a tournament of bench-warming and many, many years of hurt.
Having not featured all the tournament, Barry replaced the injured Sylvain Gbohouo in goal for Les Elephants, with fears that the bad luck he had brought on previous outings would lead them to failure once again.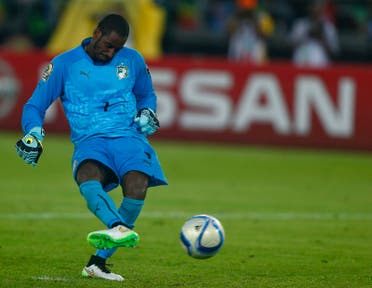 Unconcerned by the barrage of garbage flowing from the speaker systems during the closing ceremony, the Ivorian fans' high spirits took the form of incessant chanting and waving of inflatable Orange-branded fan fear that blended perfectly into the orange apparel of the clothes they wore, as they anticipated whether this would be the day that their years of pain were finally healed.
News filtered through prior to kick off that, with Gbohouo suffering from a thigh strain, Barry would deputise between the sticks – the man who stood so loyally through their repeated failures prior in these tournaments previously.
Similarly, Asamoah Gyan's inclusion in the starting XI raised eyebrows but genuinely surprised few, as Avram Grant's decision to start him despite questionable fitness increased the hope amongst Black Stars fans.
It was a game that largely failed to inspire. Given the pressure that both teams were under to pass this final test, the lack of willingness to commit players forward was understandable, as they nervously sussed each other out. With both sides having a history of bottling it when it really matters, the natural fear of being the man to bring on that painful loss is something they desperately want to avoid, as they created a sort of cagey match that modern day finals so often are. In the end, it would be decided by the most pressurized situation in football.
Aside from Serey Die, who looked particularly awkward throughout the game, with his over-indulgence in the foul, the Les Elephants seemed very assured – as another one of Herve Renard's infamous coaching traits began to show in this Ivory Coast team.
In terms of both the defence and mental fragility of this team, he had his work cut out. But this final once again showed the sort of defensive security, concentration and organization that they had been demonstrating throughout the tournament, as they refused to buckle as a team and throw away their lead. Then, after 120 minutes of deadlock, they held their own in the most mentally straining battle of all.
Tactics
Tactically, Ghana matched Ivory Coast very well, not falling into the trap of pushing on to the Ivorian defence as they sat deep – whilst dealing with the presence of Wilfried Bony very well. Suffocating the Manchester City striker, he consistently failed to get the space he
needed to be effective, as Les Elephants continued to hope that a set piece would dig them out of the goalless hole they found themselves in.
In what was an okay performance overall by the Gambian referees Bakary Gassama, in what was a bitty game to referee, perhaps slightly too anxious to give decisions in what was a very physical match. The missing of the subtleties was where he and his refereeing team struggled, however, with three red cards possible before the hour mark.
Serey Die's was probably the most obvious, as the central midfielder could have easily had a two yellows in the first half, after he earned his first yellow after 14 minutes with an accidental tackle follow through into Wakaso's groin area.
The other two were less clear however, as two Black Stars managed to float under the radar with some very unclassy moves, with Eric Baillybeing the victim of both.
Firstly, the centre-back was stamped on by Asamoah Gyan as he got up from a tackle, seemingly to intentionally step on Bailly's foot as he pulled himself up. Then, after the usual manhandling in the area as Ghana waited to take a set piece, John Boye lost his cool and pushed his head into Bailly's face. Whilst clearly not as painful as the Ivorian made it out to be, the rules state that Boye had to be sent off for such an action. The referee understandably missed it, however, and the game went on with both sides at full-strength.
Creativity from both sides was lacking. Andre Ayew's ferretting in a sort of free role failed to yield much, with Wakaso's largely off-target attempts from far out meaning that Boubacar Barry had to make a save. Equally, however, only the occasional flurry from
Gervinho or Serge Aurier troubled the Ghanaian backline, as Rakaz Braimah remained equally untested in the opposite goal. The sole substitute made before 90 minutes between both sides showed that Grant and Renard had largely accepted that extra-time was inevitable.
The Asamoah Gyan gamble failed. He was noticeably off-the-pace the whole game, with the injury he carried meaning he was not his usual self, failing to find the sort of space he normally does as well as the shot at the end of it. It was noticeable on a couple of occasions in the second half, with good work from Christian Atsu at the start of the move only being rewarded with a scuffed Gyan shot at the end. He bizarrely ended up being subbed before the final whilst, replaced by Emmanuel Badu for penalty shootout purposes, despite being his role aspenalty taker in this team.
It was a game poised for a man to take control of this game and be the hero that his countryman so desperately need, in the sort of situation that creates moments of individual brilliance in the adversity of attrition. Sadly, that man never arrived, and penalties beckoned.
Penalties
It all appeared to be over for Les Elephants almost before it had begun. After Wakaso slammed home the penalty for Ghana, Wilfried Bony hit the bar and Junior Tallo missed completely, as Ghana took a 2-0 lead. However, misses from Afriyie Acquah and Frank Acheampong let the Ivorians back into the game, as Serge Aurier and Seydou Doumbia held their cool to make it all square again.
From then on, the two were unmatchable, as each player produced some sublime penalty taking under pressure – forcing it all the way down to the goalkeepers to finish the job.
Razak Braimah stepped up for Ghana. Having had a good tournament, it was a cruel way for his time in Equatorial Guinea to end, but one of them had to take the fall. Braimah took, and Barry dived low and far to his left to pull of a fantastic save. Now it was his turn.
Stepping up after dealing with some cramp issues, he sent Braimah the wrong way and sent his teammates into ecstasy. Hurdling the advertising hoardings, he went straight for the Ivorian fans, leaving the Black Stars inconsolable on the pitch.
What a story it is. The team's second final in three years, it would have been so easy to let old ghosts in to haunt them again, but the mental fortitude they have maintained is incredible. They are a side that no one fancied pre-tournament. Noone. More defensive calamity and bottling was expected, a side unable to achieve until a fresh generation of players not haggard by the strains of football come through again. How wrong they were proved to be.
So much credit has to go to Herve Renard. Becoming the first manager to win two Africa Cup of Nations with two different teams, he repeated the trick from 2012, leading the side that he defeated that night in Libreville to victory in Bata.
The golden goose laid the golden egg. It was just a bit later than expected.