Muslim snooker player Rory McLeod explains 'ISIS badge'
Rory McLeod has been suspected by viewers of wearing an emblem supportive of the extremist group
After sporting a badge reading ISIS during a game, British Muslim snooker player Rory McLeod has been forced to defend his choice of brooch.
McLeod has been suspected by viewers to be wearing an emblem supportive of the extremist Islamic State of Iraq and Syria (ISIS) group, the Indepenent reported. The 43-year-old was simply wearing the logo of his long-term sponsors, Isis business solutions.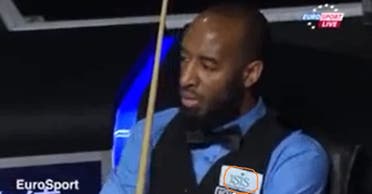 One fan commented saying: "probably not the best name to have stitched on your coat on TV."
However, some fans pointed out that it was highly unlikely that the Brit would sport any sign supportive of the ISIS.
"Like he would wear an Islamic State (ISIS) badge," one user posted.
McLeod is one of many who have fallen victims to the extremist group's logo. In 2014, the owner of a New York-based shisha café claimed that ISIS has given a "bad reputation" to his business – the ISIS Hookah Lounge.
Michil Gadalla, an Egyptian Coptic Christian, opened the shisha café in 2010, naming it after an Egyptian girl he had fallen in love with years ago.
Separately, a Sydney-family called upon the public and media in September to stop referring to the militant group as ISIS, an acronym synonymous with their eight-year-old daughter's name.