Motor racing-Red Bull are now third best team, says Ricciardo
Daniel Ricciardo believes Red Bull are catching up and head into this weekend's Chinese Grand Prix
Daniel Ricciardo believes Red Bull are catching up and head into this weekend's Chinese Grand Prix as Formula One's third-fastest team.

"Hopefully, the leaderboard is not lying too much," said the Australian after ending Friday practice behind Mercedes' world champion Lewis Hamilton and Ferrari's Kimi Raikkonen.

"Today looked good but I don't want to jump to conclusions yet...I still think Mercedes for sure are quicker but Ferrari as well is at the moment a small step ahead.

"We seem to be a bit quicker than Williams at this stage. They always seem to come on a bit stronger on Saturday but for now we seem to be the third-best team and we're trying to at least hold that."

Red Bull have endured a tough start to the year and have taken a step back after being the only team to have beaten Mercedes to the top step of the podium last year.

The former champions have been hobbled by an uncompetitive power unit supplied by Renault - who have struggled to come to terms with the sport's turbo-hybrid rule change - and have been embroiled in a war of words with the French manufacturer.

But on Friday Ricciardo said the car felt better to drive thanks to aerodynamic updates and progress Renault has made on solving driveability issues.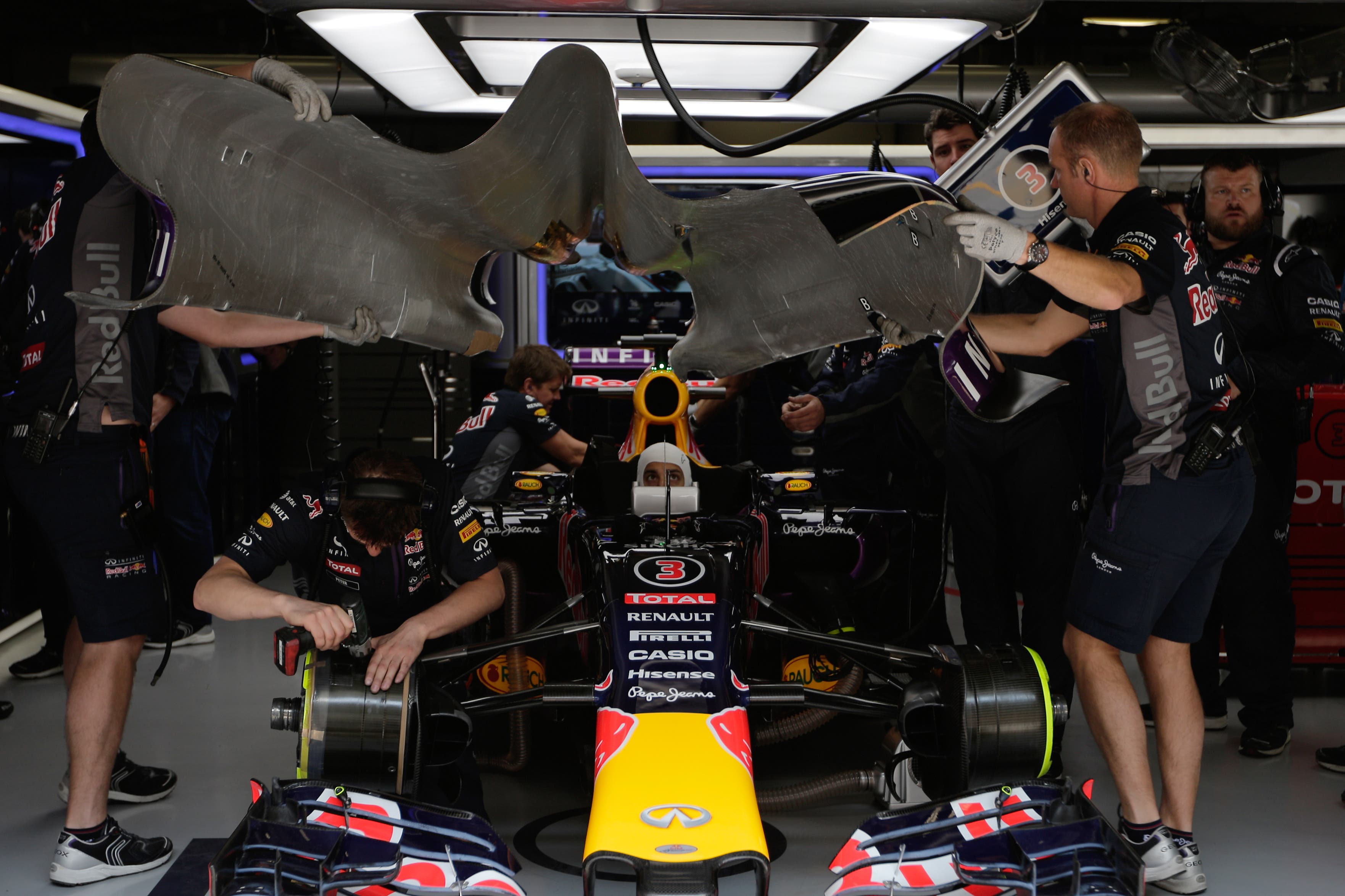 "We had a few updates and you feel the benefits from that so that's always nice when they bolt new things on the car.

"Driveability on Renault's side is getting better so it's positive. We obviously still have some more steps to make but we're at least making them in the right direction."

However, it wasn't all smooth sailing for Red Bull. The team sat out the opening 45 minutes of Friday's afternoon session after a delay in refitting the rear wings onto the cars following some changes.
Daniil Kvyat was then sidelined after just 10 laps with what appeared to be a brake failure.

"We didn't really have any big warning, it just happened," said the Russian, who ended the day sixth despite his stoppage.

"I was exiting the box (pits) during the long run and then suddenly something went wrong. I was trying to get back to the boxes but I couldn't manage because then at the hairpin I couldn't stop the car."