Do we owe Wenger an apology?
The Arsenal camp has been split for years on Arsene Wenger - between the lovers and haters
Striding across the Wembley pitch at full-time, Arsene Wenger perhaps wasn't as smug as he should (or could) have been. Yes, his Arsenal side squeaked over the line - through the fingers and legs of luckless Reading goalkeeper Adam Federici, as it were - but nonetheless with an FA Cup final appearance set for next month, the Gunners' turnaround this season has been remarkable.
Relieved at his team's victory, rather than the manner of it, Wenger kept a straight face as he applauded Arsenal's fans, although a slight smirk appeared to spread across his expression when faced with the press soon after. That was as close as the Frenchman came to lording nine successive wins over all those who have doubted him.
And Wenger has not been short of such critics in recent years. Every disappointing Arsenal result has prompted fresh questions of the Frenchman's stewardship, with 'Wenger Out' slogans scrawled in permanent marker across cardboard offcuts and held aloft by the club's own fans. It's a wonder ready-made protest banners and signs aren't sold outside the Emirates Stadium, given the frequency of their appearance.
Of course, there is a section that still proclaims 'In Arsene We Trust' - by means of a permanent banner in the Clock End - but Arsenal had become a club divided by the recent tedium of Wenger's tenure. Four place finishes were deemed unbefitting of a club once defined by their honors list, and Wenger bore the brunt of that zeitgeist.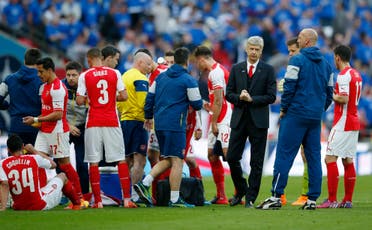 Was he right all along?
But on the basis of the last two months Wenger is due an apology. What was once considered false wisdom now looks like genuine foresight. On a lot of things - including his assertion that his team would hit top form when their injury problems cleared - the Arsenal manager was right all along.
That's not to say criticism angled his way wasn't warranted. While contemporaries like Sir Alex Ferguson adapted tactically and philosophically to stay successful in the modern era, Wenger - to his strength and weakness - remained stubborn. His footballing principles produced stylish and attractive - but never winning - teams. Steadfast in his belief that his way was the right way, Wenger was left behind as Arsenal went nine years without a trophy.
Yet Arsenal's resurgence this season has vindicated the Frenchman. Ignoring the ignominious Champions League exit to Monaco - an isolated brain-freeze of a result - the Gunners have been exceptional in 2015, winning nine straight games to become Chelsea's last remaining challenger for Premier League supremacy.
Ten points adrift of leaders Chelsea with just six games left to play the Gunners almost certainly won't win the Premier League, but the mere fact that such a discussion has been raised illustrates the extent of their development as a team this season. Their form since defeat to Monaco has come as a surprise to all, although perhaps not to Wenger.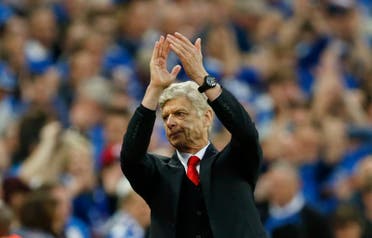 Rivals' lofty spending
Under pressure to match his rivals' lofty spending, Wenger always insisted Arsenal would be competitive once UEFA's Financial Fair Play regulations took hold, levelling the transfer market playing field. Pay structures and recruitment strategies have been adapted somewhat, but the Gunners can once again operate at the top end of the market - as demonstrated by the capture of Alexis Sanchez and Mesut Ozil over the past two years.
Perhaps more importantly, the Gunners can now hold on to their best players. With much of the debt saddled on the club following the construction of the £390 million Emirates Stadium now paid off, Arsenal have handed bumper contracts to Aaron Ramsey, Olivier Giroud and Theo Walcott, whereas previously they would only have received such remuneration elsewhere.
Arsenal might have won Saturday's FA Cup semi-final in typical Arsenal fashion - nearly botching what should have been a routine victory against second-tier opposition - but there's something different about this Gunners team. They are no longer an archetypal Wenger team, but that's what makes them a much stronger proposition this season.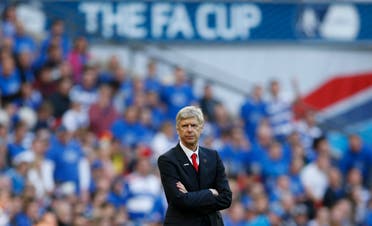 Groveling apology
Next month's FA Cup final - where they will face Tim Sherwood's Aston Villa - could prove something of a blow-out for the Gunners. Arsenal aren't always comfortable with being tagged favorites, but their May date at Wembley will be a chance to underline just how far Wenger's team has come this season.
But will they progress any further under Wenger? At 65-years-old he must be plotting an escape route, and this summer could present him with the ideal exit scenario. A second-place Premier League finish, coupled with FA Cup success for the second successive season, and Wenger could preserve his legacy by handing over a well-placed Arsenal team to someone like Jurgen Klopp this summer.
Next time a cardboard off-cut is held aloft at the Emirates, maybe it'll have a groveling apology - or maybe even a tribute - to Wenger penned on it, rather than a call for his dismissal. Goodness knows he's owed as much.