Egypt-born entrepreneur first Arab to win prestigious Kentucky Derby
Zayat's prized thoroughbred, finished first at the prestigious race last week hurling the Egyptian-American entrepreneur and his stable into euphoria
Decades after riding his first horse in Cairo's upscale Maadi neighborhood, Ahmed Zayat became the first Arab owner to win the Kentucky Derby, a race where thousands upon thousands of owners try to register their horses into the "most exciting two minutes in sports."
American Pharoah, Zayat's prized thoroughbred, finished first at the prestigious race last week, hurling the Egyptian-American entrepreneur and his stable into euphoria.
"It's an incredible thrill, an unbelievable privilege," he told Al Arabiya News from his New York office.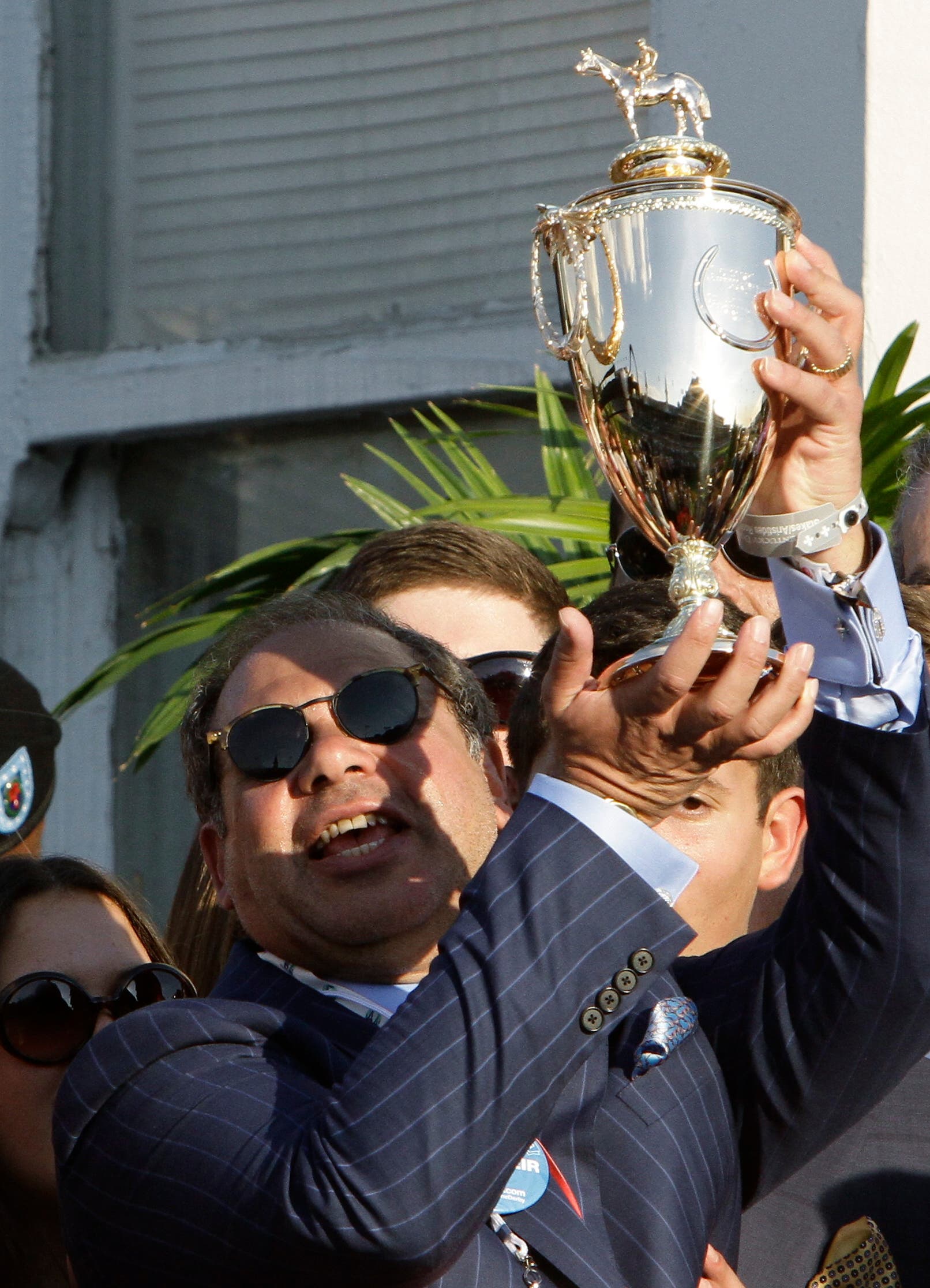 "Everybody knows that the Kentucky Derby is the most difficult race anybody could win."
One contributing factor to the glee that overwhelmed the Zayat Stables after winning the race is that the entrepreneur only recently joined the equestrian scene, having bought his first horse in 2006.
"For me, being in the business for a short time and being able to run three times second [place]… thank god, we are extremely humbled to have won, as an Egyptian, as an American."
"It's like winning the world cup in horse racing, to be able to achieve that at a very early stage, you know people for generations do not even have a runner little alone this success."
Before breeding winning horses, Zayat owned and managed Al Ahram Beverages company in Egypt - it was so successful it went on to be listed not only on the Cairo stock exchange but also the London and Berlin markets.
"From 1997 until 2001, we must have introduced around 180 brands," he said.
Al Ahram Beverages, which Zayat later sold to Dutch Brewing company Heineken International, was behind one of Egypt's iconic non-Alcoholic beers, Fairouz, which was described in a massive marketing campaign as the "natural evolution of the soft drink."
Shifting gears
So what prompted a beverage business tycoon to pursue his passion for all things equestrian? A combination of a bad market and a craving to be with his wife and four children, all based in the U.S.
"After the 2001 crash and 9/11, a lot of stocks were dormant, and Heineken saw us growing and made an offer to buy the company," he explained.
"We sold them the company, and they insisted that I stay for one year as CEO, I ended up staying until 2006," Zayat said.
"This is when I kind of retired, because I was tired of commuting."
While still head of Al Ahram Beverages, Zayat flew from Cairo to New York every weekend "because I didn't want to be a father in absentee."
Following a decades-long run as CEO of Al Ahram Beverages, Zayat retired over 2005 and 2006, which is when he rejoined his family.
Going from 18-hour work days to retirement was not easy for the self-confessed workaholic.
"I am not the kind of person who can sit and do nothing so I decided to pursue my passion and I looked into getting involved in horse ownership and breeding."
"Being the addicted person I am I can't do anything only halfway," he said, which in turn led him to enter thoroughbred racing in America and "lord behold within two years, I think we became one of the largest stables in the states and I think we own around 250 horses."
"It became a business as we are racing and breeding."
A 'Pharoah' on the track
Zayat is in awe at what his horse has accomplished. He proudly quoted Gary Young, a world-renowned expert on thoroughbred horses singing praises about American Pharaoh.
"I have been doing this for 35 years, and he might be the best horse I've ever seen," Young was quoted by USA Today as saying.
American Pharoah's father, whose name is also inspired by Zayat's country of origin, came in second in the last Kentucky Derby.
"American Pharoah is the son of Pioneer of the Nile , so it's kind of a Cinderella story, you run in the derby, you finish second, and then your son comes in, gets your revenge and wins the race," he said.
As to why he chose the names he did, he said: "I am a proud Egyptian. Egypt is the cradle of civilization, anything I do as big would have to be inspired by my heritage."