Marc-Andre Ter Stegen fulfilling potential at treble-hunting Barcelona
Ter Stegen completed a $13.5-million move to Barcelona from Gladbach, stepping into the shoes of Victor Valdes
Marc-Andre ter Stegen's career has been impressive to date, debuting in the Bundesliga at the age of 18 with Borussia Monchengladbach amid a relegation battle in 2011. Now, the 23-year-old stands on the verge of winning a treble for Barcelona in his first season.
Last summer, Ter Stegen completed a EUR12-million ($13.5-million) move to Barcelona from Gladbach, stepping into the shoes of Victor Valdes, the club's long-serving keeper.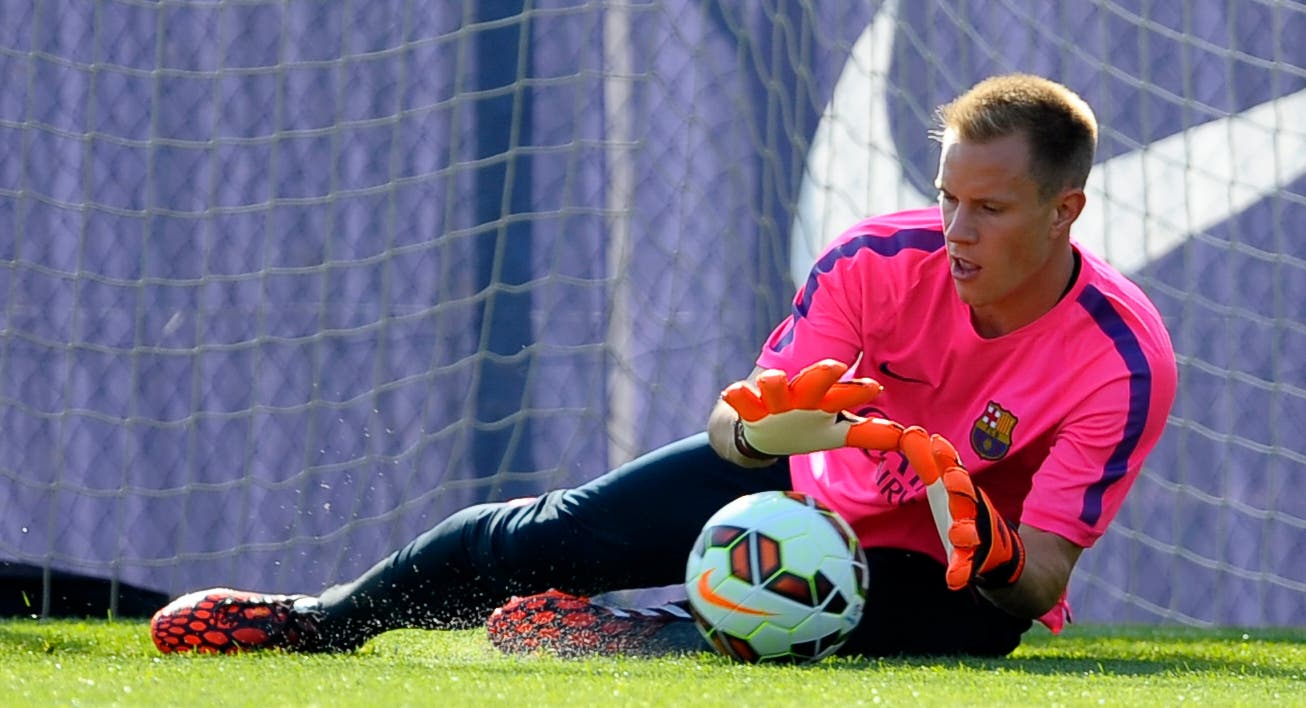 However, the arrival of Claudio Bravo has limited the German's opportunities in league football, leaving the lion's share of his appearances this season to Champions League encounters.
While exposure to Europe's best teams is the dream of every footballer, Ter Stegen has been disappointed with his lack of action domestically, forcing the keeper to knuckle down in training with the focus on the inevitable call when Champions League fixtures came around.
"It's been a difficult year," Ter Stegen admitted at the pre-final press conference. In the autumn of 2014, the keeper spoke of the difficulties of maintaining a rhythm when there was no guaranteed momentum leading into these high-pressure encounters.
Nonetheless, Ter Stegen has been one of Barca's outstanding performers in Europe's top competition, his apogee in the semi-final of the tournament against Bayern Munich.
Revolutionizing goalkeeping
Bayern Munich's Manuel Neuer has earned the credit for revolutionizing goalkeeping in the modern era, but Ter Stegen has arguably influenced more changes in the position than the German number one.
In 2011, Ter Stegen was plying his trade with Gladbach's youth teams until Lucien Favre arrived to drag Germany's current third-force away from relegation.
Then only 18 years old, he was drafted in to be the team's first-choice keeper, and his keen involvement in Gladbach's build-up play caught the eye.
He would go on to play a full complement of league fixtures the season after, eventually leaving Borussia-Park last year after 127 appearances. By then, he was ripe to succeed Valdes and become the club's long-term goalkeeper.
Like Valdes, the German likes to participate in the game, offering his team a full complement of passing options as the normally unused 11th player.
Using the goalkeeper as a mechanism to build attacks from defence is a tactical development that largely falls at the door of Pep Guardiola, the former Barca coach.
Ter Stegen is regularly proactive in his positioning in the penalty box, keen to move out of his six-yard-box to create another passing option for his defenders.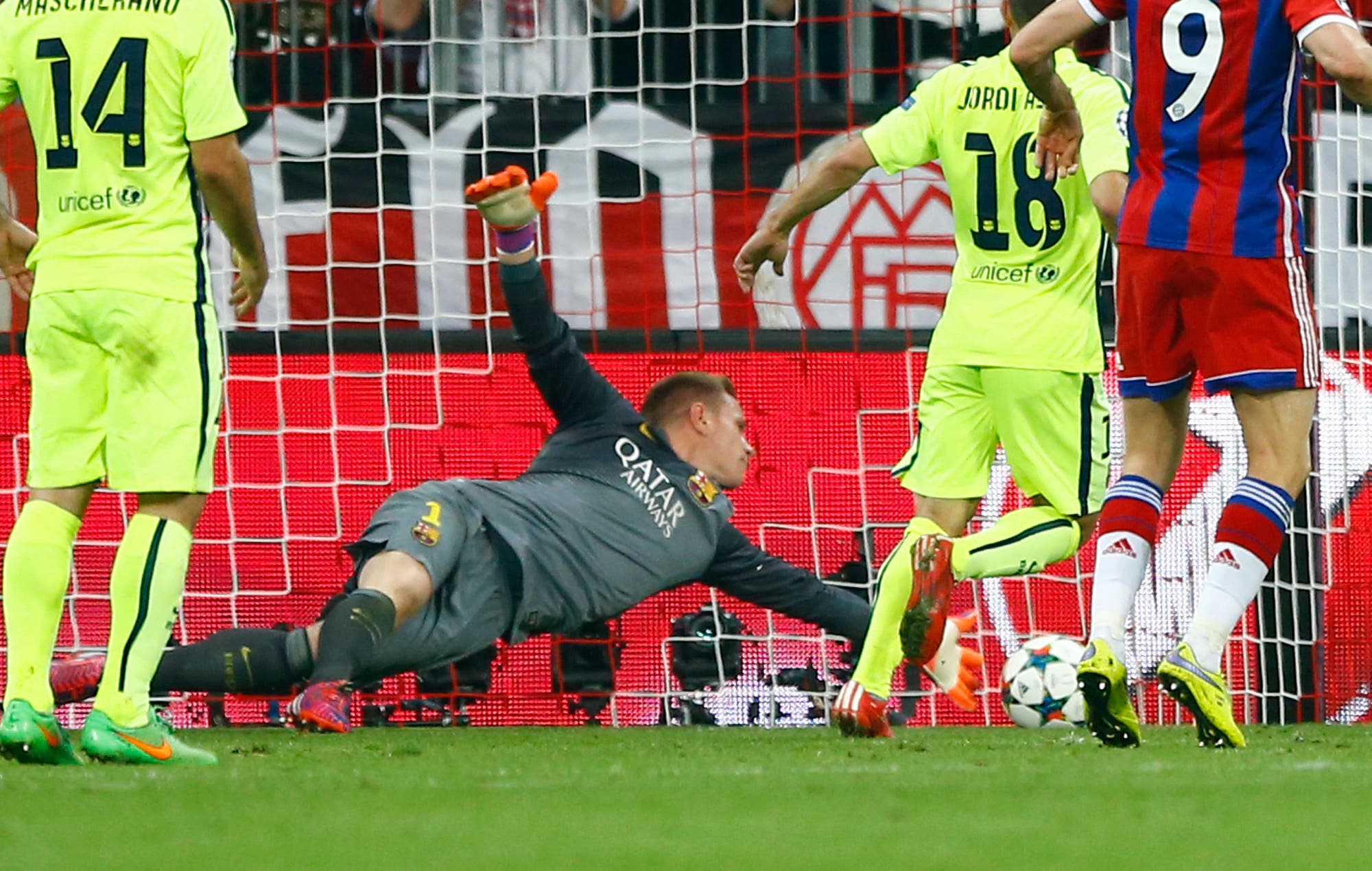 He has the skillset to play short, long, quick and slow, or direct passes to players further up the field. "I've never seen a goalkeeper so skilled at that," said the retiring Xavi Hernandez.
"Marc is an attacking midfielder, midfielder and goalkeeper rolled into one," said Germany goalkeeping coach Andreas Kopke. "Of all our great keepers, he's the one who fits the philosophy."
Facing his hero
Saturday's final in Berlin sees Ter Stegen compete with Juventus number one Gianluigi Buffon.
"He's a great keeper, a legend. Everybody knows him," Ter Stegen said of Buffon. "He's had a great season, and it was fantastic to watch him against Real Madrid."
Ter Stegen has a penchant for sublime performances against German champions Bayern Munich.
The keeper seemed to reach another level when he took on the Bavarians in Gladbach colors, whether turning away relentless shots from his opponents or playing a more active sweeping role, as he did so astutely in the 3-1 win over Bayern in Jan. 2013.
In the return leg, Ter Stegen proved to be a thorn in Bayern's side yet again, denying Robert Lewandowski and co with a string of superb saves under pressure, before the Catalans went on to kill the tie completely and book a place in their fourth Champions League final since the tournament's inception in 1992.
Barca has had a notable German influence over the years. Bernd Schuster enjoyed success at the Camp Nou, while the late Robert Enke was on the books there.
Two of the country's best coaches, Hennes Weisweiler and Udo Lattek, spent a few seasons in charge without winning a great deal of silverware.
Ter Stegen stands on the brink of greatness even in his tender years. A treble under Luis Enrique would only cement his position as a vital foundation in the club's long-term future.
"We're looking forward to the match," Ter Stegen said. "I'd like to continue how we've been doing, and we'll see what happens.
"We've had a good season, we just have to continue. We're doing well in defense. We're prepared for everything, but in the end it's 50-50 and we have to be prepared in all situations."