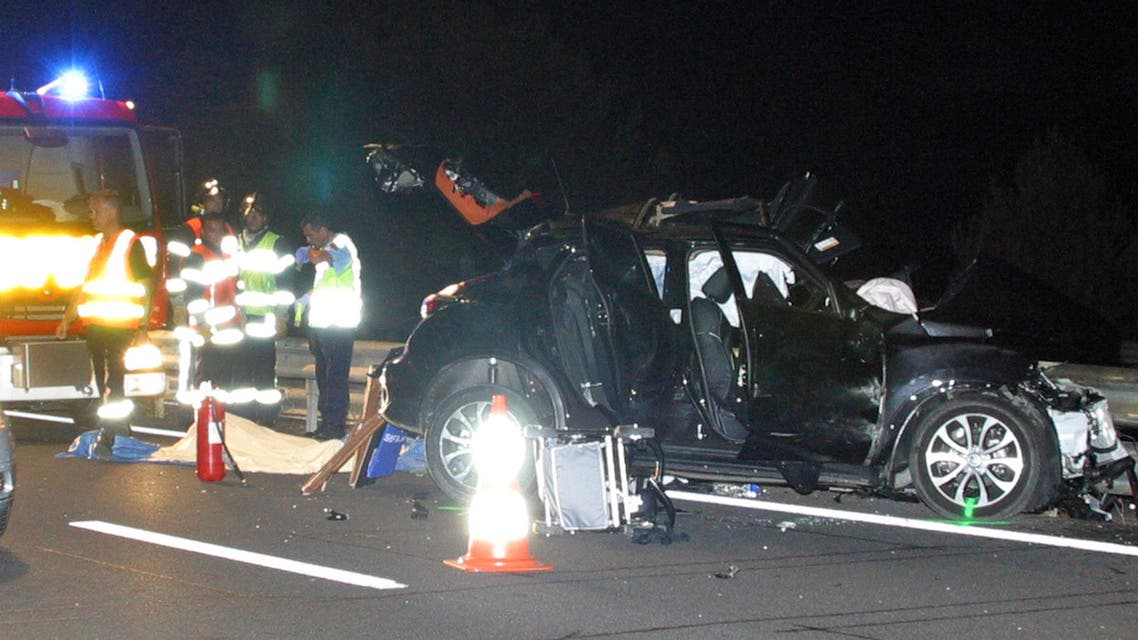 Former All Black Jerry Collins dies in France car crash
According to initial findings by police, Madill lost control of the car around 3 a.m. and hit security barriers
Former All Blacks flanker Jerry Collins and his wife Alana Madill died after their car was struck by a bus on a highway outside the southern French town of Beziers on Friday.
Police officer Thierry Duffau said Madill was driving while 34-year-old Collins was in the back seats.
Highway police in Beziers said their baby daughter Ayla was gravely injured in the crash about a half-hour drive from Narbonne, where Collins had been playing since January for the town's second division club. Ayla was airlifted to a hospital in Montpellier in what French police called a "very serious" condition.
No one in the bus, which transported 21 people, was harmed.
According to initial findings by police, Madill lost control of the car around 3 a.m. and hit security barriers before stopping on the slow lane of the highway. The bus coming behind could not avoid the car.
"The news has shocked us all, and our thoughts are with Jerry and Alana's families at this terribly sad time," New Zealand Rugby general manager Neil Sorensen said. "We offer our deepest condolences to them, and will support them as they come to terms with this devastating news."
Tributes for Collins flooded in from former teammates and opponents.
All Blacks great Jonah Lomu tweeted: "Rest n peace My brother JC n your lovely lady. You will be surely missed. Prayers to your little (girl)."
All Blacks hooker Keven Mealamu wrote, "Don't want to believe it," and Sonny Bill Williams: "Love you uso, May God look after your little one."
Ireland great Brian O'Driscoll tweeted: "Terrible news about Jerry Collins & his wife in France. Thoughts are with his family," and Springboks winger Bryan Habana wrote, "Terrible news to wake up to about Jerry Collins and his wife's passing keeping his family and friends in my thoughts and prayers."
Australian Rugby Union chief executive officer Bill Pulver paid tribute to "one of the toughest forwards in the game," who is "right up there with the all-time great players to wear the All Black jersey."
French club Toulon, where Collins played for one season, said it was in mourning, and its players will wear a black armband in Friday's Top 14 semifinal against Stade Francais.
Collins rose from humble beginnings to become one of the most feared and admired rugby players of his generation.
Collins was born in Apia, Samoa, and raised in Porirua, a blue-collar suburb on the outskirts of the New Zealand capital Wellington. He showed huge potential at an early age, becoming a high school star, winning selection for New Zealand Secondary Schools, and being named player of the tournament at the Junior World Cup in 1999.
His elevation to the All Blacks in 2001 - his first season in Super Rugby and at the age of only 20 - was no surprise and, though injury briefly interrupted his international career, he returned to the All Blacks from 2003 to become a regular.
Collins, an imposing 1.91 meters (6-foot-3 1/2) and 107 kilograms (235 pounds) at his optimum playing weight, played at blindside flanker and became internationally famous for the ferocity of his tackling.
That aptitude may have been best demonstrated in 2003 when Collins knocked out Wales captain Colin Charvis in a legitimate but bone-rattling tackle. All Blacks captain Tana Umaga, Collins' cousin, won an international sportsmanship award for placing the unconscious Charvis in the recovery position.
Collins became a highly respected and senior member of the All Blacks, and was given the captaincy for a 2006 test against Argentina in Buenos Aires. A profile on the New Zealand Rugby website said his earthy comments at a post-match news conference might have contributed to the short-lived natured of his captaincy.
But he also led New Zealand in pool matches at the 2007 World Cup. The quarterfinal loss to France at that tournament was the last of Collins' 48 tests.
Collins featured in Tri-Nations titles in 2003, '05, '06, and '07, the sweep of the British and Irish Lions in 2005, and the Grand Slam of the home nations later that year.
After his international retirement, Collins played for clubs in Britain, Japan, and France, but his powers seemed to have waned. He was signed by Narbonne in January, after a year off, as medical cover for Australian Rocky Elsom.
Collins had an increasingly troubled personal life after international rugby and, in 2003, was arrested in a department store in Hamamatsu, Japan, for carrying a concealed kitchen knife.
With strong family support, he managed to put his life back on track with Madill. Ayla was born in January.