Samina Baig: Meet Pakistan's first woman to climb Everest
Her brother Baig, gave up his summit bid a few hundred meters short of the summit
Samina Baig, 24, can't forget the moment she decided to plan scaling Mount Everest, the world's highest mountain with a peak at 8,848 meters, and become the first Pakistani women to hoist the green flag of her country on top of the world, two years ago.
"I think it's something that can't be explained in words," said Samina. She had a very big challenge, representing Pakistan on 60th anniversary of the first ascent Mount Everest and a huge task to fulfil. "I along with my brother, Mirza Ali Baig, were climbing for 'gender equality' and this was the main concept of our expedition," added Samina.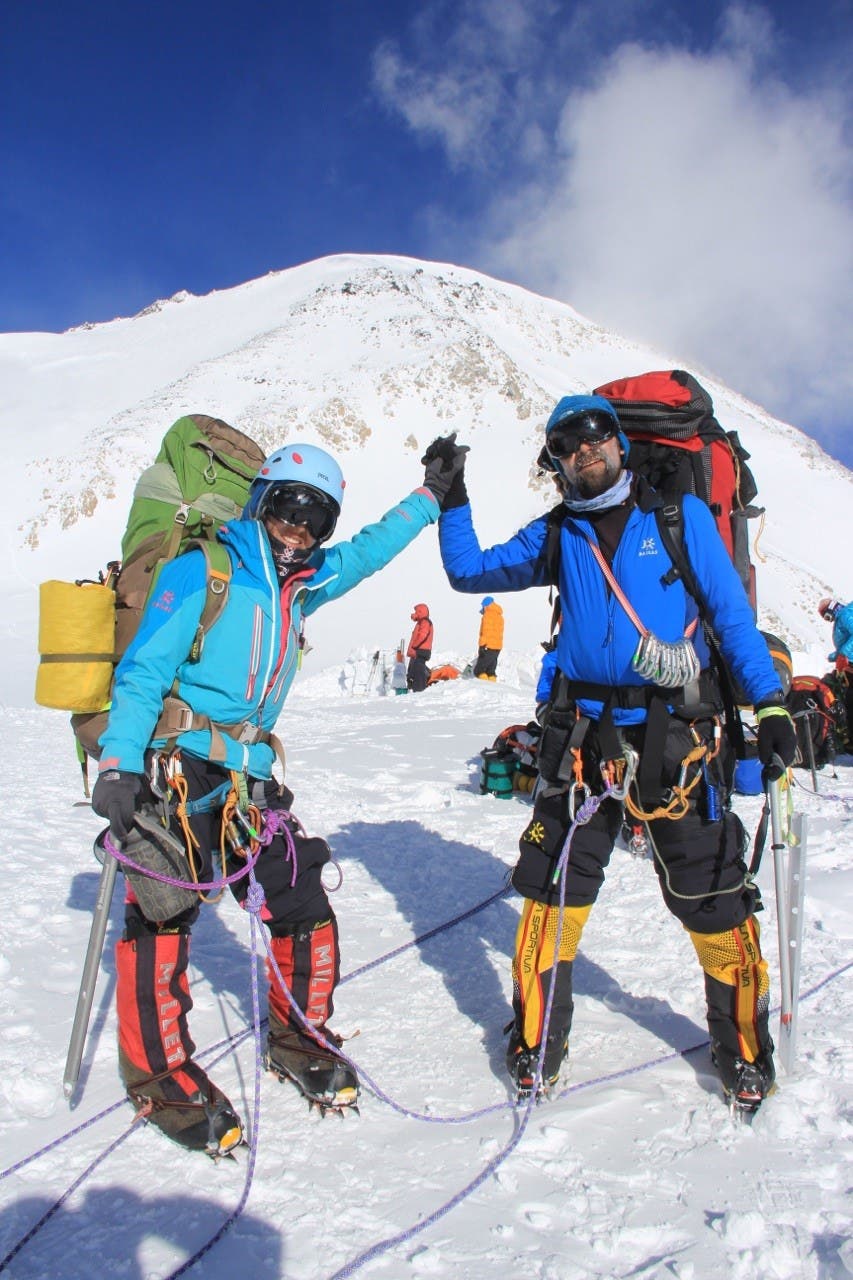 Her brother Baig, gave up his summit bid a few hundred meters short of the summit, but believed she could go to the summit on her own without his support, to prove 'women empowerment,' which was another challenge. "I achieved both goals. When I was approaching the final 10 meters, I saw people from different countries were taking pictures of themselves with their national flags, as I stepped on the top of the world, there were 'tears of joy rolling down my cheeks,' and thanked Allah for the courage, stamina and strength," said Samina adding that, this wouldn't have happened without the support of her brother, Ali.
"Lifting the flag of Pakistan on the top of Everest was matchless, unbelievable and feels unreal. I was a symbol of women's empowerment, I had achieved gender equality, altogether I represented Pakistani women and showed their courage and strength not as an individual."
Samina and Baig started the journey together but he stepped back at approximately 8,600 meters almost 248 meters short of the summit, to prove women empowerment. Later her brother, Baig, 31, joined her and together they hoisted the green flag at the top of Everest.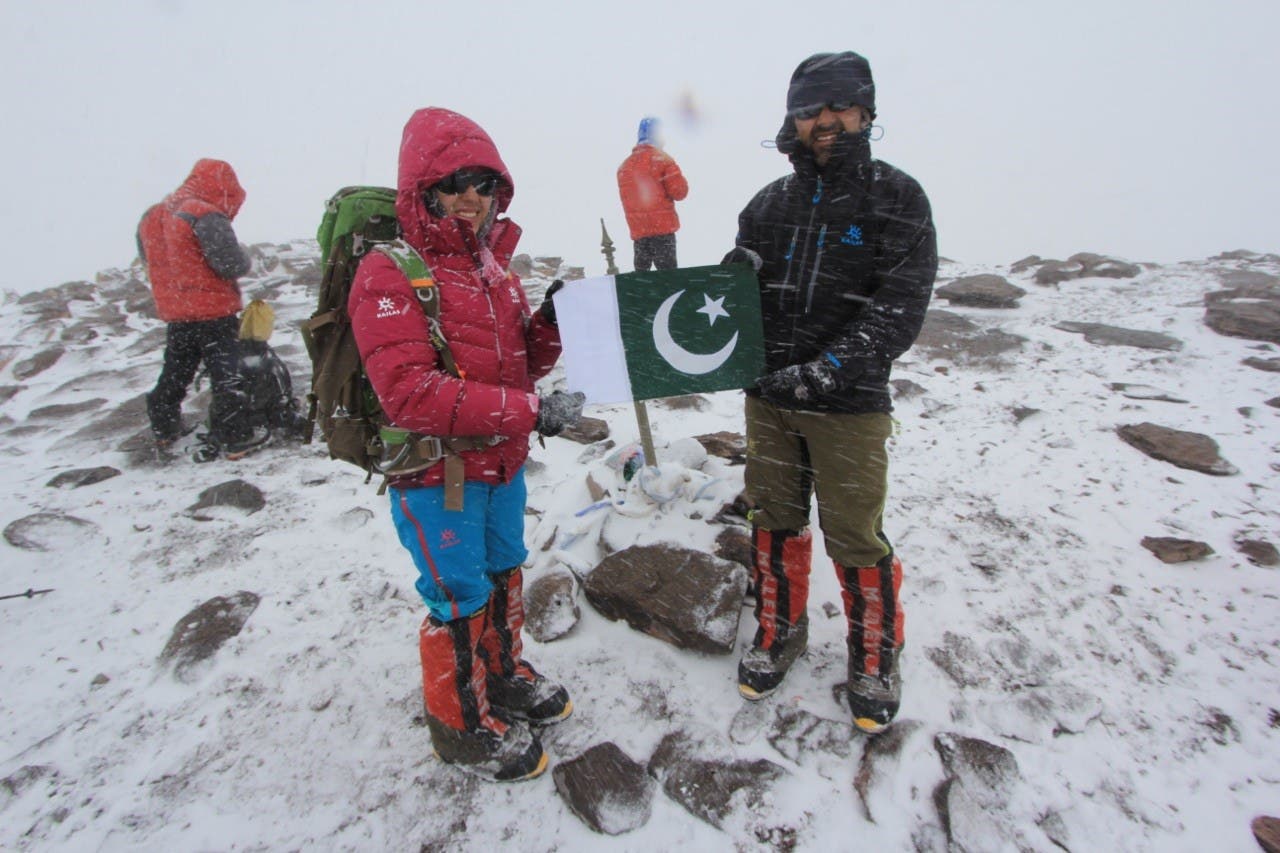 "My feelings were matchless, I am women's rights activist. My mountain climbing adventures are for gender equality and empowerment of women," said Ali. "My sister's summit of Everest was my life time achievement. I worked on this expedition for seven years and finally with grace and help of Almighty Allah, I accomplished it," added Baig.
"I let my sister alone to go to the summit, without me, to prove trust, believe in women and she proved that a [Pakistani] woman could reach the top of the world's highest peak," he said adding that, he wanted to send a message to Pakistani men that they should encourage their women.
Both Samina and Baig hail from Shimshal village, which is situated in the scenic upper Hunza valley - close to Chinese border.
Her village is surrounded by huge mountains, the tourists come from all over the world and explore there and climb some of those mountains.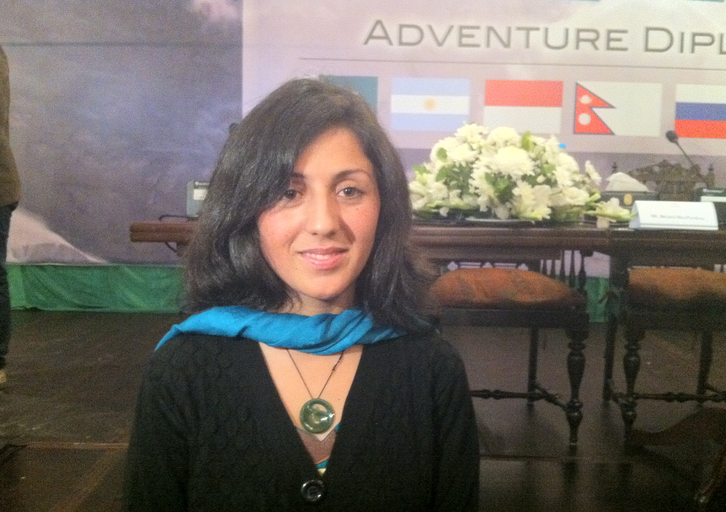 But her brother motivated her the most, and used to tell her stories about his adventures and had often told her, they should climb together in the future.
It was her childhood dream to climb mountains as her brother had infested her mind with the idea. "I am lucky enough that my dream is fulfilled," she said.
In a country where women are still struggling and fighting for basic human rights: a right to education, the right to marriage, a right to inheritance, and even the right to cast a vote in the general or local elections, this young woman has decided to show not only those in Pakistan - but all over the world that Pakistani women are second to none in any field.
"We chose to climb mountains because we wanted to show a different side of Pakistan, the brave side of Pakistani women and wanted to portray that Pakistani women have the same qualities that other women in other parts of the world have. And that includes climbing mountains which is not a normal sport or profession in Pakistan," added Samina.
Samina's plans go high. First she wanted to attempt K-2, the tallest mountain in Pakistan, elevating to 8,611 meters. "After that I want to continue my studies for women's rights and then serve unprivileged women in the country and around the world."
Both Samina and Baig have started up an organization, 'Pakistan youth Outreach' and through this they want to work with young people and women, on gender equality, and women empowerment.
Recalling scaling Everest she said: "It was indeed great, in our team there were two Indian twins, and a Saudi girl, Raha Moharrak. It was great to see young women chasing their dreams in different circumstances and I have very created memories with them."
Unfortunately now minorities in Pakistan are targeted. Last month a bus carrying people of the Ismaili community was gunned down in Safoora region of Karachi, killing at least 45 people.
Samina belongs to the region of the same community. "Our country has been suffering for a decade now, every unfortunate incident is really disturbing and heartbreaking. It's the same with Safoora or Quetta or any other incidents," she said, "We as Pakistanis should stand united and face the challenges. We should live in peace and encourage brotherhood."
Unfortunately this sport isn't famous in Pakistan and the government pays less attention to it.
"I didn't get any support from the government during our expeditions, but the prime minister and former president gave cash prizes and honored us with the 'Pride of Performance' award," said Samina.
Hasil Shah, 46, a former mountaineer and who now supplies mountain equipment to expeditions to mountaineers, agrees with Samina. "Mountaineering is one of the most dangerous games in the world.
"It is the type of game where there is no guarantee of life," he said adding that the government must take initiative for the insurance of this unique sport's players.
Now the region of Shimshal is famous for the mountaineers. At the moment there more than 30 people who have climbed 8,000 meters and approximately 40 to 50 people who have scaled peaks of 7,000 meters.
"The government should encourage these sports. At the moment climbers visiting this region are not coming because of government policies, but because of these individuals," said Shah.
Samina is not an anonymous face in Pakistan anymore. She appears on TV commercials.
"I am happy that I did go through these commercials. People can see and understand that nothing is impossible for a woman.
She can climb the tallest mountain on earth," she said. "I am happy that young girls can be motivated by these commercials and will achieve what they want to get in their field of work in their lives."
Commenting on Samina's success, her brother, Baig said: "The most beautiful feeling is when your sister achieves the best, makes history, shows a brave face for women in your country, shows courage, the strength of women, becomes a symbol of excellence, a pride of the nation. And many don't know - but you know you were behind it. I urge other fellow men to try the same and have the beautiful feeling once your struggle is acknowledged."