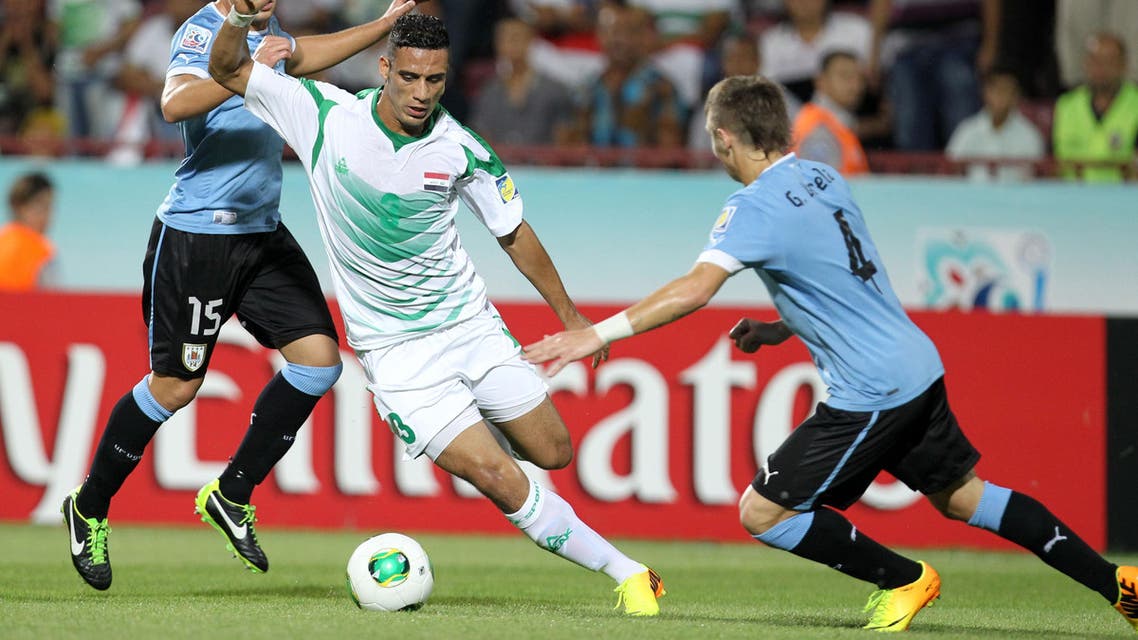 Why Iraqi footballer Ali Adnan has been dubbed 'Asia's Gareth Bale'
Ali Adnan is seen as the vanguard of Gulf football's bright and bristling new generation
The Gulf isn't exactly renowned as a footballing hotbed. The sport continues to grown in the region, with clubs battling something of a transfer market arms race and Qatar preparing for the 2022 World Cup, yet countries like Saudi Arabia, Iraq, Kuwait, Bahrain, Oman and United Arab Emirates have struggled to make a true impression on the global game. But one player - perhaps more than any other - could change that perception.
Ali Adnan is seen as the vanguard of Gulf football's bright and bristling new generation. Dubbed 'Asia's Gareth Bale,' the Iraqi has been earmarked as a potential sporting superstar ever since breaking into the Baghdad FC first-team as a mere teenager - also making his international debut shortly after his 18th birthday. The full-back's nickname might offer a billing that proves difficult to fulfil, but it does illustrate the kind of expectations that are held against him.
By joining Serie A side Udinese - prised from Turkey's Caykur Rizespor for a fee believed to be worth upwards of €7 million - the 21-year-old might well have made the move that allows him to make good on his undoubted promise. In Italy, Adnan will have the chance to test himself against some of Europe's best, giving him a tactical grounding that will serve him well as a defender (albeit an offensively adventurous defender).
Coming from footballing pedigree - with his father a youth international for Iraq and his uncle Ali Kadhim one of the greatest players to have ever turned out for the country - it is perhaps unsurprising that Adnan is thought of so highly within football circles. He could become Arab football's first genuine superstar - the kind of which adorns billboards and fronts video games.
Of course, Arabian football is certainly not without its quality. UAE, for instance, were one of the most exciting and enthralling teams at this year's Asian Cup, with Mahdi Ali's side finishing the tournament in third place. And fourth place went to Iraq - who won the Asian Cup in 2007.
Football in the Gulf is distinguished by star quality throughout, even if it is admittedly thinner on the ground than in over leagues and divisions across the world. Omar Abdulrahman is a shimmering example of that, as the pin-up boy of Arab football, attracting attention from clubs as big as Manchester City - where he spent a stint on trial.
Then there's Nasser Al-Shamrani, who hit 23 goals in 29 appearances for Al-Hilal last season - as well as 10 in the AFC Champions League. The Saudi Arabian is the incumbent Asian Footballer of the Year, and is very bit worthy of his title - even if he is currently serving an eight-month ban for spitting at opponent in last November's Champions League final.
Ali Mabkhout is one of Arab football's best, winning the Asian Cup Golden Boot earlier this year by scoring five goals for an impressive and dynamic UAE team. He is expected to make the switch to Europe soon, although he has been beaten to that fulfilment by Adnan - the brightest talent of all when it comes to Gulf prospects.
Adnan was one of the stand-outs during the 2013 Under-20 World Cup, in which Iraq put down a marker for future development by finishing in fourth place. At over 6ft tall, the 21-year-old isn't an archetypal left-back, but is as comfortable on the ball as he is physically imposing. He is the epitome of the modern full-back - and maybe even a winger in future, given that many presume his development will eventually move him farther up the pitch.
Udinese have pulled off quite the coup. Adnan's performances for Iraq's Under 20s side in Turkey two years ago attracted interest from Arsenal, Sevilla and Galatasaray, with the latter coming closest to signing the left-back. As it turned out, Caykur Rizespor gave Adnan the environment needed to continue his development at a steady pace. More recently Napoli, Chelsea and Roma have been linked.
But now, if Adnan is to become one of the sport's best, he must adapt quickly to his new surroundings in Serie A. The move to Udinese will be the most important of his career, and on the surface he looks to have chosen a club proven as something of a finishing school for young talent. Although Adnan - the brightest prospect Arab football has to offer - might not be considered a success until he scales the sport's elite.