Going for gold: Bodybuilder lifts himself from Karachi's backstreets
Pakistani bodybuilder, Abdul Malik is set to participate in Las Vegas bodybuilding competition
Pakistani bodybuilder, Abdul Malik, is all set to participate in the upcoming bodybuilding competition which will be take place in Las Vegas, U.S., later this year.
Born to a very humble family in Karachi, Abdul Malik, without any support from the government, went forth and brought laurel wreaths to his country when he won a Gold Medal in the 75-kilogram category of the bodybuilding championship held in Florida last month.
The passionate bodybuilder is once again busy in preparations for the NPC Las Vegas Classic championship to be held in November 2015. "It will be a big championship. Players from around 80-countries will compete in it and I would like to bring glory to my country once again," said Malik.
The sweet memories of success in Florida still overwhelm his mind after he won the Gold Medal, a dream come true for the Pakistani bodybuilder. "I can't forget the moment when hoisting the Pakistani flag on the victory stand," said Malik. Unfortunately Pakistan's world image is affected negatively due to the wave of militancy and terrorism but, "I wanted to show the world that [we] Pakistani have immense talent and are not far behind in any field," added Malik.
The Florida contest, which took place in June, was televised live in many countries but the sad point was that there was no one amongst the audiences to share the happy moments with him. "I was all alone throughout my journey to U.S., neither did I get any support from the government nor had I any sponsor, Abdul Malik said. According to him, it really hurt his feelings. "Seeing government and other organizations paying attention to other sports or players without giving any attention to bodybuilders hurts," complains Malik. He said that an Indian player told him that if he had achieved that milestone in India, he would be received by ministers from his country.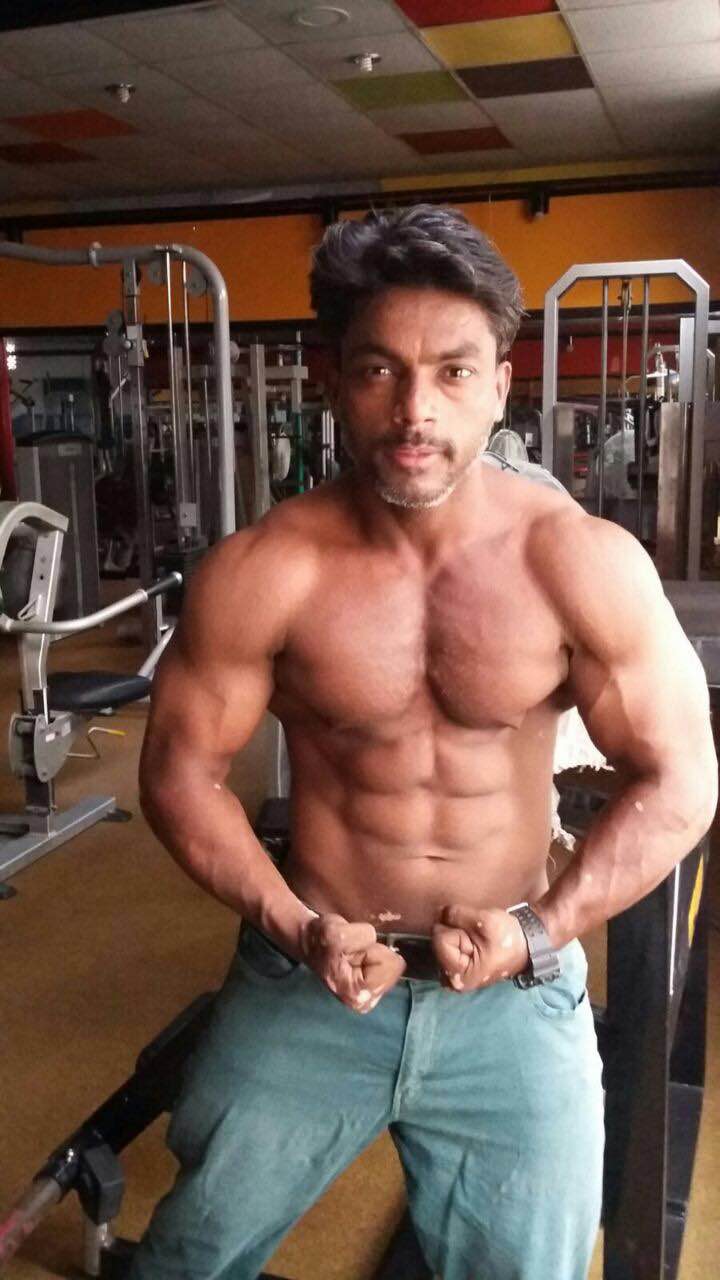 After the gold medal achievement, a number of political leaders approached Malik for support but the promises made to him were broken. "Even today, I am living in a rented house. It's too hard to leave for a competition abroad with a limited amount of money". Winning competition did not bring any changes to Malik's economic position. "After winning, people have been offering mere lips service. It is a shame as life can't progress with such shallow assurances," said Malik.
Malik felt deprived when he saw the luxurious life led by other bodybuilders taking part in international competition. "I was all alone; even there was nobody to give me the customary oil body massage during the competition".
Malik, who is 31, and a father of a two years old son, belong to a poor family and lives in a 40-yard house in Pakistan's port city of Karachi. At the age of 16, Malik fell in love with bodybuilding. His family didn't support him, and in fact, his father told him to give up his hobby. "We were a very poor family and my father couldn't support me because bodybuilding is a very expensive sport," he added. The passion of bodybuilding, however, won, and Malik didn't care for any restrictions. Malik sacrificed his education over his passion and to meet expenses he starteda part-time job at a very young age.
Having no support from the government and any other organization, Malik used to sell ladies' hand-bags and coached young bodybuilders. "This is how I manage to survive. I had borrowed a lot of money from friends and relatives in order to participate in the Florida contest." Before the contest, Malik had to spend around USD 30 per day to maintain his physical fitness; as soon the deadline approached, his daily expenses crossed USD 60 per day with an addition of seven-eight hours of hectic-exercise.
"It needs hard work to achieve a target. Training is underway. Every player wants to perform better than before and I hope Malik will be once again the winner," said Syed Maisam Raza, coach for Malik. Recalling Malik's Florida victory, Raza said, "Well, I wasn't even sure about his previous victory because he [Malik] went there under very terrible circumstances," adding that bodybuilding is a very hard and difficult game for which huge amount of money are needed to maintain physical fitness, diet, hormones, proteins and skin care. Malik succeeded because he has a 'passion' for bodybuilding which was the secret of his achievement, added Raza. "Bodybuilding isn't just a simple sports but a passion."
Malik is still having the same challenges but he is working hard, added Raza, However, "Government's help or sponsors would have encouraged him and helped him prepare more for the event."
On the other hand, the President of the Pakistani Bodybuilding Federation, Sheikh Farooq Iqbal, said, "We have no issue with funding. Some players adopt wrong ways, without our approval, and that's why the government hardly considers them."
Raza disagrees with Sheikh Farooq, "If they are so cooperative then why are they not supporting Malik for the upcoming Las Vegas championship?" he asked, adding that these are just lame excuses.
"Indeed it's awful, but still I am not disappointed. I will continue my struggle for my country, whether it supports me or not," said Malik while preparing for the Las Vegas contest. No matter what, the Karachi hero is still going for gold.