Battle of the Blondes: Ronda Rousey and Holly Holm in UFC fight
UFC's champion Ronda "Rowdy" Rousey is determined to make an example out of undefeated fighter Holly Holm on Saturday November 14
UFC's champion Ronda "Rowdy" Rousey is determined to make an example of undefeated fighter Holly Holm on this coming Saturday.

While Holm has never matched her opponents UFC record, the 70,000-seat capacity at Etihad Stadium in Melbourne is bound to be packed.

Rousey told reporters in Los Angeles that she's plans on outboxing the former world boxing champion.

Holm later told Yahoo Sports: "I don't know how much she really wants to box and how much she just wants to play little mind games and the psychology of making people do what she wants to do."

"A fight is unpredictable. That's why people love to watch fights. You don't know what's going to happen. So, I want to go in with kind of an open-ended plan and be able to adjust along the way."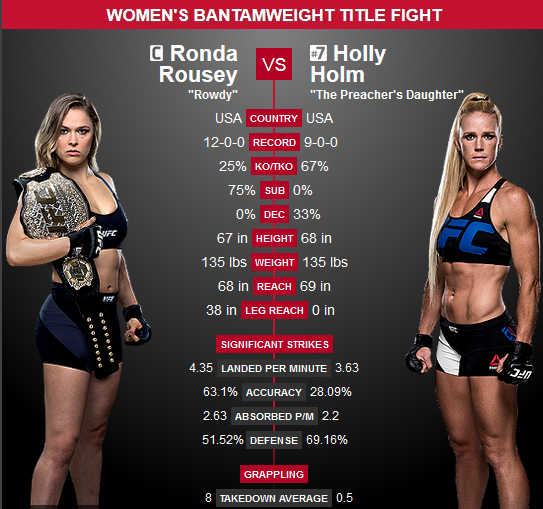 "Do I think she's improved a lot on her boxing? Absolutely. Even if she wants to box, she can always change to what's comfortable for her. Everything's different when the fight actually happens," she added.